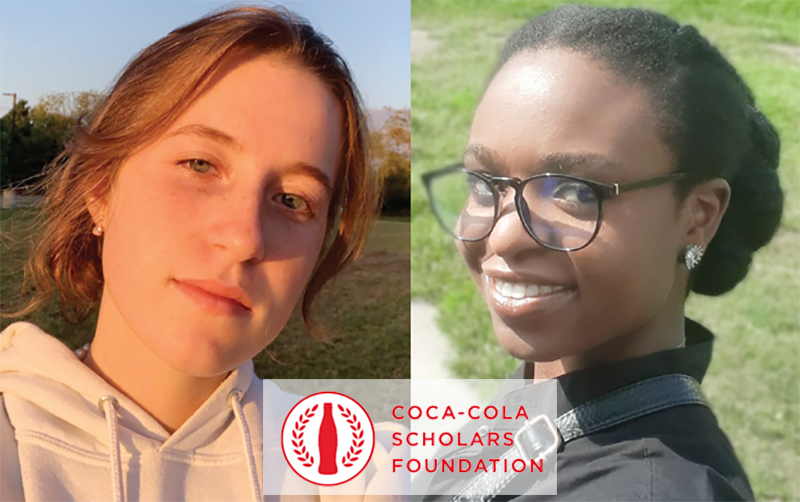 Two Washtenaw Community College students have been named to the Coca-Cola Foundation Academic Team, which recognizes 150 high-achieving students nationwide.
Rachel Rubanguka is one of 50 students named a "Gold Scholar," and Daria Skalitzky is one of 50 on the "Silver Scholar" list. Both are members of the WCC chapter of Phi Theta Kappa, a national honor society for community college students.
Every year, the WCC Student Development and Activities department reviews and nominates two students for Phi Theta Kappa academic accolades. This is the first time both nominees were named to the PTK Michigan All-Academic Team and the national Coca-Cola Academic Team.
Rubanguka learned of her selection at a state-wide PTK awards ceremony in Lansing on March 7. Her Gold Scholar award comes with a $2,000 scholarship while Skalitzky's Silver Scholar honor earns a $1,500 scholarship.
"Winning the Coca-Cola scholarship showed me that there is nothing I can't achieve if I really worked for it," Rubanguka said. "And it did encourage me to keep working hard toward my degree so that I will be able to help the community once I graduate."
Rubanguka was born in the Democratic Republic of Congo. She and eight siblings lived in Rwanda for 17 years as refugees due to war in her home country. The entire family immigrated to America three years ago, and her experience as a refugee drives her to success.
She studied Pre-Engineering at WCC from 2019-21 and is currently enrolled at the University of Michigan as a Data Science major.
As a WCC student in the summer of 2021, Rubanguka was selected to conduct research with the Great Lakes Water Level Variability Project. She continues to conduct research with that group at U-M today.
"Those of us who have had the pleasure of knowing Rachel understand what a beautiful person she is, both inside and out," WCC Coordinator of Student Organizations Veronica Capraru said. "Her story is filled with triumph over barrier after barrier, and she has used that to fuel her desire to help others. I have no doubt that she will be wildly successful in all aspects of her life."
Skalitzky, who will graduate from WCC in May with an associate degree in General Studies in Math and Natural Sciences, was unable to attend the awards ceremony because she was visiting family overseas.
"I deeply appreciate being given the opportunity to further my education and expand the benefits I can bring to my community in the future," Skalitzky said of the scholarship.
Skalitzky's father was the first in his family to earn a college degree, working all the way to post-doctoral research. Her mother moved alone to the United States from the former Soviet Union at the age of 20 through an exchange program sponsored by the University of Notre Dame, a big reason that is one of her dream schools.
She's currently awaiting decisions on her applications to Notre Dame, where she would like to study Neuroscience and Behavior, and the University of Michigan, where she would study Cognitive Science.
"Daria is a first-generation American who has set out to make her mother's bravery coming to a country not be in vain," Capraru said. "She is making an impact in her community and I can't wait to see what her future holds."
Tags: Awards, March 2022, On The Record, Phi Theta Kappa, Student Activities, Student Profile, Student Success