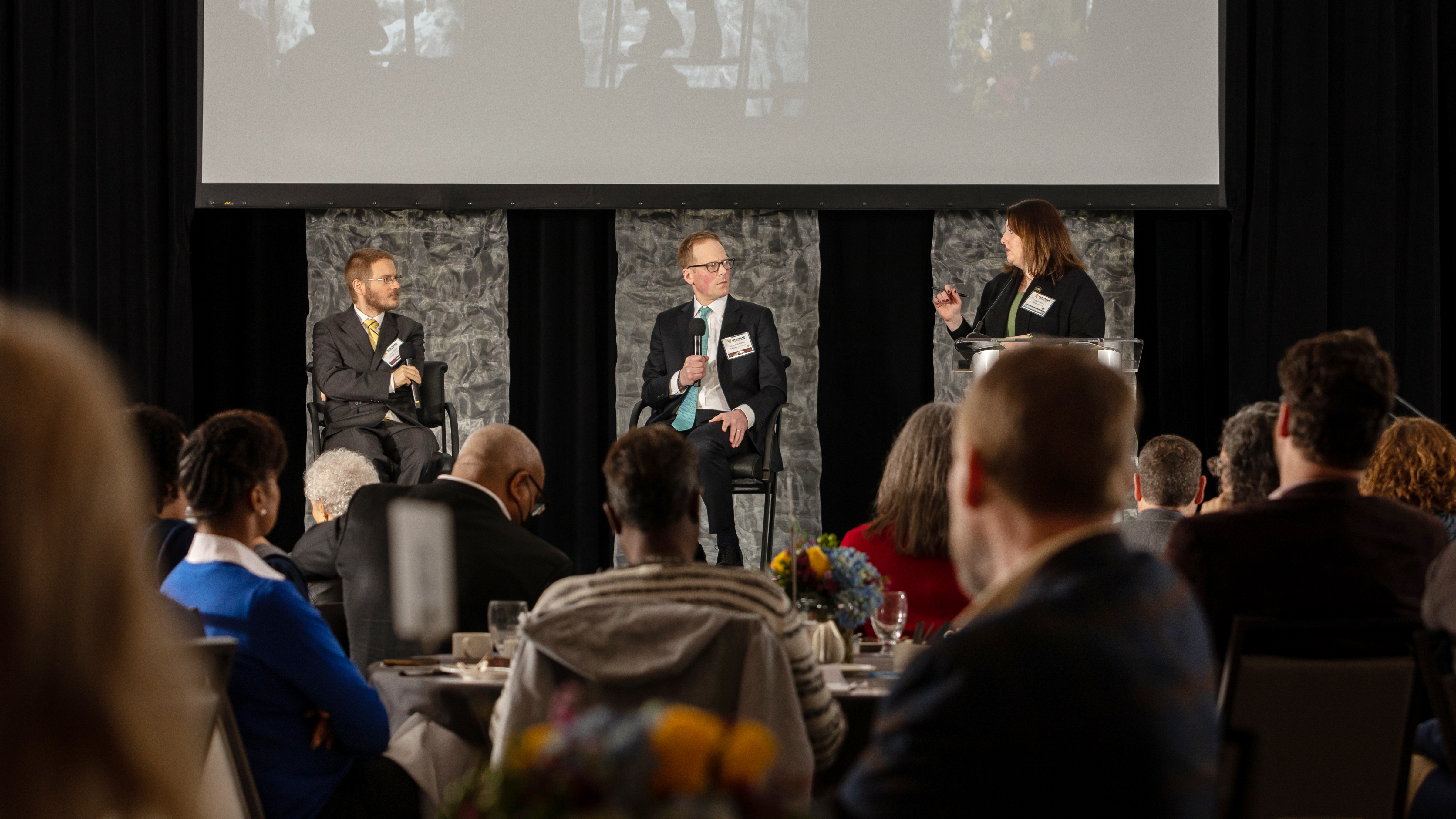 Despite rising inflation, Washtenaw County's economy continues to recover from the COVID-19 pandemic and recession, and total employment is forecast to exceed pre-pandemic levels by the end of 2024.
The county's economic outlook was prepared by Gabe Ehrlich and Michael McWilliams of the University of Michigan's Research Seminar in Quantitative Economics. They presented the forecast for the next three years during the March 24 season kickoff of the Washtenaw Economic Club, sponsored by Washtenaw Community College.
Overall, Washtenaw County's unemployment rate had fallen to nearly 4% in December 2021 from its pandemic high of 15.3% in April 2020.
By the end of 2024, total employment in the county is projected to exceed its pre-pandemic level by 3.4%, and the county's unemployment rate is forecast to decline to 2.7%
While the overall picture is bright, Washtenaw County has been slower than the state to recover pandemic-related job losses, Ehrlich said.
By December 2021, Washtenaw County had regained a total of 24,300, or nearly 63%, of its jobs lost since April 2020, while the state recovered 850,100, or about 80% of initial pandemic jobs lost, according to the report.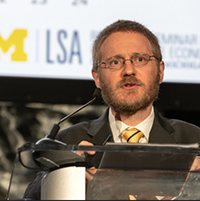 "Even though Washtenaw County is further behind Michigan in terms of its economic recovery from the pandemic, Washtenaw's job count is now above where it was at its business cycle peak at the start of this millennium in June of 2001. Michigan, on the other hand, remains well below its all-time employment peak which was achieved in June of 2000," said Ehrlich (right).
The outlook varies by industry groups. The strongest growth is expected in Washtenaw County's traditional blue-collar industries, which are forecast to finish 2024 with 7.9% more jobs than the pre-pandemic levels.
By the end of 2024, higher-education services jobs are expected to rise 4.7% above pre-pandemic levels.
RELATED: View a photo gallery from this event
A contributing factor to the current "red hot" labor market is the labor-force participation rate, which fell significantly the past two years and has not recovered – partly due to a large number of people who accelerated retirement plans during the pandemic, Ehrlich said during the question-and-answer session moderated by Melissa Sheldon of Ann Arbor SPARK.
"Job openings are sky-high. … It's not just the shortfall of workers, it's that you are out there competing with a lot more open positions," said Ehrlich, pointing out that some job boards report a 60% increase in job openings compared to before the pandemic.
Overall, real wages in the county are forecast to average $70,400 by 2024, 9.3% above 2019 levels.
Currently, increased wages are being offset to a large extent by inflation, which is running at its fastest pace in 40 years, Ehrlich said.
"Prices are rising faster than wages for almost all workers, so even though the dollar wage you're paying might be higher, when you adjust for inflation the real wage people are taking home might not be any higher. It might actually be lower than it was a year ago," Ehrlich told the business crowd.
Locally, inflation registered 7.5% in February compared to a year earlier, the highest since September 1981.
In the long run, Ehrlich said, national factors such as a highly contractionary fiscal policy and a sharply tighter monetary policy should bring inflation back to a more tolerable pace. "In the short run, though, unfortunately inflation is likely to accelerate, reflecting the fallout from the war in Ukraine," Ehrlich said.
Locally, inflation is projected to register 6.1% in 2022, the fastest calendar-year rate since 1981, but is forecast to drop to 3.1% in 2023 and further dip to 2.6% in 2024.
Short-term impacts of the war primarily will be felt through higher energy and food prices. Longer term, the war can also disrupt auto supply chains, Ehrlich said.
"Regarding what to expect from the war in Ukraine, fortunately the United States economy is not as closely connected to the economies of Ukraine and Russia as many European economies are. So the United States is not as directly exposed through trade as some economies, but the increase in oil prices is a drag on growth," Ehrlich said.
The economists also studied employment and wages in computer and math occupations throughout Washtenaw County against 10 peer cities across the United States and concluded that while the county has more jobs, local wages are below the national average.
"In order to remain a technology-driven community, Washtenaw will need to find ways to pay more competitively in these occupations," the report said.
The report also highlighted four full-recovery industries with higher than average wages of $100,000 – management of companies and enterprises; information; professional, scientific and technical services; and finance and insurance – which are forecast to make a full employment recovery. Incomplete recovery industries include accommodation and food services; arts, entertainment and recreation; retail trade; and natural resources and mining, the report said.
The full economic report will be available for download at the Washtenaw Economic Club website.
Tags: Economic Outlook, Washtenaw County, Washtenaw Economic Club