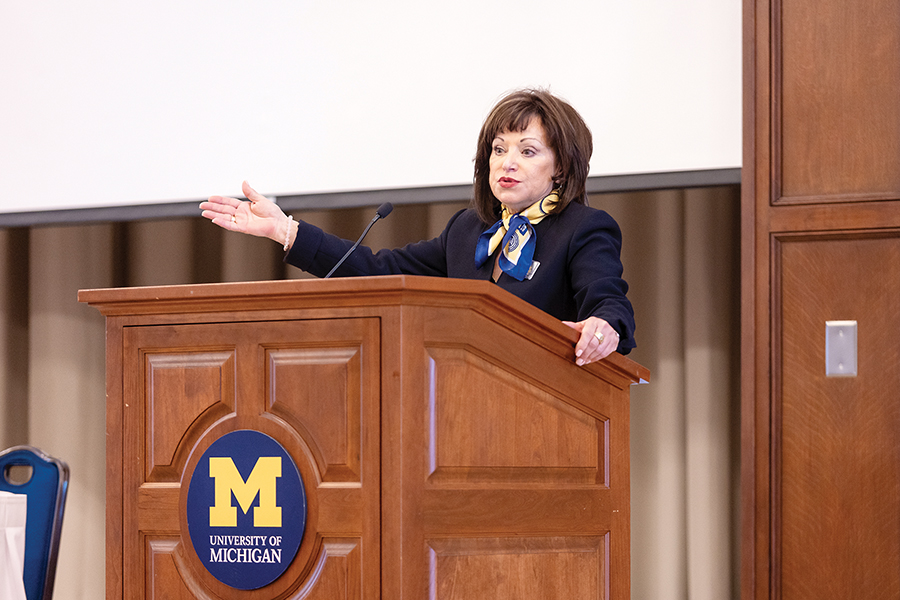 Developing highly skilled talent is a key part of the fast-changing world of automated transportation and mobility, and Washtenaw Community College is leading the way.
The college's unique role in the Center for Connected and Automated Transportation (CCAT) grant was highlighted at the 2022 Global Symposium featuring WCC President Dr. Rose B. Bellanca as a keynote speaker.
More than 175 automotive industry leaders, engineers, policy makers and research scientists attended the fifth annual event, held April 12-13 at the University of Michigan, which leads the grant consortium.
WCC is the only community college in the CCAT grant, which is in its sixth year. Other partners are Purdue University, the University of Illinois, University of Akron and Central State University.
"Washtenaw Community College is proud to take the research and knowledge gained from this partnership and apply it in the classroom," Bellanca said. "We arm students with the skills they need to work in and thrive in Michigan's automotive, technology and mobility industries."
Other speakers and panelists included Congresswoman Haley Stevens, Lt. Gov. Garlin Gilchrest, Michigan's Chief Mobility Officer Trevor Pawl and many other business and government leaders discussing the future of transportation systems, smart intersections, safe mobility and more.
In addition to its CCAT partners, WCC cultivates relationships with industry leaders who help guide curriculum development and place students in meaningful work experiences.
Bellanca played a video of WCC graduate Zach Van Buren, now employed at Toyota testing vehicles while pursuing his bachelor's degree in engineering at the University of Michigan-Dearborn.
The college operationalizes the advanced transportation research conducted by its university partners and applies it to training and teaching emerging skill sets to fuel talent pipelines to meet industry needs.
With more than 1,000 students enrolled in over 60 automotive and cybersecurity technologies career pathways, WCC is leading the response, Bellanca said.
The college's programs and pathways include automotive technology, advanced manufacturing, robotics and mechatronics, cybersecurity, data analytics and business intelligence.
"We've accomplished so much already through the CCAT grant, yet we are only just beginning," Bellanca said.
Michigan Governor Gretchen Whitmer has called for two million electric vehicles to be on the roadways by 2030. President Joe Biden has called for half of all new cars sold by 2030 to be electric and for 500,000 publicly available EV charging stations also to be installed by 2030. Ford expects 40% of its vehicles sold to be electric by the year 2030.
"There is no question the future is upon us and is moving at a fast pace," Bellanca said. "The talent requirement for specially-trained technicians and engineers to help manufacturers achieve upgrades and to rapidly move the industry is going to be enormous."
The disruptive nature of the electric vehicle and electric battery industry will impact education and workforce training. Jobs include technicians for product development, production, maintenance and customer service of EV systems, sensors, electric batteries, controls and progressing levels of vehicle automation.
Last summer, WCC acquired a new all-electric Ford Mustang Mach E to integrate into its curriculum and prepare students.
With the CCAT coalition and grant, the college has developed new courses and purchased lab equipment, including:
Automotive Advanced Driver Assistance System sensors, controls, diagnostics and oscilloscopes for communication network analysis and sensor calibration

GRIMM Automotive Cybersecurity Educator Workbench and Umlaut cybersecurity workstations

Vehicle-to-Everything communications equipment for hands-on applied learning in Intelligent Transportation Systems communications, networking, and cybersecurity in vehicles
The grant has also helped WCC heavily engage in outreach to children and youth, especially underrepresented K-12 students, to fuel excitement and curiosity for all things STEM.
WCC will host the 2023 CCAT Global Symposium in its newly renovated Morris Lawrence Building.
Tags: Advanced Transportation Center, CCAT, June 2022, Mobility, On The Record