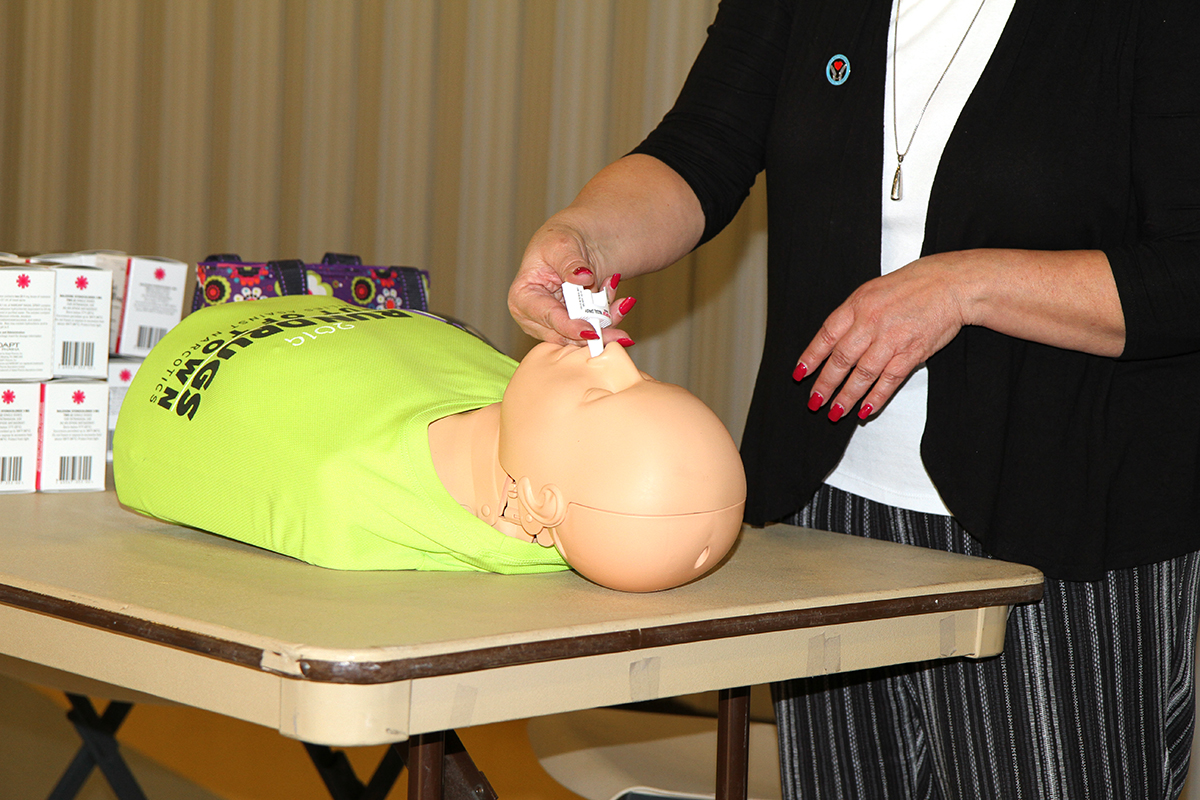 As Kim McComb from Families Against Narcotics ran through a Naloxone training session with a room full of Washtenaw Community College faculty, staff and students on Wednesday, nobody understood its value more than a pair of WCC students sitting at a table in the back of the room.
Joshua Truchan and Matt Strang are recovering addicts and current officers in the WCC Collegiate Recovery Program. Both have also been on the giving and receiving ends of an emergency Naloxone treatment.
It's impossible to know, of course, if a blast of the brand name Narcan spray into your nasal cavity was the lone factor in determining why an overdose of opioids didn't end in death. But considering Strang received the treatment "several times," he admits that "odds are that it probably did" save his life.
With the WCC Collegiate Recovery Program limited primarily to virtual meetings during the pandemic, program coordinator Teresa Herzog said student members have been eager to bring the training to an in-person group. Truchan and Strang kicked off the event by sharing some of their personal experiences.
Registration for the session quickly reached capacity, something WCC Interim Chief of Public Safety and Emergency Management Jamie Zecman was pleased to see.
"We are in the midst of an opioid epidemic in this country, and neither Washtenaw County nor this campus are immune to it," Zecman said. "It was great to see so many people interested in this program and in learning how to make our campus a safer place for everyone."
With opioid overdose death rates rising, knowing when and how to administer the medication can be life-saving. Naloxone can reverse an overdose from heroin, fentanyl and prescription opioid medications like Oxycontin, methadone and Vicodin. A free nasal spray kit was given to each attendee.
Nationally, drug overdose is now leading cause of accidental death among Americans under the age of 60, surpassing auto accidents and gun violence.
The Washtenaw County Health Department reports an increase in opioid-related deaths locally, rising from 60 in 2019 to 61 in 2020 and 71 in 2021. Herzog said conversations with local health and law enforcement officials revealed that Naloxone has prevented hundreds more deaths during that time.
Truchan, 29, and Strang, 35, both remained in the Ann Arbor area after completing a long-term residential program at Dawn Farm. Truchan has been sober since November 2018 and Strang recently celebrated the one-year anniversary of his sobriety.
Both had friends suggest checking out the WCC Collegiate Recovery Program before they enrolled at WCC and the experience has helped them excel in their college courses.
"Being a non-traditional student going back to school, the program gave me the opportunity to become familiarized with campus and other people right before I started classes," Truchan said.
Truchan, enrolled in the Math and Science program at WCC, was accepted into the University of Michigan School of Nursing, where he'll begin in June.
Strang, who previously worked in the Information Technology field, is studying the Pre-Pharmacy concentration of the same Math and Science program, with plans to attend medical school or study neuroscience. Along with working as a simulation lab assistant at WCC, Strang is a peer education director at the University of Michigan-based Students for Sensible Drug Policy.
"The CRP really helped me to integrate into school before I got here," said Strang, a 10-year heroin addict. "It helped with some social anxiety and steered me toward some resources, which has resulted in a few scholarships."
———
The WCC Collegiate Recovery Program meets every Wednesday at noon and provides sober social events. For more information, visit the program's website or contact coordinator Teresa Herzog at 734-318-0785 or [email protected].
Tags: Collegiate Recovery Program, June 2022, On The Record, Public Safety