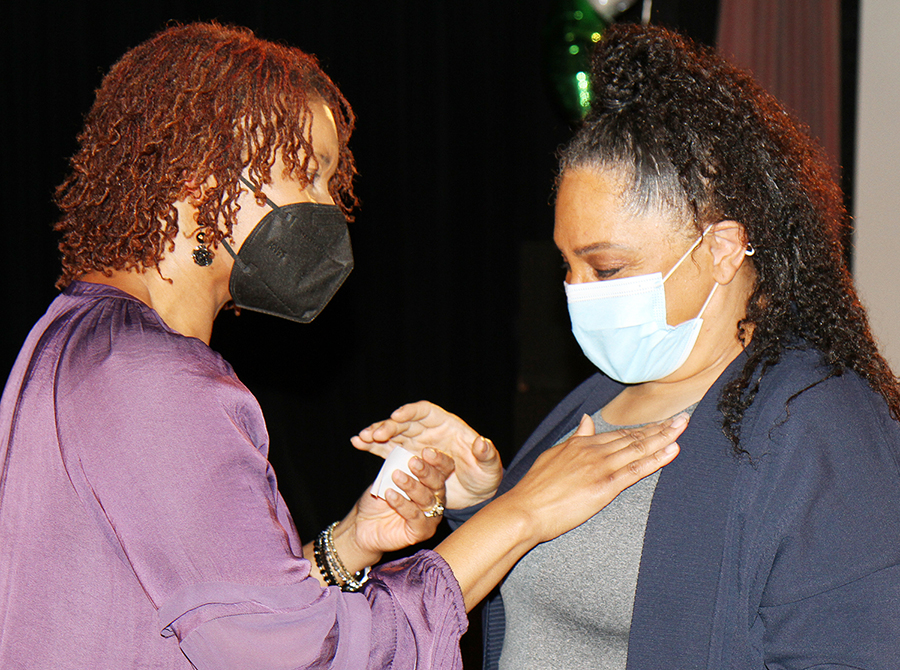 The world – and the healthcare system, in particular – saw drastic changes between the time the Winter 2022 graduates of the Washtenaw Community College nursing program chose a career path and started their education.
The resilience it took for the 69-member class to complete an associate degree program was praised frequently during a pinning ceremony in their honor inside the WCC College Theater on Thursday, April 28.
Nursing Department chair Dr. Theresa Bucy pointed out that the application deadline for this cohort was December 2019, but classes started in August 2020. "They made their decision to go into nursing before the pandemic, but did all their schooling during the pandemic," Bucy said.
There was undoubtedly some second-guessing among the class, but graduate Bailey Brown was not one of them. "The pandemic was scary, but seeing how important nurses were to people everywhere made me want to be one of the healthcare heroes even more," she said.
Brown was one of two graduate speakers chosen to address the class, along with WCC President Dr. Rose B. Bellanca, Health Sciences Division Dean Dr. Shari Lambert and clinical instructor Kristy Shepherd. Faculty member Dr. Marva Brooks was the master of ceremonies.
The pinning of nursing graduates is a time-honored tradition dating back to the 1880s that represents the initial initiation into the profession.
In her address, Brown noted that nursing school is difficult in normal times, but "especially on Zoom, putting Foley catheters into cardboard boxes, injecting oranges with insulin syringes and doing head-to-toe assessments on family members. COVID created challenges we never could have imagined, yet despite the pandemic all of you continued to pursue nursing. All of you care enough about taking care of those who need help. We are all resilient. To have made it through all of this takes major strength."
Daviana Gustafson-Espinoza was the second student speaker. She noted that the graduating class "started our journey to what the world needed most … hope. Hope that someone would be brave enough to stand by those who need help. Hope in a time where there can be so much indifference that we are here to put compassion back in its rightful place."
"Everyone in this room had two choices: To answer that call to become a nurse and come fully prepared to meet its unique challenges … or not," Gustafson-Espinoza continued. "We all answered. All of us answered that call, despite the crisis that surrounded us. Despite the canceled clinicals and closed campuses, the endless hours of studying in isolation, and the pressure that comes with being a student nurse."
Members of the Winter 2022 WCC Nursing Graduating Class include (in alphabetical order):
Sherry Anderson *
Rogayah Atifah
Karen Banach
Courtney Barnes
Idra Benge
Tara Bozaan
Samantha Brossard
Bailey Brown *
Kia Brown
Ashley Bunton *
Anna Burtt
Tracie Carico
Kymberly Collier
Danielle Coon
Efstathia Davlantes
Kaelyn Diggs
Alejandra Dyez *
Brianna Gallagher-Taylor
Jordan Giroux
Taylor Gora
Jennifer Gradowski
Crystal Grant
Daviana Gustafson-Espinoza *^
Rachael Halloran
Bailey Hawks
Sonia Hernandez
Hailey Hilligoss *
Ciarra Huffman
Lena Keller
Allison Kier ^
Elle Lachance
John Leonard
Brandon Mallari
Erin Martin
Tanya McCoy
Kedesha Mercy
Raef Metto ^
Courtney Miles
Kayla Moleda
Jake Neuburger
Gabrielle Niemi
Natalie Ostrom
Kelli Parrelly
Carla Pfaff
Hannah Reynard
Shayne Richards
Bianca Robinson
Karla Robinson
Lauren Rochette
Brian Romero
Jonna Roth
Daniel Sai
Ryan Sandberg
Megan Sexton
Jessica Skrobot
Beatris Smalbergher
Hanna Smith
Rachel Stiles
Beth Anne Synko
Steven Theil
Sarah Tokarski
Jordan Vasquez-Bell
Hailey Wallace
Danielle Warner *
Marianne Warner ^
Jennifer Watts *
Robin Weatherwax
Raynelle Witherspoon
Haesoo Yoo
* - Graduating with honors as members of the Organization for Associate Degree Nursing
^ - Members of the National Student Nurses Association
Tags: Class of 2022, Graduation, Nursing, Student Success