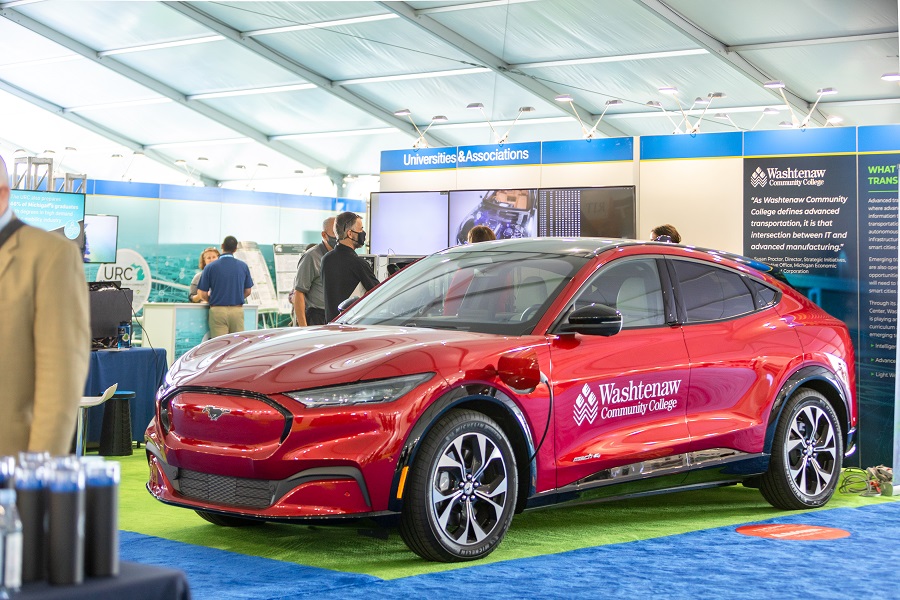 WCC's Ford Mustang Mach-E was debuted at Motor Bella 2021. (Photo by J.D. Scott)
Washtenaw Community College will show off its Ford Mustang Mach-E electric vehicle, its automotive cybersecurity workbenches and skills training pathways at Careers of Today & Tomorrow on Thursday, May 12, at the Southern Michigan Center for Science & Industry in Hudson.
WCC is one of the primary sponsors, along with host Michigan Works! Southeast.
Hundreds of curious high school juniors and seniors and adult job seekers alike are invited to the event, where they will learn about workforce training and immediate career opportunities in manufacturing & engineering, health sciences & human services, construction & energy, and other in-demand careers, including transportation.
Fun, interactive demonstrations will be led by working professionals to showcase the types of current and future careers. Nearly 25 employers will also be on hand looking to fill jobs.
WCC will highlight occupational programs, certificates and associate degrees. In addition to its Advanced Transportation Center and mobility exhibit with the electric vehicle, in-demand programs such as welding, advanced manufacturing, health science and construction management will be featured.
Admissions reps will also be on hand to discuss WCC's low tuition rate and other benefits such as its Open Education Resources program, which has saved students $9 million in recent years with free online textbooks for certain courses.
Careers of Today & Tomorrow will be from 9 a.m.-3 p.m. at the Southern Michigan Center for Science & Industry, 550 E. Main St., Hudson.
Up to 1,000 high school juniors and seniors will attend the morning session from 9-11 a.m., while up to 1,000 adult job-seekers will attend the afternoon session career fair from 1-3 p.m.
Attendees and exhibitors should register at www.mwse.org/ct2/. The complete list of sponsoring organizations is also listed at this site.
Companies represented include Alro, Blissfield Place Assisted Living, Brio Living Services, Chemical MFG Consortium, Consumers Energy-DTE and MEWDC, Economic Growth Institute-University at Michigan, Elara Caring, GSHA Quality Services, Henry Ford Health Systems, Hillsdale County Medical Care Facility, Hillsdale Hospital, Jackson College, LeMatic, MI STEM Forward, MI STEM Region 2, Operating Engineers Local 324, Rima Manufacturing Company, Tecumseh Place, Toyoda Gosei Fluid Systems, Porter Hills, Production Saw & Machine, Wacker Chemical and WILX. The event website will continue to be updated as participating companies are added to the schedule.
If YOU GO
What: Careers of Today & Tomorrow
When: Thursday, May 12
Time: 9 a.m.-3 p.m.
Where: Southern Michigan Center for Science & Industry, 550 E. Main St., Hudson
Registration & Details: mwse.org/ct2/
Tags: ATC, Academic and Career Skills, Advanced Transportation Center, Affordability, OER, Tuition, Workforce Development, Workforce Training