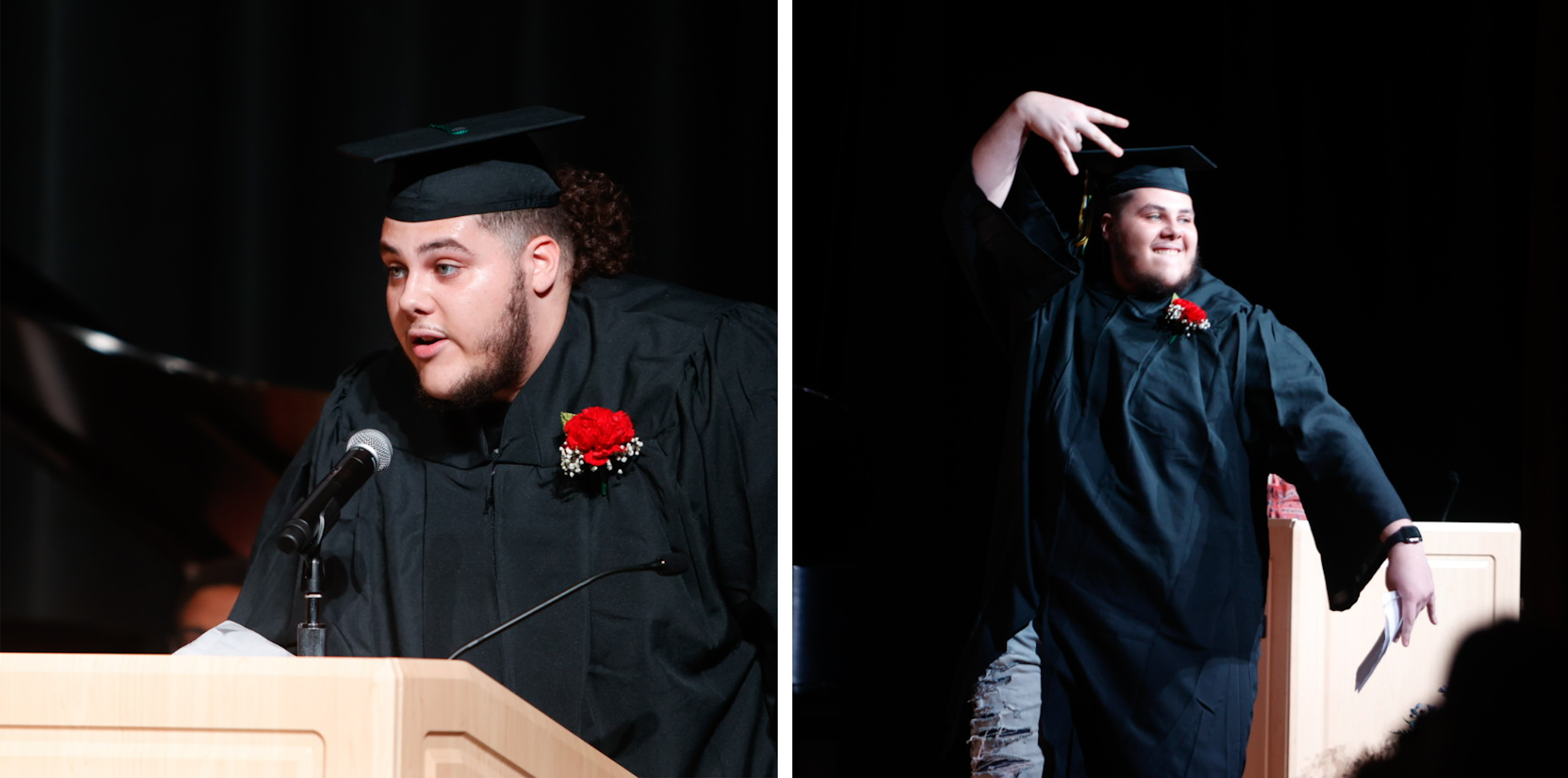 A near-capacity crowd celebrated the 141-member class of the WCC Adult Transitions Pathways in Towsley Auditorium on Thursday evening, the program's first in-person graduation ceremony since 2019 and the first major event held in the recently renovated Morris Lawrence Building on the WCC campus.
Jaden Dudley, selected to represent the graduating class as the ceremony's student speaker, reflected on his renewed hope as he and his classmates entered the auditorium in traditional cap-and-gown graduation regalia.
RELATED: PHOTO GALLERY FROM EVENT
"Before this program, I had zero hope for myself being successful. I dropped out my senior year of high school and that made me feel like I failed my family and I failed myself," he said. "But now we're going to walk out of here with smiles wide and caps held high … because we're graduates, baby!"
Following Dudley's remarks and a performance by the WCC Jazz Combo, those wide smiles were on full display as every member of the class crossed the stage to raucous applause and screams from family and friends in attendance.
The graduates successfully completed their GED, a series of four subject tests to demonstrate high school academic knowledge. This year's class faced the additional challenge of being required to conduct many of their classes remotely.
"Looking across this room, I see a lot of confidence and much pride. And you should be proud, because, in addition to a global pandemic, I know there were challenges in your path even before you came through our doors," WCC President Dr. Rose B. Bellanca told the graduates. "That you are here tonight speaks to your grit, tenacity and perseverance."
Vice chair Angela Davis represented the WCC Board of Trustees at the ceremony and encouraged the graduates to continue their studies at the college.
"But no matter where you go next, we know your future is going to be very bright and you're always going to be a part of our WCC family," Davis said. "Please know that everyone on the board is proud of you."
State Representative Felicia Brabec also congratulated and encouraged the graduates before keynote speaker Patrick Brown, Director of the Michigan Adult Community and Alternative Education Association pointed out that WCC Adult Transitions Pathways graduates are among 2,000 students graduating from 120 different GED programs across the state this year.
Brown noted that just four of those 120 programs are hosted by a community college, which provides the graduates a unique opportunity to continue their academic pursuits at the same institution where they completed their high school equivalency.
The WCC Adult Transitions Pathways program not only prepares students for the GED test, but offers the opportunity for dual enrollment in high-demand career and technical education programs at the college.
A total of 496 students enrolled in the Adult Transitions' GED and English-as-a-Second-Language programs this year, according to program director Bonnie Truhn.
Tags: Adult Transitions Pathways, Class of 2022, Graduation, On The Record, September 2022