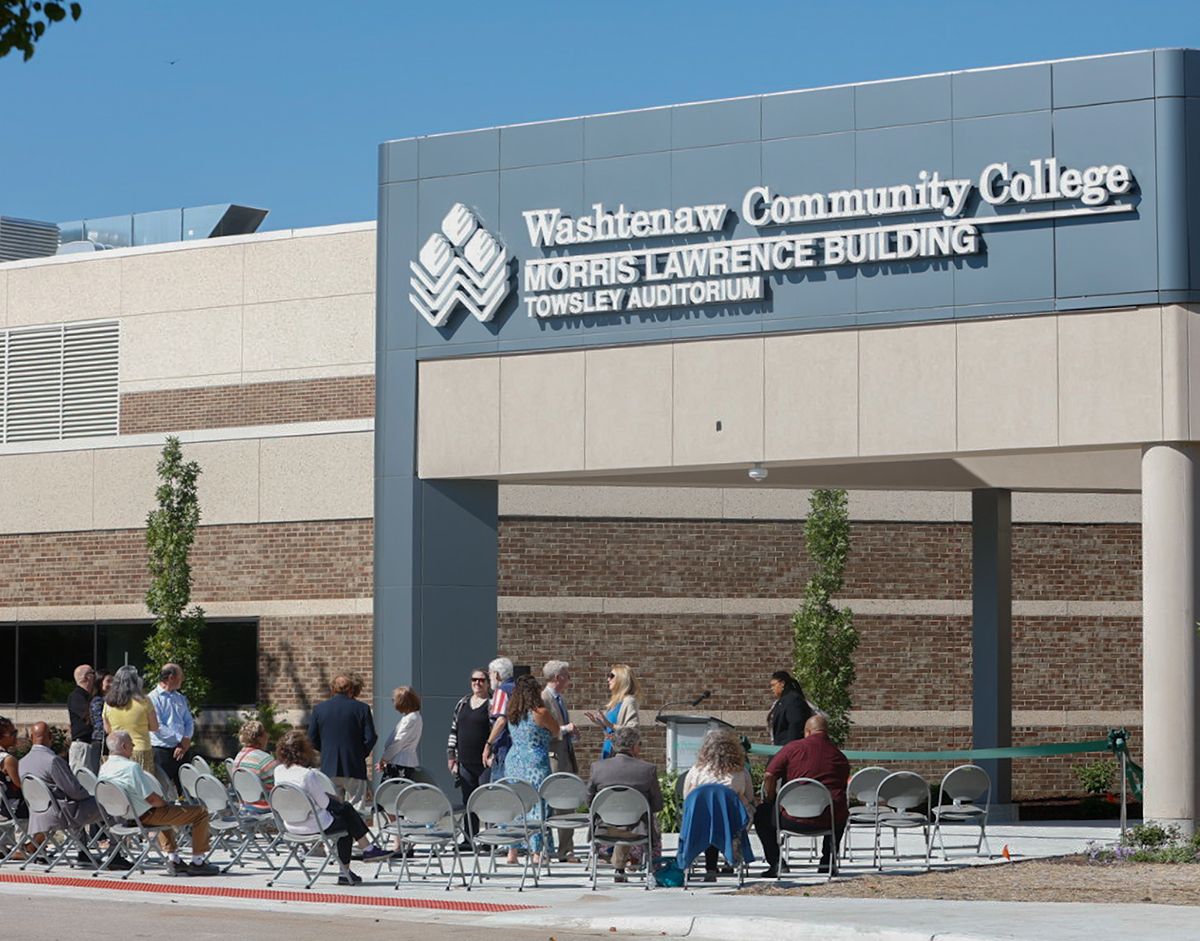 Washtenaw Community College today unveiled $13.5 million in improvements to the Morris Lawrence Building, a conference and community resource center that hosts up to 150,000 visitors annually.
The building has been closed for the past year while construction crews installed new flooring, skylights and an eco-friendly energy system designed to help the college reduce its carbon footprint, among other renovations. Improvements feature state-of-the art audio and visual media upgrades and expanded technology access.
A new art gallery featuring mixed media from WCC student artists and staff welcomes visitors near the front entrance.
Among the most utilized facilities on campus, the Morris Lawrence Building provides space for both credit and non-credit instruction, business and industry training, the WCC Police Academy, music and the theatre arts, as well as community organizations, business and civic events.
It is home to the 480-seat Towsley Auditorium, a theatre-style space, which has hosted legends such as the Four Tops and Temptations, as well as local performing arts groups.
The 31-year-old facility was designed for the community – to help individuals learn and grow and to support workforce and economic development.
The grand re-opening occurs in time to host nearly 4,000 representatives from four national skilled trades organizations who come to WCC for week-long training events throughout the summer
"I'd like to thank our Board of Trustees for supporting this important investment in a space that represents the heart of community events and activities at the college," WCC President Dr. Rose B. Bellanca said.
Bellanca also thanked the entire community for its ongoing support of the college.
"We couldn't do what we do to educate and train students to support Washtenaw County's workforce and talent needs without you," she said.
Originally named the Job Skills and Campus Events Building, the facility was later renamed for the late Morris J. Lawrence, Jr., a beloved and inspiring performing arts faculty member and jazz orchestra instructor at WCC.
Tags: Campus Events, Campus News, Dr. Rose B. Bellanca, On The Record, September 2022