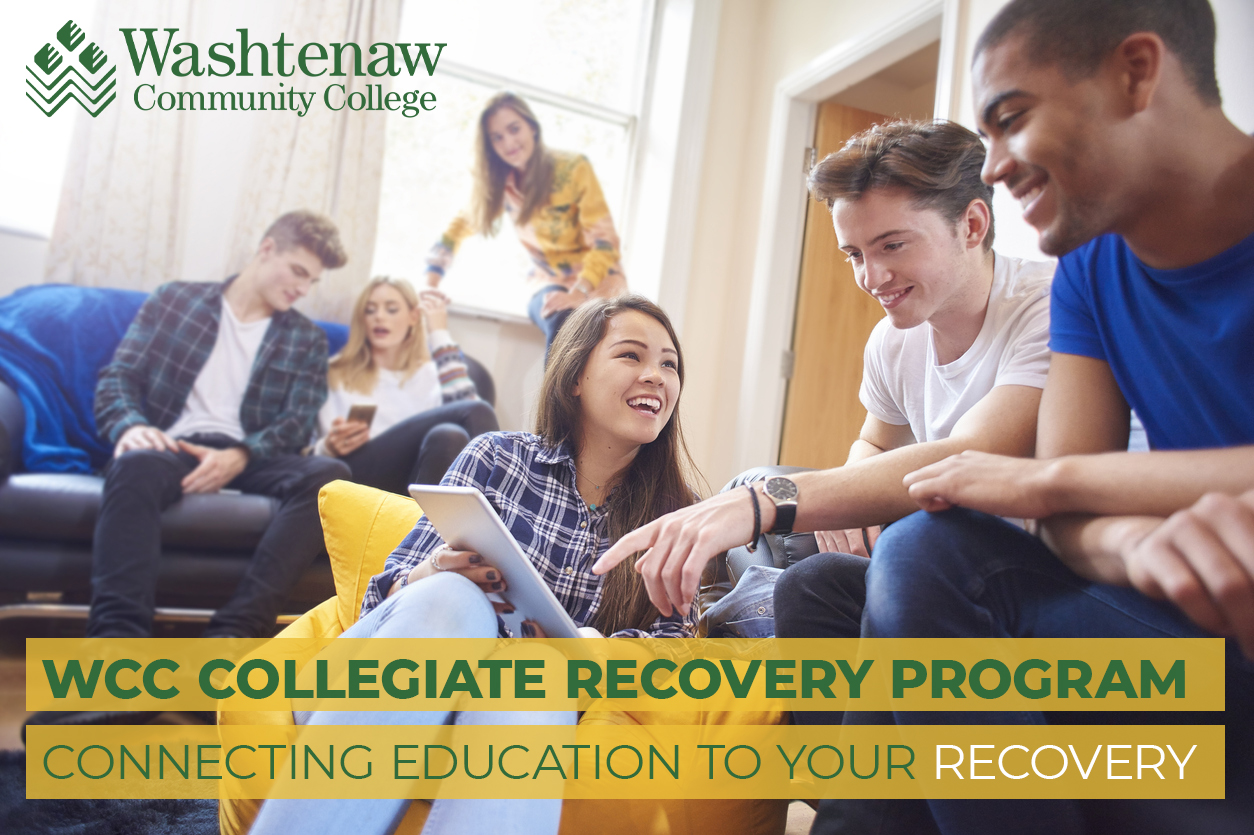 The Collegiate Recovery Program at Washtenaw Community College has received a grant from the Jamie Daniels Foundation that will endow a scholarship for a student in the program and assist in its quest to provide all WCC students with recovery support, connection and community to improve their health and well-being.
"Our students are excited about the outreach and expansion that the Collegiate Recovery Program can provide with this grant award," said CRP coordinator Teresa Herzog. "The pandemic has taught us that human connection is crucial. Our students thrive in communities that are inclusive, caring, and helpful – and that is CRP."
The Jamie Daniels Foundation was established by his parents, Lisa Daniels-Goldman and Detroit Red Wings play-by-play announcer Ken Daniels, in memory of their late son, who died from an overdose at the age of 23 while receiving treatment for a substance use disorder.
Noting that research shows approximately 95% of students in collegiate recovery programs maintain their recovery, the foundation recently announced the programs at WCC, the University of Michigan and Oakland University as their newest partners. That raises the total to seven collegiate recovery programs it supports throughout Michigan.
"One of our focus areas is the support of students dealing with substance use disorder," said Chris Perry, Executive Director of the Jamie Daniels Foundation. "That's why we are so proud to partner with Washtenaw Community College in their effort to help those in recovery overcome their disease and to provide them the opportunity to live their best lives."
Since 2018, the foundation has granted nearly $400,000 to collegiate recovery programs through their partnership with The Children's Foundation. The support now enables nearly 150,000 college students – or one-third of Michigan's college students – to access resources, support, and guidance throughout their recovery journey.
"The generosity of the Jamie Daniels Foundation and The Children's Foundation comes at such an important time," said Herzog. "Our WCC program will be able to make clear to our community of students that they are not alone and that we support them."
The grant endows a scholarship through the WCC Foundation that will assist one or more members of the WCC Collegiate Recovery Program each year. Only the annual interest generated by the endowment is used for annual scholarships, allowing the fund to benefit students in perpetuity. WCC Foundation data shows that 83% of students who are scholarship recipients remain in school or have graduated.
Funds from the grant will also be used to help the WCC Collegiate Recovery Program to host sober social events for members and to support a membership drive to raise awareness of the program and increase student participation.
In the upcoming Fall semester, the program plans to host two weekly meetings to provide a community of mutual support and connection:
1) A student-led recovery meeting at 7 p.m. on Monday evenings to support fellow students in abstinence-based recovery.
2) A student-led lunch-and-learn series called "Just Say KNOW" at noon on Wednesdays. This meeting is for all WCC students and is designed to support them "where they are" on their own terms, and may serve as a pathway to additional prevention, treatment and recovery services. The students have selected topics such as vaping, cannabis, alcohol, prescription drugs, naloxone training and other overdose prevention methods.
Find more information about the Collegiate Recovery Program at WCC online or by contacting Teresa Herzog at 734-318-0785 or [email protected].
Tags: Collegiate Recovery Program, Grants, On The Record, September 2022, Student Services, WCC Foundation