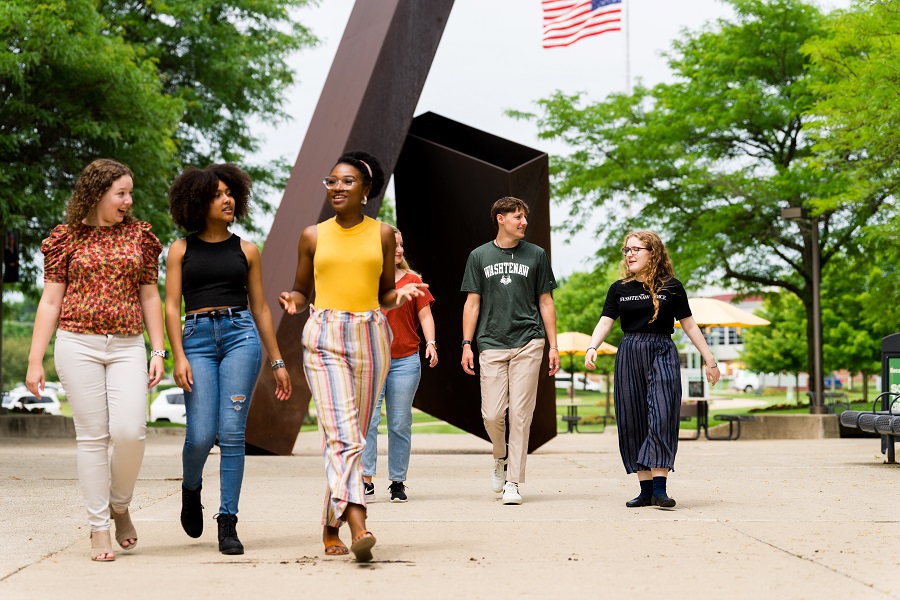 Washtenaw Community College (WCC) is gearing up for a new academic year starting Monday, August 29, that features its first no-cost textbook associate degree, a brand new Automotive Cybersecurity Lab and frozen tuition for the fifth straight year.
New academic certificates are offered starting this Fall to prepare students for careers in robotics and automation, cardiac telemetry, entrepreneurship and elementary education.
In all, WCC offers 137 affordable, high-quality programs – 45 of which are completely online. Tuition is among the lowest in the state, with in-district tuition frozen again at $95 per credit hour, or $2,280 annually for a full-time student enrolled in 12 credit hours for the Fall and Winter semesters.
Four start dates offer flexibility for student schedules. Session I begins August 29; Session II begins September 21; Session III begins October 5; and Session IV begins October 20. Shorter sessions cover the same material in a compressed amount of time.
WCC's first-ever "Z-Degree" – zero-cost textbooks – is an associate's degree in General Studies in Math and Natural Sciences. This allows students to earn the degree without needing to purchase textbooks, which can range between $300-$500 each semester depending on the number and types of courses.
Faculty members work with professional librarians to develop high-quality free online content for a variety of disciplines in lieu of traditional textbooks for these Open Educational Resources (OER) classes. Since 2017, the college has helped students save more than $9 million in book costs.
To date, 47 different courses are offered with free online textbook alternatives.
"We are excited to welcome students back to a new school year. WCC's academic programs, low tuition and many support services prepare students for success in their new careers or completion of their bachelor's degree at a four-year school," said WCC President Dr. Rose B. Bellanca.
Among the college's showpieces is its new Automotive Cybersecurity Lab, where students will train for mobility careers protecting driver information from hackers and ensuring vehicle safety.
Michigan's Lieutenant Governor last month hosted a press conference in the lab to promote Michigan Reconnect, a state tuition program for prospective students 25 and older, and $6 million in new wrap-around support grants from the state.
WCC is a National Center of Academic Excellence in Cyber Defense Education, as designated by the U.S. National Security Agency and the Department of Homeland Security, and offers a Cybersecurity Associate Degree, an Automotive Cybersecurity Certificate and other cyber certificates.
Christopher Gargiulo, 21, of Northville, is pursuing the Cybersecurity Associate Degree and hopes to transfer 76 credit hours from WCC to Eastern Michigan University.
He started at WCC during the pandemic in 2020 and this year is one of the new STEM Scholars. "I've always leaned in to the areas of technology and computers since a young age. There are a lot of paths and career opportunities in cybersecurity. STEM Scholars coaches and opportunities are going to help me prepare," he said.
Gargiulo has taken advantage of WCC's many support services and resources, including success coaches.
STEM Scholars is a comprehensive program designed to encourage and facilitate success for students seeking science, technology, engineering and math careers. Scholarships are available, along with research experiences, transfer programs with alliance institutions, and networking and mentoring opportunities.
Hartej Singh, 18, of Canton, is also in this year's new STEM Scholars cohort and plans to transfer to either Wayne State University, Grand Valley State University or the University of Michigan-Flint after earning his associate's in Health Program Preparations.
"I'm looking forward to more people in class. My math class this summer had under 10 people, including the teacher, and that makes it difficult to build relationships. It's nice to have friends around you," Singh said.
Larry Blanchard III, a Marine Corps veteran who will graduate after the Fall semester from the Pre-Engineering Transfer Program, is also ready for on-campus classes.
"The bulk of my classes will be in-person, and that's what I prefer. I'm looking forward to getting back to normal this semester, with no masks required. It's good to collaborate. You can learn better in person. It's easier when you have someone physically in front of you," he said.
Blanchard, 26, originally of Milford and now living in Saline, plans to transfer to the University of Michigan to pursue a bachelor's degree in mechanical engineering. His goal is to work in the sustainable or renewable energy sector. He served as a Harrier/aircraft mechanic in the Marine Corps from 2014-2019. Before enrolling at WCC he worked as an aircraft mechanic for an aerospace company in Phoenix.
The new school year also brings new academic programs – Robotics Technician, Automation Specialist Advanced, Entrepreneurship Essentials and Introduction to Elementary Education certificates. A Cardiac Telemetry program previously approved will also be available for the first time this Fall semester.
Details on the new programs:
Robotics Technician Certificate
The 18-credit-hour robotics technician certificate is a starting point for those with the desire to enter the field of automation and robotics. Students will work in industrial settings to operate, maintain and program robots. People who enjoy technology, working with their hands and manipulating program code are well-suited for this career.
Automation Specialist Advanced Certificate
The 19-credit-hour automation specialist certificate builds on skills obtained in the robotics technician certificate for those with the desire to enter the field of automation and robotics. Students will learn how robots are programmed and wired into larger systems. Technicians work in industrial settings to operate, maintain and program robots. People who enjoy technology, working with their hands, and manipulating program code are well suited for this career.
Entrepreneurship Essentials Certificate
This 9-credit-hour certificate will prepare students to start a business venture by examining the vital tools needed to support a small business opportunity. Students will develop business and financial plans, a business website and present (pitch) their ideas. This certificate will be a stackable credential which may also be applied to the Entrepreneurship and Innovation certificate or the Management Degree with an Entrepreneurship & Innovation concentration.
Introduction to Elementary Education Certificate
This 34-credit program prepares students to transfer into an elementary education program at a four-year college or university. The first year of instruction in a bachelor's degree program in elementary education is covered. The program includes the general education courses used for many elementary education programs in Michigan that prepare students for the state-mandated basic skills tests
Cardiac Telemetry Technician Certificate
This 6-credit certificate program prepares students for an occupation in telemetry monitoring and provides the fundamentals in cardiac rhythms, applying cardiac monitors on patients in health care settings and communicating effectively with nurses caring for patients on cardiac monitors. Clinical training will be provided at local hospitals. The program was developed after area health care facilities contacted WCC about the possibility of offering a training certificate. Once the program is completed, students may sit for the National Certified ECG Technician exam for telemetry monitors.
Tags: Automotive Cybersecurity, Certificates, Michigan Reconnect, OER, On The Record, September 2022, Z-Degree, academic, fall 2022