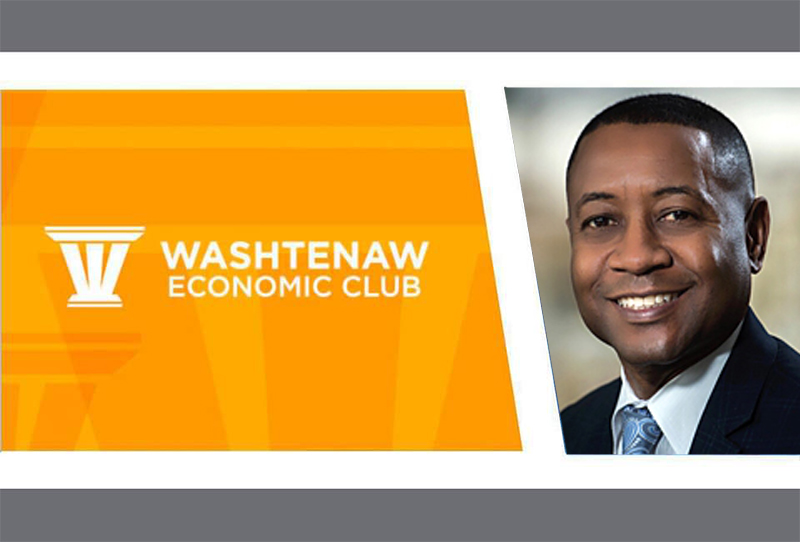 Ovell Barbee, former Senior Vice President and Chief Human Resources officer Indiana University Health will be the featured speaker at the next Washtenaw Economic Club luncheon on Thursday, September 29.
The event will be hosted from 11:30 a.m.-1:30 p.m. at the newly renovated Morris Lawrence Building on the WCC campus, 4800 E. Huron River Drive.
Business organizations and community members are invited to attend. Seating is limited. Visit the Washtenaw Economic Club website for information about individual tickets or business sponsorships.
Washtenaw Community College hosts the Washtenaw Economic Club, which offers a luncheon speaker series on relevant topics as well as special events.
Barbee's presentation will focus on "Keeping DEI Top of Mind: Best Practices and Frameworks to Support the Growth and Impact of DEI Efforts."
Barbee supports deserving college students with books and supplies and encourages people to use their voices to advocate for needed change. He serves on the board of the National Coalition for Racial Justice and Equity (National Diversity Council) and previously served on the Heart of West Michigan United Way, Grand Rapids Community College Foundation and the National Associate of Health Services Executives, West Michigan Chapter (president). He is a member of Alpha Phi Alpha fraternity.
Individuals, businesses and community organizations may participate in the Washtenaw Economic Club in several ways, including through a variety of membership types, as one-time event attendees or through event sponsorships.
Sponsors for the 2022 season are Ann Arbor SPARK (Platinum), DTE Energy (Platinum), Washtenaw County (Platinum), Washtenaw Community College (Platinum), Hylant (Gold), ITC (Gold) and McKinley (Gold).
The final luncheon event of the 2022 season, "An Insider's Look at the Election Results and Their Impact on You!" with Tim Skubick, senior capital correspondent from Lansing, will be held November 10 in the Morris Lawrence Building at WCC.
If You Go
WHAT: Washtenaw Economic Club Luncheon with Ovell Barbee
WHEN: 11:30 a.m.-1:30 p.m. Thursday, September 29
WHERE: Morris Lawrence Building, Washtenaw Community College
HOST: Washtenaw Economic Club
TICKETS: https://www.wccnet.edu/business/economic-club/
Tags: Diversity, Washtenaw Economic Club