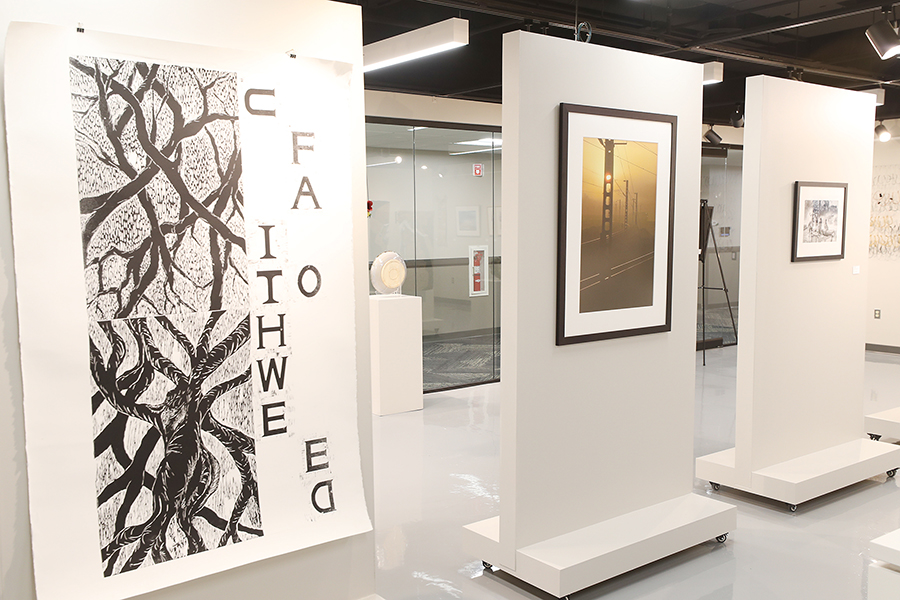 Artwork by faculty members in Washtenaw Community College's Fine Arts and Digital Media Arts departments is on display at the new art gallery inside the recently renovated Morris Lawrence Building.
Twenty-three WCC faculty members contributed a total of 40 art pieces in a variety of disciplines to the "Life in the Abstract" show, which opens today (Saturday, Oct. 1) and runs through Wednesday, Dec. 21. The gallery, which is open to the public, operates from 8 a.m. to 5 p.m. weekdays and whenever the building hosts weekend events. (Find directions and a campus map online.)
WCC part-time art instructor Jennifer Lickers organized and set up the show, which gave her ample time to experience the submitted artwork.
"I knew we have lots of talented artists at WCC, but spending this time staring at their work individually, I'm really in awe of the process of how everyone's art is made," Lickers said.
"It's exciting to have a gallery that showcases the work of the faculty. It's great for the students to see what we do as artists," Lickers added. "Academia is steeped in tradition, yet artists today aren't necessarily working in that tradition. It's important for students to see what art can be beyond the classroom."
Contributing faculty members and their work include:
TERRY ABRAMS
Tahquamenon Falls, MI, archival pigment photography
Cedar Whip, Lake Superior, MI, archival pigment photography
INGRID ANKERSON
Spring Periods No. 15, letterpress (metal type and ink)
Radial Pattern No. 06, letterpress (metal type and ink)
Cube No. 07, letterpress (metal type and ink)
CARAMIA BERTONI
Experiment #124, watercolor, acrylic
Experiment #75, watercolor, graphite
SUZANNE BOISSY
Upward, hand-dyed fabric, applique, embroidery, screen printing
Infection 1, 2, 3, three-dimensional embroidery, felted wool, mixed media
ALEXANDER M. CLINTHORNE
Flowing Skeleton, bronze
Lobed Vessel #4, ceramics
Floral Growth of A'a', ceramics
AMBER DIETZ
Joshua Tree, photography, cyanotype
LENA B. ELLIS-BOATMAN
Everything is Wrong, and That's Okay, weaving
WE/D (growth), relief print
And the sun still raises / shag carpets I have crawled, weaving
RYAN FORREY
Arts & Craft form study I, ceramics
Arts & Craft form study II, ceramics
HEIDI HAIRE
Welcome to the Wal^nut House, Volume 1, paper, scissors
JILL JEPSEN
Complimentary Boundaries, ink, pastel, color pencil and collage
JENNIFER LICKERS
Strawberry Mush #5 (Dealing with the Mush Hole), acrylic, ink, canvas
VALERIE MANN HATOPP
Letter to My Daughter, rubber, reclaimed wire, twine, dreadlocks, found objects
Ranunculus 1, watercolor
WindowStrick Series: Romeo and Juliet, watercolor
STEVE PEPPLE
West Side Book Shop, photography
Cooling Off, black & white photography on archival paper
I.B. REMSEN
Platter, ceramics
Vase, ceramics
NEMANJA ROSIC
Brain Chip, acrylic on aluminum
STEPHANIE SARRIS
Leaf Grid, acrylic on canvas
TRACI SHIPLEY
Alien Autopsy, pastels on chalkboard
MICHAEL SMITH
A Wee Backyard Bird at Dinner, photography
Peter Bowen: Writer and Wry Raconteur, photography
COLLEEN SOUTAR
Fish Bird House, ceramic
Christmas Tree, ceramic, wood
ROBERT THRONE
1222022 1-5, charcoal powder, charcoal pencil
DON WERTHMANN
Electric Railway, Datong, China 1988, photograph
KEVIN WOODLAND
Magic From the Goldsmith, collage
The Quest and the Glitter, collage
MATTHEW ZACHARIAS
Childhood, Boyhood, Sonic Youth #10, mixed media
Tags: Art Gallery, Ceramics, Digital Media Arts, Digital Photography, Exhibit, Fine Arts, Graphic Design, Painting