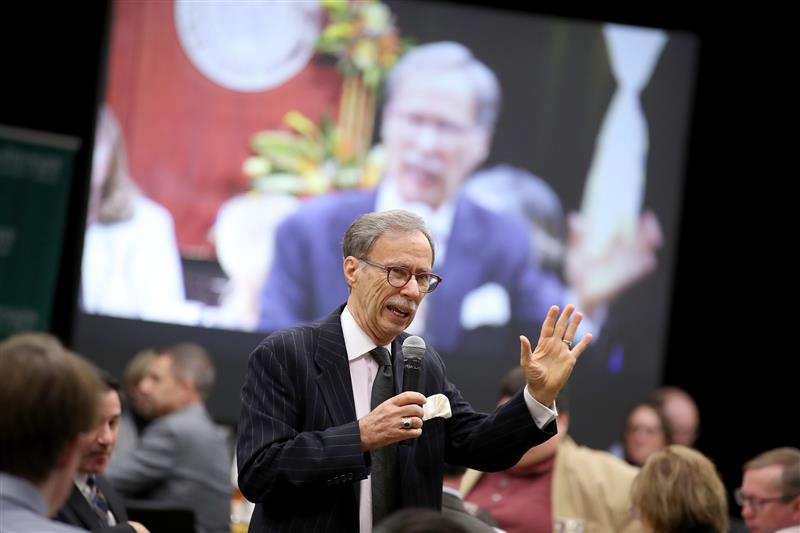 EDITOR'S NOTE: This story has been updated to reflect a rescheduled date of Thursday, November 17.
Longtime Michigan Capitol correspondent Tim Skubick will offer "An Insider's Look at the Election Results and Their Impact on You!" at the Thursday, November 17 meeting of the Washtenaw Economic Club.
With 50 years of experience on the state government and state campaign trail, Skubick is the longest-serving member of the Michigan Capitol press corps in Lansing.
He anchors the weekly public TV series, Off the Record, and covers Michigan politics for WJBK-TV and WLNS-TV-6 news in Lansing. He writes for the MIRS (Michigan Information & Research Service) newsletter, has authored two books on state politics, and has received five Emmys.
He will break down the results of the November 8 election at the Washtenaw Economic Club meeting, which will begin at 11:30 a.m. in the Morris Lawrence Building at Washtenaw Community College, 4800 E. Huron River Drive.
Business organizations and community members are invited to attend. Seating is limited. Visit the Washtenaw Economic Club website for information about individual tickets or business sponsorships.
Washtenaw Community College hosts the Washtenaw Economic Club, which offers a luncheon speaker series on relevant topics as well as special events.
Individuals, businesses, and community organizations may participate in the Washtenaw Economic Club in several ways, including through a variety of membership types, as one-time event attendees, or through event sponsorships.
Sponsors for the 2022 season are Ann Arbor SPARK (Platinum); DTE Energy (Platinum); Washtenaw County (Platinum); Washtenaw Community College (Platinum); Hylant (Gold); ITC (Gold); McKinley (Gold).
If You Go
WHAT: Washtenaw Economic Club Luncheon
WHEN: 11:30 a.m.-1:30 p.m. Thursday, November 17
WHERE: Washtenaw Community College, Morris Lawrence Building, 4800 E. Huron River Drive, Ann Arbor
HOST: Washtenaw Economic Club
MEMBERSHIP/TICKETS: https://www.wccnet.edu/business/economic-club/
Tags: Election, Washtenaw Economic Club