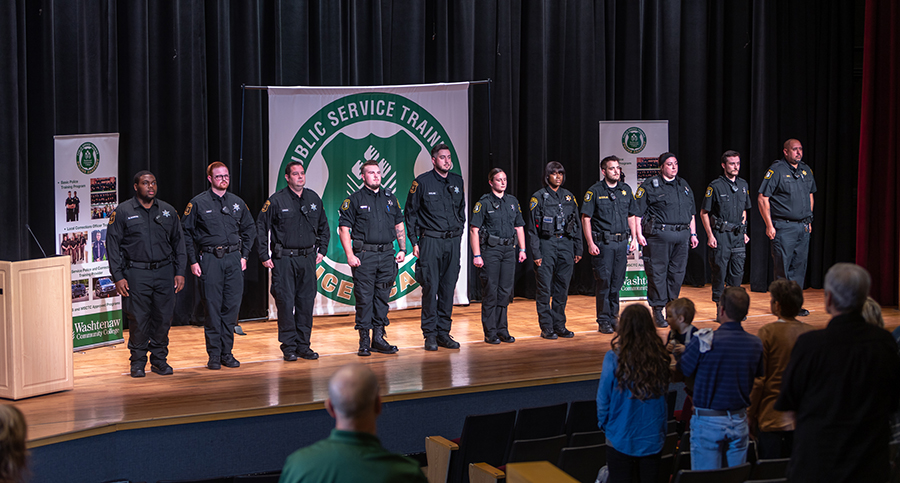 Family, friends and colleagues gathered in the recently renovated Morris Lawrence Building on the Washtenaw Community College campus Friday to celebrate the graduation of the 11-member WCC Corrections Academy Fall Class of 2022.
RELATED: Photo Gallery
Academy enrollees were previously hired as corrections officers at sheriff's offices in Washtenaw, Lenawee, Livingston and Monroe counties. The Michigan Sheriffs' Coordinating & Training Council (MSCTC) requires officers to complete training at an approved academy during the first year of employment.
WCC's Public Service Training Department operates one of 10 approved academies in Michigan.
Keynote speaker Michael Grodi, CEO and Executive Secretary of the MSCTC, reminisced about his time in a similar academy more than two decades ago and the satisfying career that has followed.
"To use a sporting analogy, corrections officers are not the overpaid quarterback or linebacker on the football team," Grodi said. "We are the offensive and defensive linemen working down in the trenches. And, as we all know, that is where the game is truly won."
Graduates satisfactorily completed 160 hours of training between October 11 and November 4 to become certified as a Local Corrections Officer, personnel that supervises inmates in county jails. There are 14 training modules and a comprehensive final examination in the academy curriculum. Brian Robar of the Monroe County Sheriff's Office earned the class's High Academic Award, scoring 98.7%.
Training modules are taught by current and retired police, fire and corrections professionals — something Darrin Carly from the Washtenaw County Sheriff's Office said was "one of the best parts of the academy experience."
Carly served as platoon leader for the Fall 2022 academy class and was chosen to be the student speaker during the graduation ceremony.
"Collectively, the instructors brought well over a century's worth of law enforcement and public service knowledge to the classroom," Carly said. "While most of us have been working inside our respective facilities for some time, the knowledge from more seasoned law enforcement professionals was certainly invaluable."
At the conclusion of the ceremony, WCC Public Service Training Assistant Director Jon Haupt thanked all those who gathered to celebrate with the graduates — noting that family of Kadeem Blackwood from the Washtenaw County Sheriff's Office had traveled from Florida to attend.
WCC Corrections Academy Fall Class of 2022:
Lenawee County Sheriff's Office: Ethan McClellan and Alejandro Soto
Livingston County Sheriff's Office: Kieara Johnson
Monroe County Sheriff's Office: Brian Fox Jr., Jaiden Harris, Caitlin Proteau and Brian Robar
Washtenaw County Sheriff's Office: Kadeem Blackwood, Darrin Carly, Derek Corden, Eric Garland
Tags: Correctons Academy, December 2022, Graduation, On The Record, Public Service Training