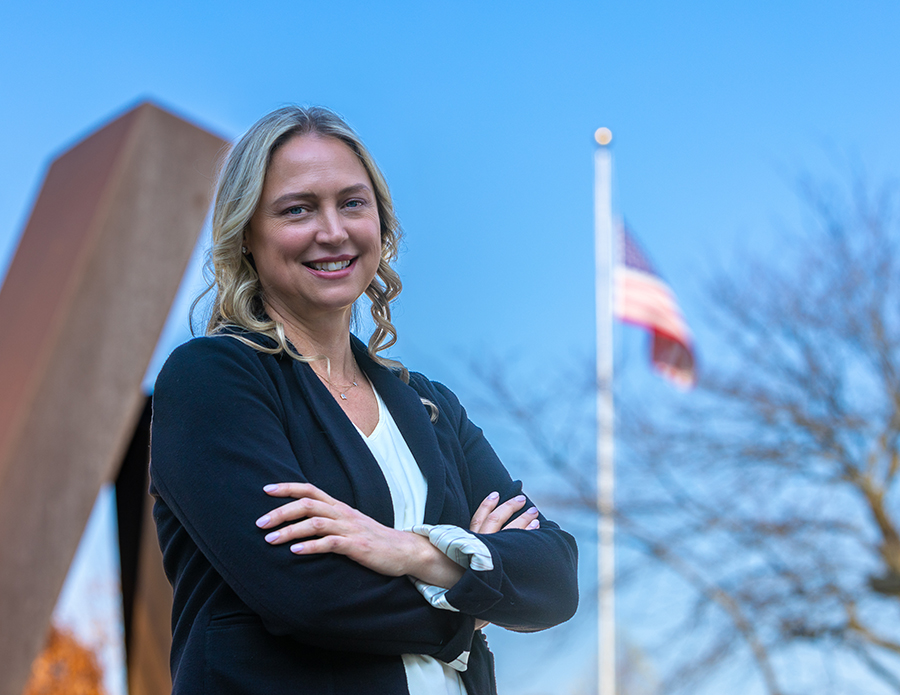 Searing loss. That's what moves Washtenaw Community College student and 20-year United States Army veteran Rebekah Spencer forward as she embarks on a lifelong mission to help improve the lives of fellow veterans.
Spencer was deployed multiple times during her military career. In different incidents she saw fellow soldiers killed in action, and she saved and evacuated another soldier.
In her final deployment, in Iraq, Spencer's Humvee was totaled and she spent almost two weeks in a coma.
After a very long recovery and three semesters at Harvard University — where, due to memory issues from the incident, she was able to take just one course a semester — Spencer transferred to WCC and discovered a perfect partner in her mission to give a hand up to fellow veterans.
"My own recovery took years," said Spencer, who is pursuing a Liberal Arts Transfer associate degree. "That's why I think it's so imperative that the veteran population understand they can make a comeback from traumatic experiences. We don't want it to come between them and their educational goals."
It was during the COVID-19 pandemic that Spencer — who grew up in Vermont, Maine and Massachusetts — researched colleges and started online courses at WCC with the ultimate goal of landing at the Prechter Bipolar Research Center and Mood Disorders Clinic at the University of Michigan.
She is interested in researching injuries of the brain and advancing medicine to help alleviate the harms that humans suffer and also serves on two Institutional Review Boards that approve or disapprove human subjects research.
Spencer has received numerous awards for her service, including the Joint Meritorious Service Award for direct support of three major battles and four minor skirmishes.
She is also currently working on an Act of Congress to stop the flagging of veterans on applications who reach out for mental health services and is waiting to hear back on a possible internship at the White House, where she would work on mental health initiatives and pursue support for the Act of Congress.
But her greatest accomplishment might be right here, right now, where she is part of a college that is making it possible for veterans to not fall through the cracks, but succeed.
"WCC is unique in its response to veteran concerns," Spencer said. "So many experiences for veterans are verbal platitudes, but here, instructors see our work ethic and when we say we are struggling with an assignment that might be triggering, they offer workable solutions."
"I've been enlivened by instructors who share their passion for the topics they specialize in, professionalism and care of students," she said.
Mental Health Advocate
At WCC, Spencer jumped in with both feet, putting her leadership skills to work by starting a veterans hiking/outdoor group and becoming president of the campus chapter of Student Veterans of America.
Research has shown that outdoor activities are beneficial for brain health, which is why Spencer feels strongly that student veterans who are able should get outside for activities.
"Within the first two weeks of moving here we went on our first hike, and that day we had rain and snow," she recalled. "And everyone still showed up. The joy and bit of respite allows us to show up as better balanced people."
The group has completed multiple hikes and kicked off the first leg of a goal to kayak the entire Huron River, from Milford to Lake Erie, during the next year.
"My peers know me as someone who shows up, and who will support them in their endeavors," she said. "We have engaging veterans, with varied interests, who come together and make a great team."
Spencer understands the nuances of Post Traumatic Stress Syndrome, healthy coping mechanisms and the strength of community.
"I have known 42 soldiers during 19 years that have died, and a majority of them have been to suicide," she said. "I understand that struggle to get through a day."
She marks each of the 42 lives by lighting a candle on their birthdays.
It's all part of learning how to deal with grief in a healthy way, she said.
"There are still experiences from my deployment to Iraq that I cannot speak about," she said. "It still hurts too much. There are other experiences that hurt, but I find them bearable to speak of, and somehow have the space and capacity to look at them."
Years of therapy, hard work and a desire to recover for herself and those around her gave Spencer the motivation to improve each day, she said, which meant not only healing mentally and physically but learning to walk again after the Humvee accident and regain her memory loss. Her two children, who were in high school at the time of her accident, cared for her along with a supportive community and friends.
Finding her voice again was one of the greatest areas of healing. It's a voice that has been amplified at WCC, where she can serve fellow veterans.
"What made me start speaking about my story was seeing the amount of veterans who were hiding their wounds, and carrying the weight of their country's call on their own, and buckling under the impossible strain of it," Spencer said. "I have been blessed to know many incredibly decent people, who are no longer here, mostly to suicide. They leave behind broken families, friends carrying the burden of their memory, and communities that suffer from loss of citizens who, if properly rehabilitated and acclimated to civilian life, would thrive and continue giving back to the country they honorably served."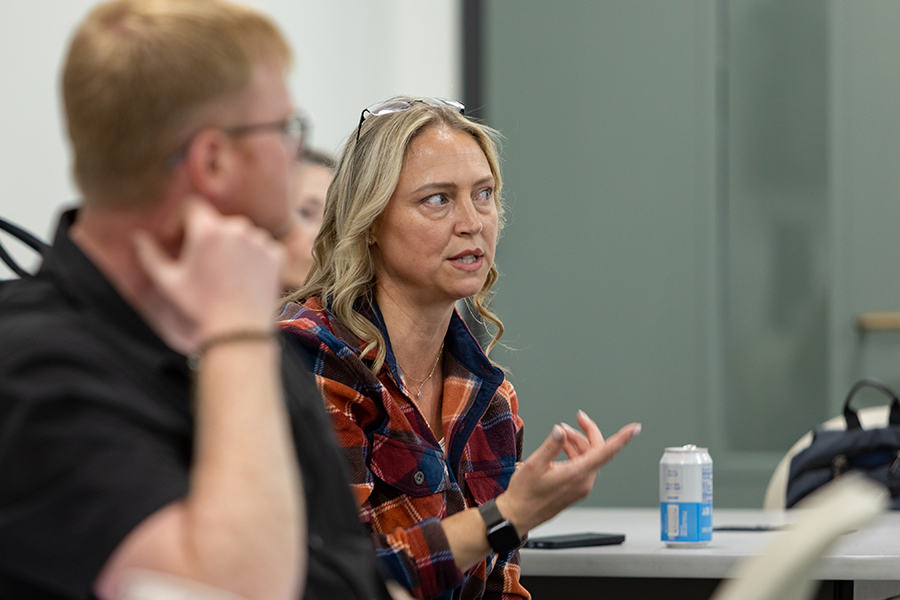 Leading by Example
Carol Osborne, WCC's Military and Veteran Coordinator, said Spencer's heart for veterans, her background and her drive are the perfect combination.
"She leads by example," Osborne said. "She follows through and she's always looking for ways to reach the 'unreached veteran.'"
Spencer has gone above and beyond, Osborne said, and can be found hosting events and dinners off-campus for veterans and their families. On campus, the veterans build relationships, which breaks down some of the barriers to earning their education.
"Students get to know and trust one another and eventually reach out for help," Osborne said. "It's actually quite a humbling experience to watch them connect with one another on a day-to-day basis. The way they interact is quite unique. They all seem to speak the same lingo. Rebekah has been a driving force behind creating opportunities for these relationships to grow. Her passion to connect people is inspiring."
Spencer said it lights a fire inside her to witness veterans taking steps toward healing and achieving their goals.
"The feeling of seeing them benefit from enriched relationships, and better health outcomes, lends itself to a more positive experience on campus," she said. "I consider this to be the greatest accomplishment in life, and it is incomparable."
The Wadhams Veterans Center at WCC is a quiet place to study, find friends or benefit from support or tutoring, Spencer said. Thanks to the existence of the center, and the work done there, WCC was once again recently named a Gold-level Veteran-Friendly School by the Michigan Veterans Affairs Agency.
"This is really about community-building, and WCC feels like extended family," Spencer said. "There is a magic to this that is very hard to replicate."
WCC has been the perfect place to make a difference, Spencer said.
"Aiding self and others in personal enrichment is a gift that extends beyond self," she said. "This is my ultimate life's work."
Tags: December 2022, On The Record, Student Profile, Student Veterans, Wadhams Veterans Center