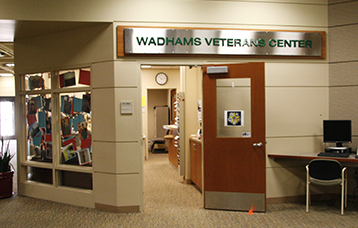 Welcome to the Wadhams Veterans Center, a place on campus for veterans to call home and connect with other military students. We serve all former and current active-duty military personnel, spouses, and dependents of veterans, and students in the National Guard or Reserves.
If you want to meet fellow students and get help making your transition into college life easier, visit us. We provide resources and support such as:
Academic advising

Assistance with completing the process to obtain veteran benefits

Assistance with understanding WCC policies and procedures that relate to veterans

Certification of enrollment for benefits

Computers for school use
Military educational benefits
A variety of military benefits are available to help you achieve your education goals.
GI Bill ® benefits may be used for academic programs that lead to a degree or certificate. Other benefits may be used for academic programs or fast-track employment training programs. Learn more about military educational benefits and how to apply.
Deployment options
We are here to support you during your deployment and will attempt to make our part of it as smooth as possible. Learn about your deployment options.
Counseling
When life gets complicated and stressful, WCC's counseling staff is available to assist you by offering personal counseling so you can continue to reach your academic goals.
VA counselors are available on a limited basis on campus to help coordinate your access to benefits and other resources.
Center dedication
Our center was renamed on Veterans Day 2015, in honor of Tim and Laurie Wadhams for their generous support of the college and continuation of the Veterans Center. WCC is proud to be designated as a Michigan Veteran Affairs Agency Veteran Friendly School.
Professional code of conduct
When you're at the Veterans Center, you should feel confident that you will not be exposed to discrimination, harassment, criticism, or any other emotional or physical harm. All those who use the center need to agree to and abide by our Professional Code of Conduct:
I understand that I will be held accountable for my behavior.

I support and will exemplify honesty, honor, and respect in my interactions.

I support our space as one that is free from discrimination and harassment.

I will display a positive regard for all members of the Wadhams Veterans Center and the College community in general.

I am committed to enhancing our community.

I recognize that respecting the dignity of every person is essential for creating and sustaining a flourishing College community.
Code of Conduct violations
If the need arises, the staff of the Wadhams Veterans Center will administer sanctions to the Code of Conduct as follows:
Verbal warning. Example: "Please discontinue that topic," or "Please discuss that outside the Center."

One day loss of Center privileges. The person will not be able to use the Center (except by appointment to conduct business with advisor or school-certifying official) the remainder of the current day and the entire next day.

One week loss of Center privileges. The person will not be able to use the Center for 1 calendar week following their violation.

Report to Dean of Students.
Forms
Resources