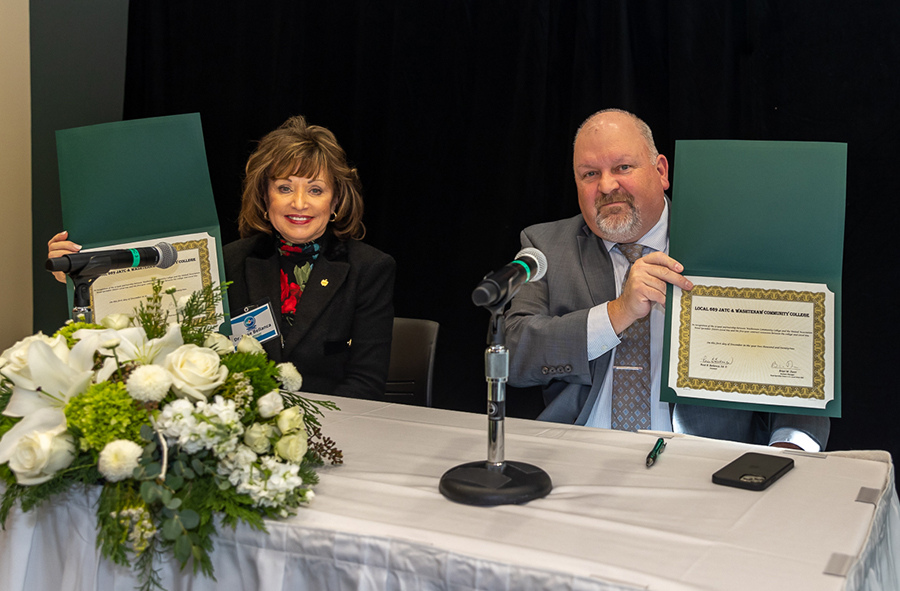 Washtenaw Community College and the Road Sprinkler Fitters of the United Association, Local 669, have extended their partnership to educate and train craftsmen to meet workforce needs.
WCC President Dr. Rose B. Bellanca and Local 669 Business Manager Brian Dunn signed the five-year contract renewal today in a ceremony held on campus.
Since WCC and Local 669 first partnered 15 years ago, nearly 5,000 apprentices have completed the five-year program, which blends on-the-job training, hands-on training and virtual training that features online access to courses offered through Washtenaw Community College.
"We are proud to partner with Local 669 in this program that sets the standard for education and training and meets workforce needs. These skilled tradesmen and tradeswomen save lives and protect property through the highest quality of installation, repair and maintenance of fire protection systems," Bellanca said.
The Sprinkler Fitter Apprentice Program, created and monitored by the Joint Apprenticeship and Training Committee (JATC), serves the largest local union of Sprinkler Fitters in North America. Local Union 669 is affiliated with the United Association of Journeyman and Apprentices of the Plumbing and Pipe Fitting Industry of the United States and Canada, which hosts its international instructor training program on WCC's campus each summer.

Sprinkler Fitters are piping mechanics that specialize in the installation and maintenance of fire suppression systems. Sprinkler Fitters must complete a comprehensive five-year apprentice program in order to become a journeyman.
Once an apprentice successfully completes the program and becomes a Sprinkler Fitter Journeyman, many opportunities lie ahead, including advancement to the role of foreman or superintendent or work in management.
Tags: December 2022, On The Record, Skilled Trades, United Association, Workforce Development, Workforce Training