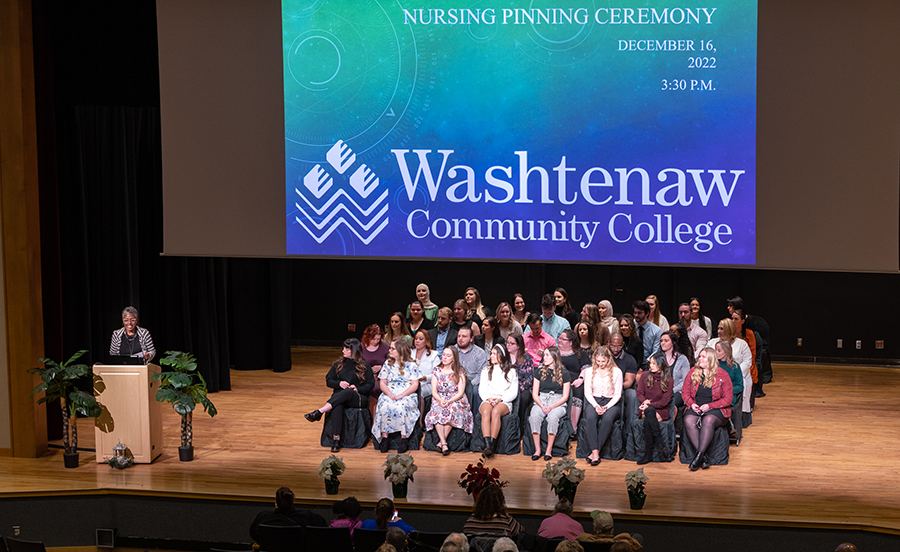 In her address to the Fall 2022 graduates of the Washtenaw Community College nursing program on Friday, WCC Dean of Health Sciences Dr. Shari Lambert remembered back to a poster hanging in a classroom during her own nursing school days.
"Nursing: The Oldest Art," the poster proclaimed.
It confused her at the time, she said. Nursing is obviously an evidence-based, scientific endeavor. But after a 33-year nursing career of her own, she now understands the message the poster was attempting to convey.
"Nursing is an art of being a human and giving compassion," she said. "And the world needs nurses now more than ever."
The 46-member Fall 2022 graduating class took one step closer to joining the profession during a Graduate Pinning Ceremony in front of family and friends at Towsley Auditorium. The pinning of nursing graduates is a time-honored tradition dating back to the 1880s that represents an initiation into the profession.
Up next for the group is passing the National Council Licensure Examination (NCLEX) to become a licensed Registered Nurse.
"Families, if you think you're getting them back from their studies and stress … not just yet," Lambert joked.
If the words of student speaker Christopher Box are any indication, his peers will be ready to tackle that licensure exam. Box focused his remarks on the resiliency of the class, which spent the first semester of its nursing school experience totally online because of the COVID-19 pandemic.
As classes and clinicals moved back to in-person formats, the class's resiliency remained strong.
"Never in my life have I worked with a group of people so diligent," he said. "As we embark on our new careers, resilience is one characteristic that a nurse must maintain. We will all have different experiences, some that will test us more than others, but I am confident that we all possess the skills needed to function as incredible nurses, or we would not have come this far.
"Like I said before, it doesn't matter how many times we fail, it's about our willingness to get back up and continue pushing forward."
Box was one of two graduate speakers selected by the class. WCC Interim Vice President for Instruction Dr. Victor Vega and faculty member Dr. Sherry MacDonald also spoke, and faculty member Dr. Marva Brooks served the master of ceremonies – complete with wardrobe changes that demonstrated the evolution of nursing uniforms over the years.
The second student speaker, Clarice Losey, found inspiration for her address from a video that her preschool-age child was watching. Those lyrics: "My eyes are watching, ears are hearing, voice is quiet, body calm, my big heart is open. This is how we listen."
Not only did her fellow graduates need to be good and empathetic listeners to help each other get through nursing school, Losey said, but they'll need to maintain the skill in their new profession.
"I hope that as we continue our nursing journey, we constantly remind ourselves to listen with eyes watching, ears hearing, a quiet headspace and a heart that's open," Losey said. "Because, in our profession, intentional and conscious listening may just transform a patient's despair into hope."
Members of the Fall 2022 WCC Nursing Graduating Class include (in alphabetical order):
Khadija Abbas
Jenna Alexander
Morgan Azzopardi
Brandy Bar-Herschman
Kylee Benson
Michael Bondy
Christopher Box
Brianna Burton
Jacob Casady
Darren Clark
Brookelynn Colf
Shannon Conley
Jade Crosby
August Cummins
Shannon Dennis
Breona Dixon
Chloe Freeman
Jessica Garber
Bryan Garlitz
Sarah Garrett
Michael Gibbons
Madison Haupt
Autumn Heather
McKenna Hoberg
Malik Johnson
Sara Keiser
Elizabeth Knight
Nathan Kuczajda
Clarice Losey
Annika Marriott
Maggie McQueen*
Joshua Morris
Melissa Murray
Lauren Nitchie
Breece Phillips-Kline
Sabrina Rentenbach
Alexis Schmall
Holly Schmitz
Elizabeth Shafer
Shayna Smith
Renee Steinbach
Sara Stoelton
Shelby Vergolini
Alexandra Wagner
Katelynn Wheelock
Lydia Will
* - Graduating with honors as member of OADN
Tags: Class of 2022, Graduation, Nursing, Student Success