Do you dream of owning a business but aren't sure how to launch your plan? Are you a new business owner who is ready to grow?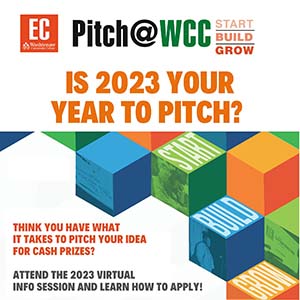 Washtenaw Community College's "[email protected]" business competition is the perfect opportunity to connect, get some feedback and earn cash to take your business to the next level.
The Entrepreneurship Center at WCC will hold a virtual information session about the competition from 10-11:30 a.m. Wednesday, January 18. The session will be recorded for those unable to attend. For more information or to register for the information session, visit wccnet.edu/succeed/entrepreneurship-center/events-workshops/pitchwcc.php.
RELATED: FACEBOOK EVENT PAGE
Running annually since 2016, [email protected] has awarded cash prizes to more than 50 entrepreneurs from the community. The competition is open to any for-profit or non-profit business serving customers in the region.
Entrepreneurs apply by sending a video describing their business idea, plan or current business. A panel of judges — comprised of WCC staff, faculty members, business leaders and entrepreneurs from the local community — will select finalists.
An application and two-minute pitch video are due by 5 p.m. February 17. Finalists will be announced in early March. They will also receive group and individual coaching sessions leading up to the live May 11 [email protected] competition.
The live event will be held on WCC's campus in front of the public and a panel of judges comprised of local business leaders. Award winners will be announced that evening.
Three awards will be presented to for-profit businesses based on the development of the business, from the idea stage to the growth stage. The competition will also include an award to a non-profit business. In addition to award amounts, winners will receive a year of mentoring and support through the Entrepreneurship Center.
The competition is a great way to inspire ideas, encourage entrepreneurs and to directly support owners in the early stages of their business, said Michelle Julet, Director of WCC's Entrepreneurship Center.
"This is helping people realize their dreams in a tangible way," she said. "Becoming a finalist in this is a big deal. It means you are on your way."
All are welcome to apply to [email protected] For more information, reach out directly to the Entrepreneurship Center.
[email protected]
What: [email protected] is the WCC Entrepreneurship Center's premier event of the year, where entrepreneurs from throughout the community pitch their business ideas for cash prizes.
When: Thursday, May 11
Info Session: A virtual information session will be 10-11:30 a.m. Wednesday, January 18
Online: Visit the WCC Entrepreneurship Center's webpage for additional details about the competition and to register for the information session.
Tags: Entrepreneurship, Entrepreneurship Center, [email protected]