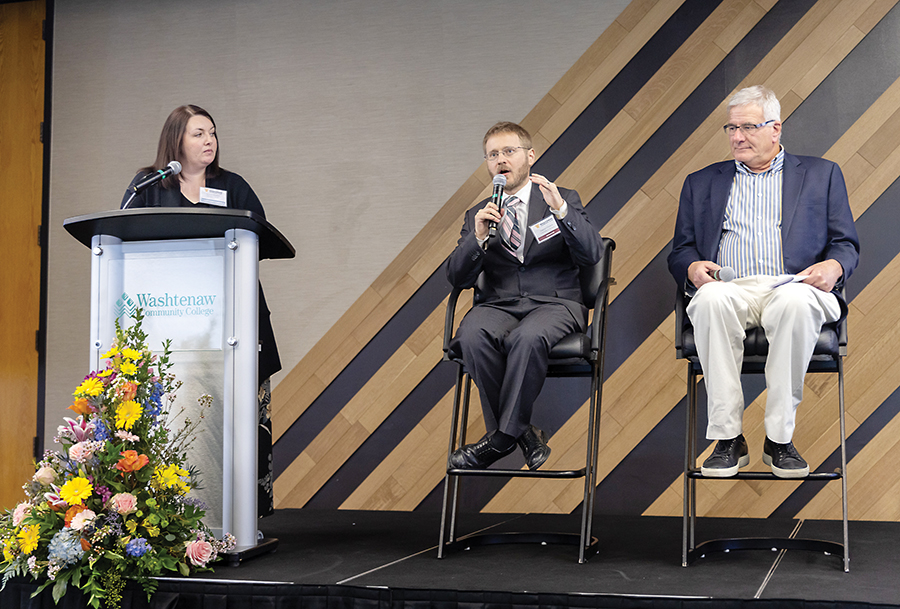 The Washtenaw Economic Club kicked off its 25th season of programming with its annual Washtenaw County Economic Outlook luncheon on March 14.
Those in attendance at the Morris Lawrence Building on the Washtenaw Community College campus heard projections of a generally positive immediate future for the area.
Gabriel Ehrlich and Donald Grimes, economists from the University of Michigan's Research Seminar in Quantitative Economics, presented their forecast based on payroll employment growth, unemployment growth, unemployment and consumer inflation rates and looked ahead to employment changes in a wide array of industries.
Among the key forecasts:
— Washtenaw County will surpass its pre-pandemic level of payroll employment by the second quarter of 2023.
— By the end of 2024, total employment in Washtenaw County will exceed its pre-pandemic level by 3.4 percent.
— Traditional blue-collar jobs (+7.9%) and industries that employ highly-educated workers (+4.7%) are expected to exceed pre-pandemic employment levels by the end of 2024.
— Industries that tend to employ less-educated workers not only suffered the worst during the pandemic, but are forecasted to remain 3% below pre-pandemic levels by the end of 2024.
Reacting to the last item, Grimes noted how having Washtenaw Community College in the county is a valuable asset.
Jobs that require no higher education are shrinking, so county residents should consider some training.
At the same time, WCC will play a role in filling the pipeline with employees for the expanding blue-collar sector.
The Washtenaw Economic Club, founded in 1998, became a special program within Wash-tenaw Community College in 2010.
Find the full county economic outlook report at wccnet.edu/economic-club.

Upcoming Washtenaw Economic Club Luncheons
Small Business and the Entrepreneurship Scorecard
Date: Thursday, May 11
Speaker: Brian Calley, President of the Small Business Association of Michigan

Cybersecurity: Are You Vulnerable?
Date: Thursday, Sept. 14
Speaker: David Behen, Chief Client Success Officer at SensCy

Future Energy Demands: The Role Natural Gas Will Play in Electrification
Date: Thursday, Nov. 9
Speakers: Cedric Flowers (VP of Gas Operations) and H.J. Decker (Director of Sales & Marketing) from DTE Energy.

Visit wccnet.edu/economic-club for complete luncheon descriptions and speaker bios, registration and club membership information.
Tags: Economic Outlook, March 2023, On The Record, Washtenaw Economic Club