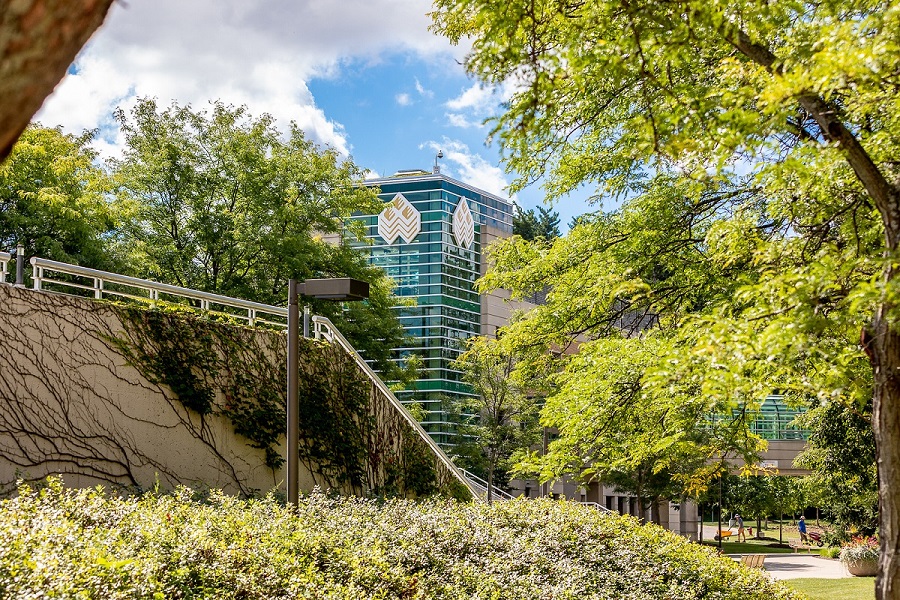 Washtenaw Community College will open its virtual classroom doors to the public during Free College Week on Monday, April 3, through Friday, April 7.
Community members, business representatives, potential students and others throughout Washtenaw County and beyond are invited to attend 140 free online sessions.
In recognition of national Community College Month in April, Washtenaw's annual Free College Week is a unique free opportunity to serve and engage the community which supports it by providing high quality learning experiences at no cost.
Last year 1,500 people registered for classes from throughout Washtenaw County and beyond.
With topics to help people hone computer skills, grow businesses, explore cultures, improve personal wellness and more, classes are designed for a wide range of ages.
WCC faculty members from academic programs, as well as trainers from the college's non-credit Economic & College Development division and outside businesses will teach. Classes are offered at multiple times from morning through evening to offer flexibility to accommodate schedules.
Learn more at wccnet.edu/fcw or via email at [email protected].
In the registration tool, you can sort classes by appropriate audience age groups: K-8, high school, adults and senior citizens. You will receive directions to attend the Zoom sessions upon registration.
There are a total of 84 different class titles, most offered on multiple days for a total of 140 free sessions. A list of classes and the days they are offered:
A Hypnosis Teaser (Tu)
Access, Success, Equity & Inclusion at WCC (Tu)
All Things Financial Aid (W)
Amazing World of Animal Life in a Garden (Th)
Attracting Good Bugs to Your Garden (M, W)
Backyard Small Fruit Growing (M, Tu, W)
Be Credit Smart (W)
Becoming an Ally (W)
Becoming an Inclusive Leader (Th)
Befriending the Body-Mind Connection (W)
Beyond Accessibility to Universal Design: Tools and Strategies (M, Th)
Brief History of Psychological Theories (M, Th)
Carnivorous Plants: Growing a Venus Fly Trap (Th)
Celebrate Cookies: The Yummy Kind (Tu)
Code Switching (Th)
Come Paint with Me (F)
Controlling Garden Weeds (M)
Conquer Procrastination Today … Not Later! (M, Tu)
Create a Moon Garden (M, Tu, W)
Creating a Basic Google Sheet (W, Th, F)
Creating a Butterfly Garden (M, Tu)
Cybersecurity in the Home: Best Practices (M, Tu, W, F)
Digital Couponing Basics (F)
Discover Your African American Roots (M)
Discover Your Roots (M)
Drones for Fun & Business (M, Tu, W, Th, F)
Eat Those Nutritious Weeds (Th)
Edible Garden Flowers (Th)
Education for Home Buyers (M)
Elder Care Management for Family Members (Tu, Th)
Excel Tips and Tricks (Tu)
Exotic Air Plants (W)
Exploring a Holistic Approach to PTSD (W)
Exploring Smartphones and Tablets (W)
Financial Aid Parent Session (Tu)
Garden Weed Identification (M)
Gardening for Pollinators (Tu)
Glass-Half-Full Telling of Jewish History (M, Tu)
Google Drive and Docs Basics
Growing African Violets (W)
Growing Tomatoes in a Container (Tu)
Hercules, Hamilton, Humanities (M, Tu)
How Does Your Residential Gas Furnace Work? (Th)
Improv for Gamers (W)
Improvisation for Anxiety (Tu, Th)
Introduction to 3D Design & Printing (M, Tu, W, Th, F)
Introduction to Epigenetics and Your DNA (Th)
Introduction to Gemstone Faceting (M, W)
Introduction to Judaism (M, Tu)
Jazz Music (Th)
Jumpstart Your Memoir (Tu, Th)
Keeping it Simple with Water Mixable Oils (Tu)
Landscaping Your Property to Reduce Wildfire Damage (Tu)
Learn About Emerging Vehicle Technologies (Tu, Th)
Learn How to Grow Tomatoes (W)
Learn How to Publish in Magazines (M, W)
Learn to Become an Ally (F)
Learning to Respond to Microaggressions (F)
Let's Practice Conversational Spanish (M, W, Th)
Lore, Lies and Methods in Mapmaking (M)
Making Music on Your Mac (M, Tu, W, Th, F)
Managing Your Gmail Account (Th)
Mindful Drawing (W, Th)
Nursing 101: Career Exploration (Th)
Painting Tips with Water Mixable Oils (Th)
Pantanal: A Wildlife Paradise in the Heart of Brazil (W)
Propagating Plants (W)
Quick & Easy Supper: Pasta from Calabria (M)
Safety & Security: What You Need to Know (Tu, W)
Scandinavian Islands and Architecture (W, F)
So, You're Thinking of Getting Your Real Estate License (Tu, Th)
The ABCs of Publishing (Tu, Th)
The Evolution of Sacks to Aprons: 1910s-30s (W)
The Islands of Paris (M, Th)
The Psychology of Stereotyping, Prejudice and Discrimination (M)
The Special Features of Lake Huron (Tu, Th)
Tree Selection and Planting (Tu, Th)
Understanding Entrepreneurship (Tu)
Virtual Beachcombing of Florida's Beaches (M)
Waterwise Gardening (M)
What Really Happens to Your Used Clothes? (Th)
Why a Career in the Building Trades? (Tu, Th)
Windows Computer Basics (M)
Writing to Save the World (M, W)
FREE COLLEGE WEEK
When: Monday, April 3 - Friday, April 7
Times: 9 a.m.-7 p.m. M-Th, 9 a.m.-3 p.m. F
Who: Open to all ages
Where: Online via Zoom
Cost: Free
Email:

[email protected]

Website: wccnet.edu/fcw
Tags: Community College Month, Free College Week, March 2023, On The Record