IF YOU GO
What: TEDxWCC
When: 6-7:30 p.m. on Thursday, April 6
Where: Towsley Auditorium, Morris Lawrence Building (map/directions)
Tickets: Free, limited capacity of 100. Registration required.
One student's desire to bring a new experience to Washtenaw Community College resulted in an intriguing event on campus and plenty of learning opportunities for herself and others along the way.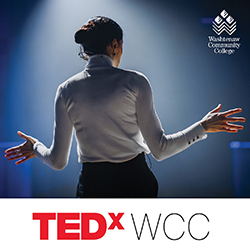 Spoiler alert: The result is TEDxWCC, a series of talks on the theme of Open Doors, to be held at 6 p.m. on Thursday, April 6, at Towsley Auditorium inside the Morris Lawrence Building. Despite the revealed conclusion, how this event came to fruition is still a worthy tale.
(Editor's note: Read fast to meet the eight-minute-or-less TEDx time limit.)
Sabina Montalva, a 19-year-old fourth-year student at Washtenaw Technical Middle College, had previously participated in a TEDx Talk, a smaller-scale version of the famous TED Talks that are fully planned and coordinated locally.
"I had a great experience, so I wanted to bring it to WCC," said Montalva, a Chelsea resident currently completing a 3D Animation Arts associate degree with a concentration in Film and Broadcast. "It's going to be a great opportunity for the school, the speakers, the audience … literally everyone."
Aspiring to make something happen is the first step. Fortunately, Montalva and some fellow WTMC/WCC students also had the ambition necessary to pull it off.
Montalva looped in Maya Clarren, a fellow fourth-year WTMC student completing a Liberal Arts Tranfer associate degree at WCC, and together they approached WCC Communication faculty member Claire Sparklin, who frequently uses TED Talks as examples in her Fundamentals of Speaking (COM 101) and other classes.
Coincidentally, Sparklin is the academic advisor to the Discovery Club, one of dozens of student-led clubs offered through WCC Student Organizations. The goal of the Discovery Club is to "explore engaging topics outside of the classroom while creating professional experiences for students of diverse backgrounds."
With a TEDx Talk being an ideal fit with the club's mission, a full planning committee was formed.
"The idea of our club is a little vague on purpose. It's just about discovering new things that you can be passionate about," said Discovery Club president Joie Karas, who joined the cause along with club officers Anabel McKnight, Camille LaMoreaux and Roman Karas. "The best possible outcome for this project was the chance for us to build a sense of community and belonging, both in what's being expressed on stage and in the work we're doing for the event."
The first order of business was getting licensed by the national TED organization, and understanding all of its various rules and requirements.
(One rule of note: Audiences are limited to 100 people. So, if you'd like to go … register soon!)
Meeting those requirements has taken campus-wide involvement – ranging in complexity from reserving the auditorium to Transportation Technologies faculty member Shawn Deron volunteering to 3D-print the iconic TED letters to be displayed on the stage.
The team also needed to decide on a theme for its particular set of TEDx Talks.
"Our theme is Open Doors, which we thought was a good fit for WCC because it relates to our community," said Clarren, noting the college's open door admissions policy. "It really represents WCC's ideology and should inspire people to come up with their own story."
The group reviewed applications and pared them down to the nine speakers who will reach the stage (listed below with their subject).
Karen Shaper: Find Your Purpose
Priti Shah: The Art of Receiving Feedback
Chase Hyatt: The Transformative Power of Positive Male Role Models
Luis Paez-Cano: Migration: Identity and Belonging
Shaila Vratny-Andrews: Healing One Breath at a Time
Kian Theeke: Weaving the Threads of History
Stosh Zasadny: Ninth Grade Newlywed
Rayan Salam: Master Your Perception: Manage Your Social Media Habits
David Schuit: Simplify Life, Amplify Meaning
With most of the heavy lifting done, the group continues to work on the smaller details in the final days before the event. By about 8 p.m. on April 6, one big question may remain: Will this become an annual event at WCC?
Montalva and Clarren will graduate in May, but they both expressed hope that what they've helped start can live on. Plus, Montalva would like to come back to participate – event organizers are not allowed to present, according to TEDx rules, so she'll strictly be behind-the-scenes.
"If students want to keep doing it, I'm all onboard," said Sparklin. "Every minute or hour I spent on this project is 100% worth it because I want to empower the students to make their outcomes come true."
Tags: Campus Events, March 2023, On The Record, Student Organizations, TEDxWCC, Washtenaw Technical Middle College