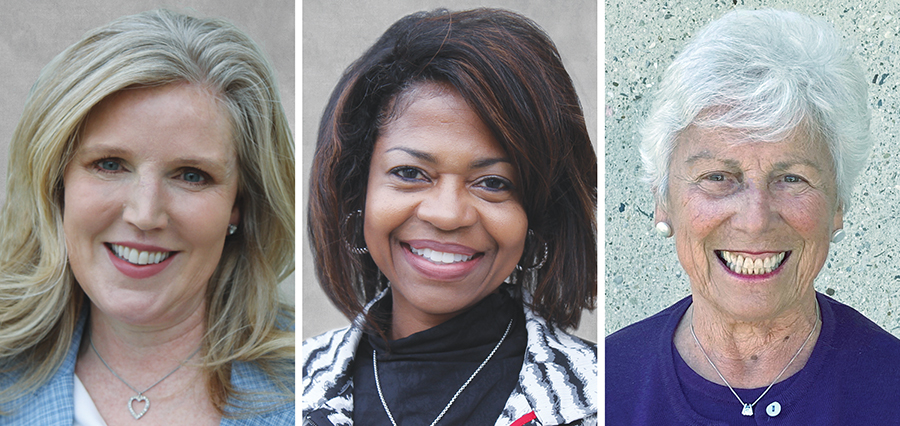 IF YOU GO ...

What: Women's Council Celebration Luncheon
When: 11 a.m., Wednesday, May 24
Where: WCC Morris Lawrence Building (map/directions)
Why: Fundraiser for the WCC Student Emergency Fund
Support: Purchase tickets, sponsorships and ads at wccnet.edu/WomensCouncilRSVP2023
The 26th annual WCC Foundation Women's Council Celebration Luncheon returns in person this spring after three years of virtual events due to the COVID-19 pandemic. The event typically draws over 300 people, including leading women from area non-profit organizations, business and education.
Organizers are excited to bring people together at 11 a.m. on Wednesday, May 24 in the newly renovated Morris Lawrence Building at Washtenaw Community College.
"It's a reunion in a sense of people who have been contributing to organizations that focus on women and education," said Women's Council Chair Carol Welsch. "They have a chance to celebrate that place of wanting to give to scholarship funding and to young women who are having challenges completing their education."
Proceeds from the luncheon will support the WCC Foundation Student Emergency Fund, which helps WCC students navigate unexpected financial difficulties, including food shortages, childcare and transportation issues, among others.
Three dynamic women will be recognized for their leadership and dedication to the Washtenaw County community. Dubbed "Sheroes," these female heroes demonstrate professional excellence through their work and service; support the lives of women, children and the underserved; and advance equity, diversity and inclusion.
Women's Council Honorees
Michelle Crumm, MBA, CPA, is known for her energy, entrepreneurship and community involvement. Crumm is the Founder and CEO of Present Value, an executive coaching company, where she inspires others to develop bold leadership. She has a long history of corporate successes, including co-founding and leading Adaptive Materials, Inc., which manufactures propane fuel cells, and was sold in 2011 to an international corporation. A former member of the Board of Regents at Eastern Michigan University, Crumm is dedicated to helping students placed in foster care as teens succeed in college.
Donna Doleman Dickerson, MBA, CDP, is a powerhouse at building brands and repositioning companies. As Vice President of Brand and Marketing at the University of Michigan Credit Union (UMCU), she leads Brand, Marketing, Communications, Community Development, Financial Education and innovative product design. Dickerson serves as the Chair of Trinity Health Michigan Board of Directors and sits on the Make-a-Wish Michigan Board of Directors, among others. She is passionate about the health and well-being of children.
Nancy Margolis, MSW, is the Founder and President of Embracing Our Differences Michigan, a nonprofit educational art program launched in 2021. It uses the transformative power of art and an educational curriculum to celebrate diversity and enhance understanding. She has provided decades of leadership in Washtenaw County's Jewish community, and has focused on meeting the needs of underserved communities.
Invited WCC students will attend as guests. The luncheon provides them with an opportunity to hear high-achieving women share where they came from, the obstacles they overcame, and how they achieved success.
"It's a kind of bonding, with a sense of women who are there under the same banner, and the importance of women succeeding in their education and their careers," Welsch said.
WCC Associate Vice President of College Advancement Tina Kashat Casoli, who oversees the WCC Foundation, says the Women's Council plays a vital role in student success.
"For nearly 30 years, these dedicated women have endowed scholarships to recognize leadership and academic excellence. They support the Student Emergency Fund in a big way to break down barriers to students' education," Casoli said.
WCC alumna and former NASA aerospace engineer Aisha Bowe will give the keynote address. The tech company CEO is a trailblazer, and is breaking barriers faced by Black women and others in the corporate world.
Had she followed her high school guidance counselor's advice, Bowe would have become a cosmetologist. But her father urged his daughter to take a mathematics class at WCC, which she aced.
Her studies at WCC paved the way for Bowe to transfer into engineering programs at the University of Michigan. After earning a bachelor's degree in Aerospace Engineering and a Master's degree in Space Systems Engineering, Bowe worked at NASA as an aerospace engineer.
Bowe is the founder and CEO of STEMBoard, a tech company recognized by Inc. 5000 as one of the fastest-growing companies in the US. The company works to close the achievement gap through STEM camps, partnerships with Historically Black Colleges and Universities (HBCUs) and career opportunities for youth.
In 2022, Bowe created a second company, LINGO. Its hands-on kits help students learn computer coding, hardware and software design. More than 5,000 students in 10 countries currently use LINGO, and the company is growing fast.
Bowe will be the first Black woman to travel on a commercial flight to space with Blue Origin, the private spaceflight company founded by Jeff Bezos.
Show Your Support
Purchase tickets, sponsorships and ads online at wccnet.edu/WomensCouncilRSVP2023.
Tickets
Individual ticket: $100
Sponsor a student: $100

Event Sponsorship
Presidential: $5,000
Celebration: $2,500
Ambassador: $1,200
All sponsorships include luncheon tickets, an ad in the print program and additional recognition.
Program Ads
Full page: $1,000
Half page: $500
One-third page: $300
2022-23 Women's Council Members
Carol Welsch, Chair
Ayanna McConnell, Vice Chair
Alison Bailey
Arlene Barnes
Frances Beckley
Stefani Carter
Jenn Cornell Queen
Gloria Edwards
Sara Figueroa
Lynette Findley
Tiffany Ford
Ann Furtwangler
Mary Kerr
Freddi Kilburn
Marlanna Landeros
Alicia McGovern
Meredith Miller
Mia Milton
Cheryl Patton
Amy Ramirez-Gay
Danielle Rodgers
Lisa Stanton
Kia Sweeney
Eileen Thacker
Roddy Wares
Tags: Aisha Bowe, March 2023, On The Record, Student Emergency Fund, WCC Foundation, Women's Council, fundraiser