Before her passing, Nancy Wilson built a legacy of service with a strong focus on providing support and emergency assistance to single mom families.
Her husband, Ken Wilson, and others are making sure that legacy will live on forever.
A recent $20,000 donation by Ken Wilson to the Washtenaw Community College Foundation created the Nancy C. Wilson Single Mom's Relief Fund, an endowment that will provide at least one annual scholarship to a qualified WCC student in perpetuity, along with directing additional money into the Foundation's Student Emergency Fund.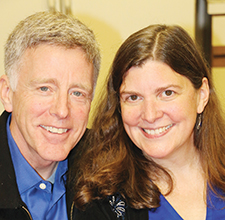 "Nancy cared for so many WCC moms and regularly provided financial assistance – often out of her own funds," said Ken Wilson (shown at right with current wife, Julia Huttar-Bailey).
"As a mother of five herself, Nancy was so impressed with the resilience and heroic efforts of single moms caring for their families. She knew a little help to get a car fixed or cover a missing rent payment could make the difference between staying at WCC or having to drop out."
In 1975, the Wilsons founded an evangelical church in Ann Arbor. With Ken serving as the congregation's pastor, Nancy became the Single Moms Pastor, leading a ministry that cared for roughly 80 single mom families at any one time.
Nancy died unexpectedly in 2012 and by 2014, Ken left his church when its denomination "came down hard on LGBTQ people."
He then co-founded Blue Ocean Church in Ann Arbor, an LGBTQ-affirming congregation, something he knows Nancy would have been proud to be a part of. "She was such a staunch advocate for the full dignity and equality of LGBTQ people in the church and society," Ken Wilson said.
Strengthening his tie to WCC, Ken Wilson is remarried to Julia Huttar-Bailey, widow of former WCC trustee Richard W. Bailey, for whom the college's library is named. Huttar-Bailey is an Episcopal priest and rector at Trinity in the Woods of Farmington Hills.
The Bailey family has two endowed scholarships at WCC.
"Nancy and Richard never met, but they were both forces to be reckoned with and we love the fact that both now have a legacy at WCC," Ken Wilson said.
Between Ken and Julia, one daughter and three grandchildren have attended or are currently attending WCC or its charter high school, Washtenaw Technical Middle College.
And now, the Nancy C. Wilson Single Mom's Relief Fund will pave the way for many more families to follow.
LEAVE YOUR LEGACY
Have you thought about your legacy? If it includes supporting WCC students, you might consider making a planned gift to the WCC Foundation. A simple bequest will help support WCC programs or student scholarships. By including the WCC Foundation in your estate plans, you will become a member of the Legacy Society.
Contact Tina Kashat Casoli, AVP, College Advancement, at [email protected] or 734-973-3663 to discuss.
Tags: Donation, March 2023, On The Record, Scholarships, Student Emergency Fund, Student Success, WCC Foundation