Nearly two decades ago, Jason Karas enrolled at Washtenaw Community College to pursue a certificate that would diversify his skills and set himself up for a career change.
And the success that followed gave Karas an opportunity to influence the academic paths of future WCC students.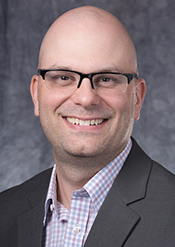 After earning a bachelor's degree in Journalism from Central Michigan University, Karas (right) embarked on a 14-year career as a page designer with the Detroit Free Press and Detroit News. When print publications began to struggle, Karas decided to go digital.
"I thought that if I could diversify my skills I could transition to the paper's web team or pursue other opportunities outside of the newspaper industry, working in the digital space," said Karas, who returned to college as a 30-year-old father of four.
"I think it's important for folks to know that it's never too late to learn new things or develop new skills. I think WCC can really help people achieve their goals and advance their careers."
Earning a Web Technology Certificate from WCC gave Karas the credential he needed to transition to his current employer, Trinity Health.
He steadily moved up in that organization to become the Director of Digital and Web Strategy for the Michigan Region and is today Director of Digital Marketing and Websites for the entire national healthcare organization.
"WCC gave me the foundational knowledge that I needed in coding, design and user experience to make the career shift," Karas says.
The ability to earn a certificate in a particular program — rather than a full associate degree — saves time and money for students like Karas, who've previously completed a degree. During the Fall 2022 semester, 11.2% of WCC students had earned a four-year degree.
But after Karas was asked to lend his expertise by joining the Web Design & Development program's advisory board, he was fully behind breaking down the existing certificate programs even further to allow students to more quickly earn credentials — which is the trend in most high-tech fields.
For example, the certificate Karas earned in 2009 is today broken into two shorter, layered certificate programs of 10- to 12-credits each.
The Web Design & Development program now offers five such programs: Client-Side Web Developer, Interface Designer, User Experience Designer, Server-Side Web Developer and Digital Strategy.
Earning a Web Design & Development associate degree would include completion of one or more certificate programs.
"Creating shorter certificates is crucial for working professionals returning to college, because it gives students quick and flexible options to re-skill themselves," Karas said. "Employers are looking for employees who can quickly adapt to the rapidly changing technologies in the industry. Being able to quickly learn a skill benefits everyone in our community.
"As a former student and a local hiring manager, I know the quality and performance a certificate from WCC represents."
Traditional college-age students also benefit from certificate programs. Many WCC associate degrees have one or more certificates embedded within the course requirements, giving students an opportunity to gain a credential and start employment in their preferred industry while continuing their education.
The Karas family's experience with WCC didn't end with Jason's certificate. Two of his children (Jude and Cicely) have graduated from Washtenaw Technical Middle College and two more (Joie and Roman) are current students.
WTMC students take WCC classes for free and graduate high school with a college degree or certificate.
"The ability for our kids to get a head start on their college career is just another great benefit to the WTMC/WCC connection," Karas said. "With the astronomical price increases at four-year institutions … that's a huge savings."
Tags: Adult Education, Alumni Profile, Certificates, March 2023, On The Record, Web Design