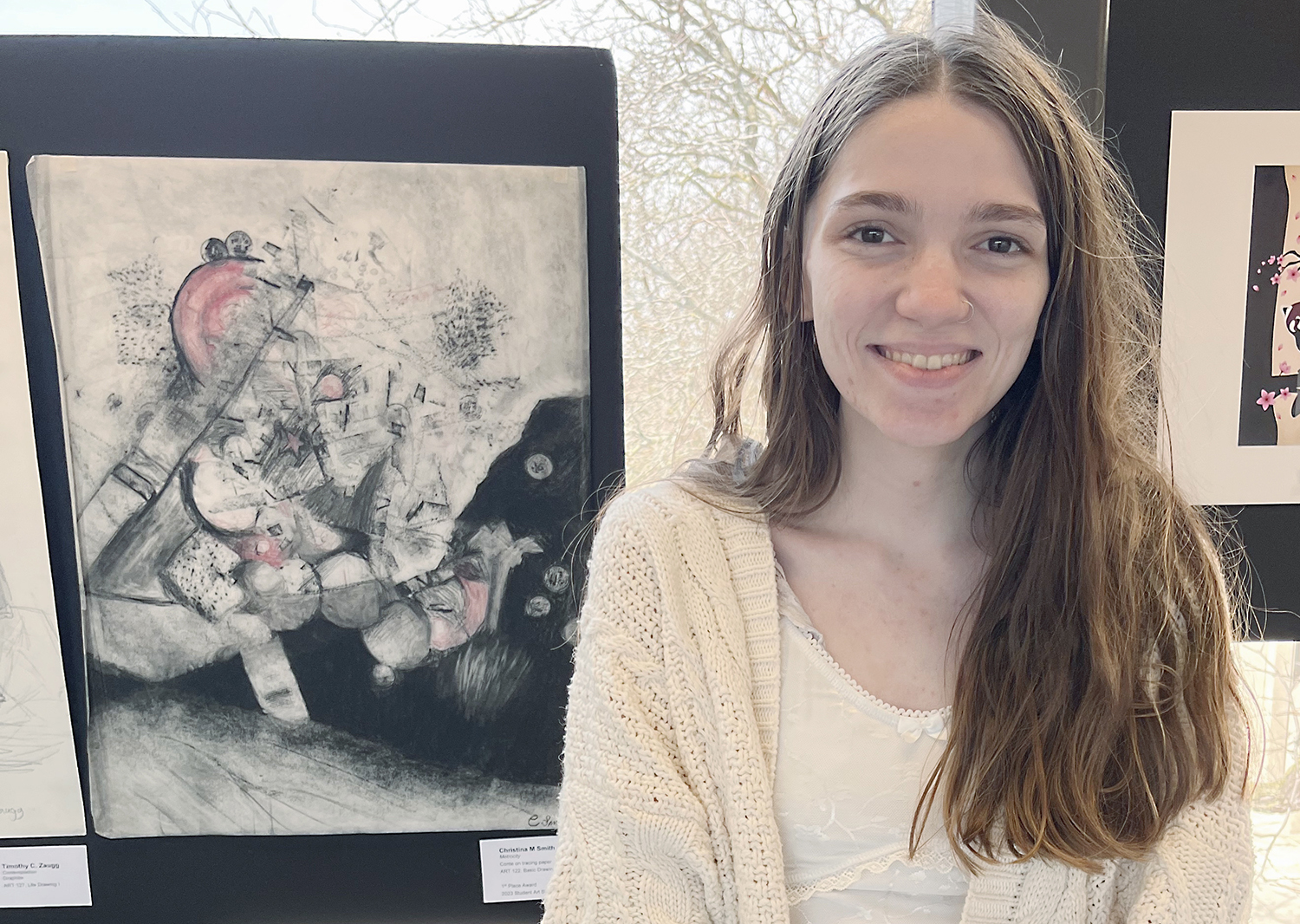 Christina Smith has always enjoyed drawing, making jewelry and other artistic pursuits in her free time, but says the art classes she's taken as electives at Washtenaw Community College pushed her to new levels.
Still, her latest achievement — winning first prize at the 2023 WCC Student Art Show — was unexpected.
"My classes helped me find my strengths and improve on them, and have made it possible for me to make art that I'm proud of and want to show to others," said Smith, a 21-year-old Whitmore Lake resident. "I never thought I would win first place. I was happy to just have the opportunity for my peers to see my work."
The Student Art Show remains on display on the second floor of the Student Center through April 15. All entries were created as an assignment in a WCC Fine Arts or Digital Media Arts class.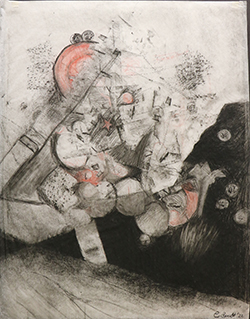 Smith's winning piece, "Metrocity," (right) is a red and black conte on tracing paper created for a lesson on textures in instructor Robert Throne's ART 122: Basic Drawing II class. For roughly 20 hours over two weeks, Smith incorporated everyday objects into the piece.
"I felt inspired to work with only the things I had in my art kit and backpack," Smith said. "The process of creating it was very spontaneous and I didn't really have a plan for how it would work. I was just executing ideas as they came to me."
The title of the work didn't emerge until months after the drawing was complete. While contemplating how its light and dark contrast could be interpreted very differently, Smith named it after the fictional city in the movie Megamind, in which the titular character pronounces Metrocity incorrectly.
"It felt like the right way to express that this drawing is up to the interpretation of the viewer in a way that isn't too serious," Smith said.
To claim top honors, Smith's work rose above a record-setting 250 entries submitted for review. Show organizers selected 150 pieces by 130 different students to appear in the exhibit.
The show was abjudicated by Hoon Lee, an associate professor and program coordinator of ceramics at Grand Valley State University.
Lee's comments on Metrocity: "This work is very subtle, with dynamic texture and contrast. The limited use of color shows restraint. The work presents as a study in composition, balance and mark-making. The image is abstract but familiar. It conjures new, unexplored places and evokes emotions heretofore buried deep."
Smith is following one of WCC's many articulation agreements with Eastern Michigan University. She'll complete 73 credits at WCC — earning an associate degree in Retail Management in the process — before transferring to EMU in 2024. There, she'lll complete 51 additional credits to earn a Bachelor of Science degree in Fashion Marketing Innovation.
MORE ART SHOW WINNERS
WCC Student Art Show judge Hoon Lee said it was difficult to select just one work to honor in each category of the exhibit, along with the top three overall pieces.
"It is clear students at WCC are learning how to express themselves through their work, and exploring a variety of ideas, materials, processes and concepts," Lee said. "The work is very strong and every piece had noteworthy qualities."
---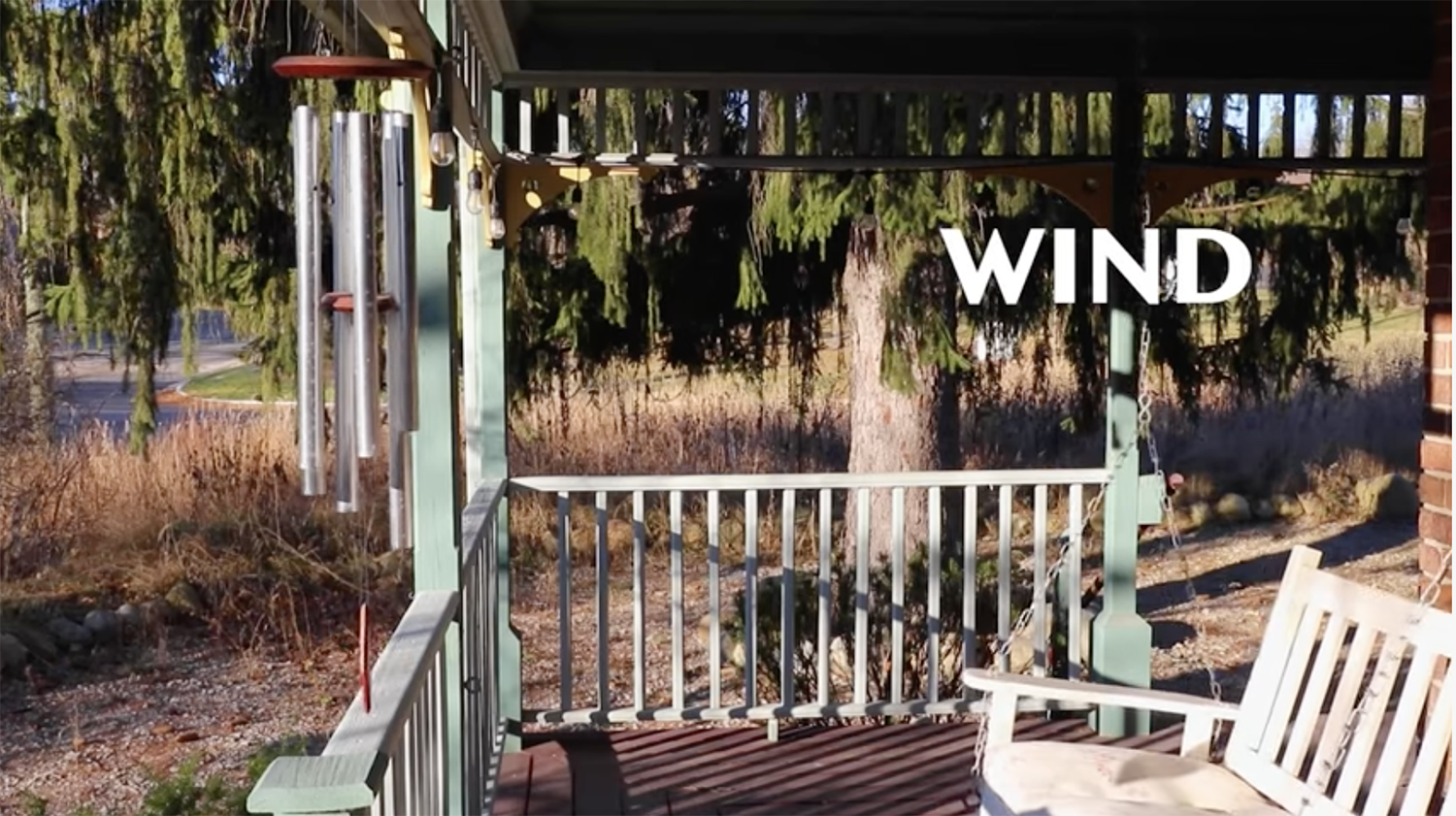 2ND PLACE
Student: David Clipner
Entry: "Wind," digital video
View: Starts at 1:19 mark of digital video entry compilation
Judge's comment: "This video was well planned and executed. The image quality, color, sound and composition were exceptional. The acting was also very strong with the story, which give you a smile and joyfulness. The sudden, misthrown disc with the red and blue flashing lights was unfortunate."
---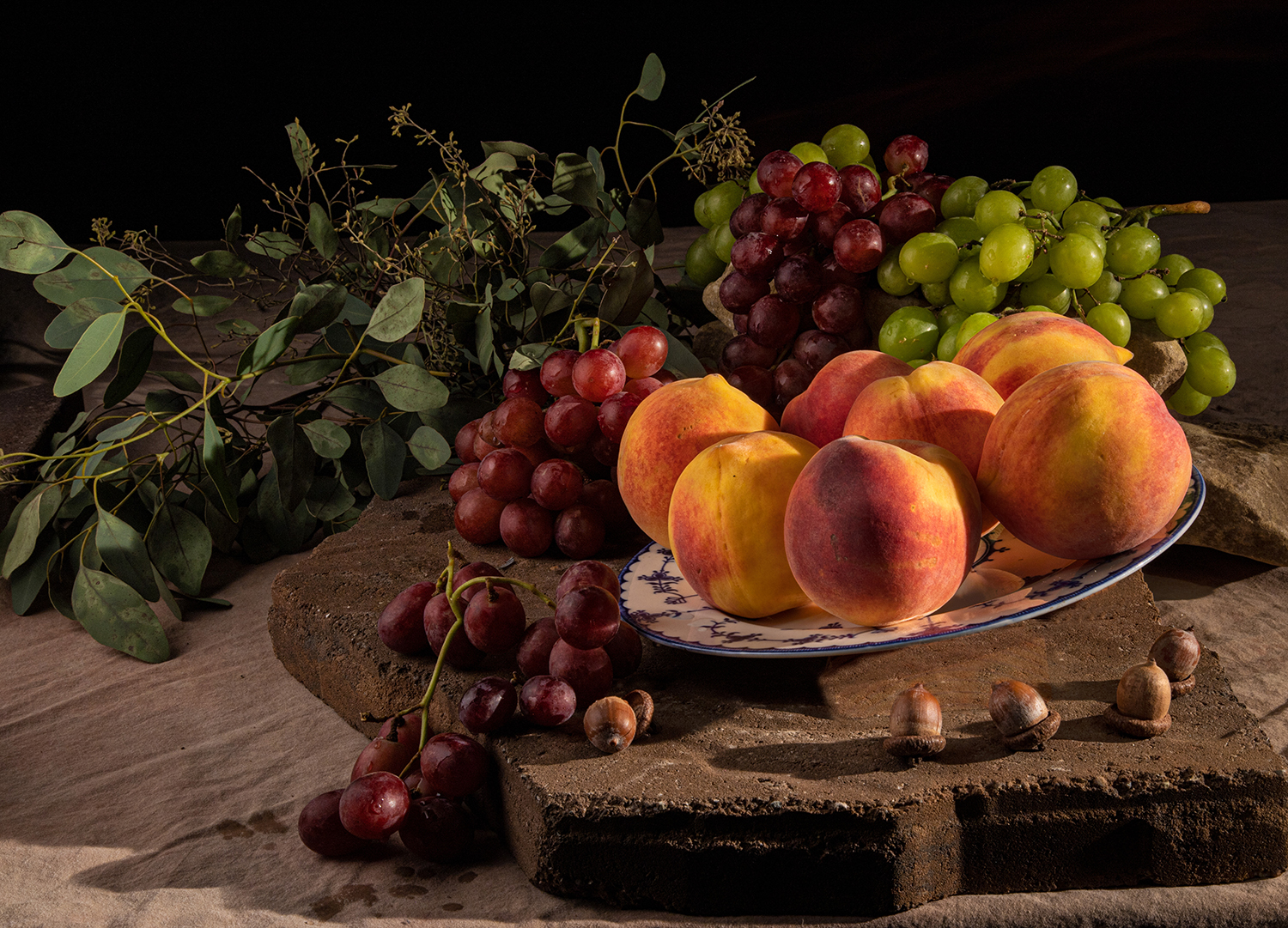 3RD PLACE
Student: Ann Munster
Entry: "Peaches in a Bowl," digital print
Class: PHO 230: Portfolio Projects
Instructor: Don Werthman
Judge's comment: "Reminiscent of Renaissance still-life paintings, the composition and richness of color are opulent. The photo is quiet yet moody, transporting the viewer to times of the past."
---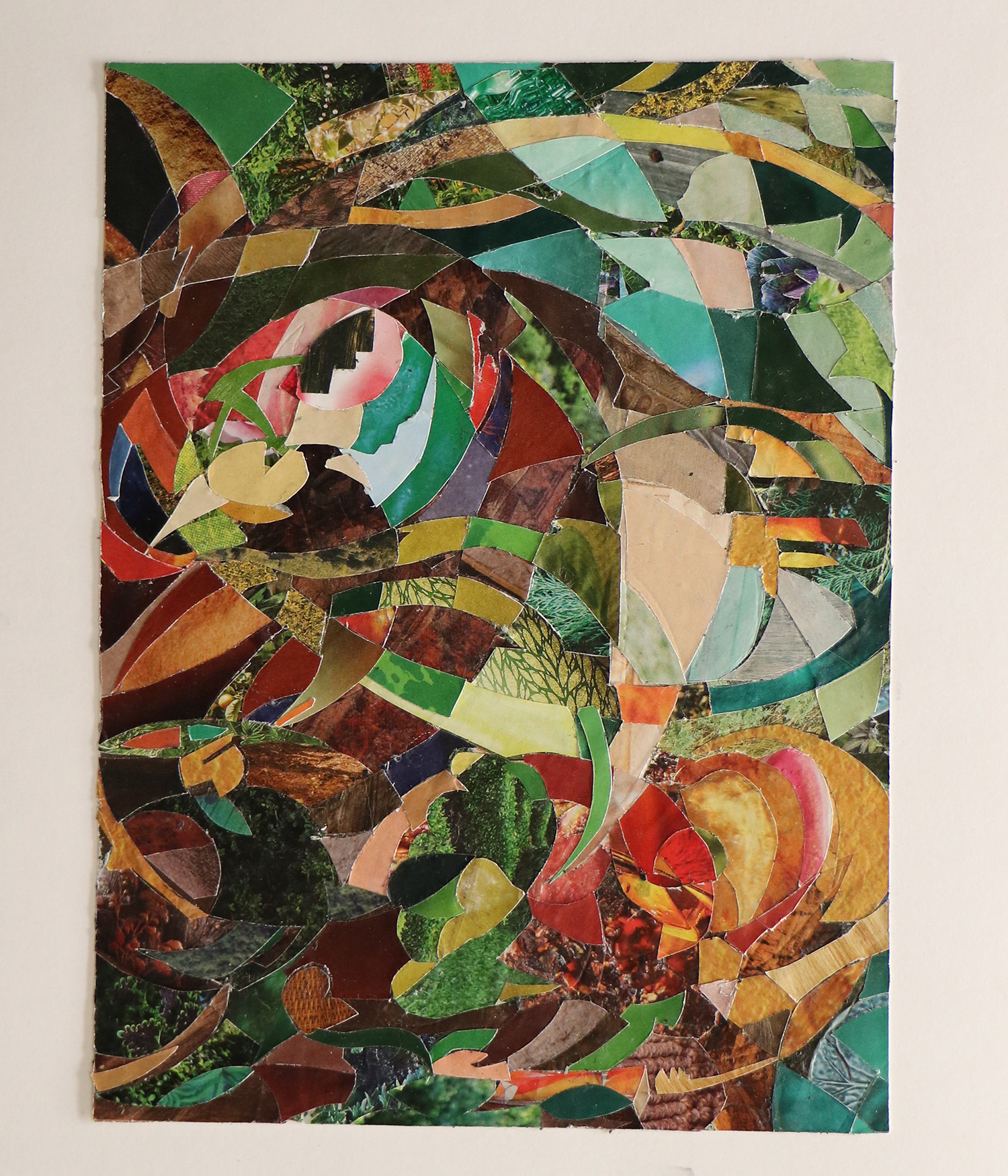 PROMISING ARTIST, TWO-DIMENSIONAL
Student: Murphy R. Hines
Entry: "Study on Cubism," magazine collage
Class: ART 102: Color
Instructor: Jill Jepsen
Judge's comment: "The movement and dimensions of this piece are remarkable. A quality study in color, this work is equally strong in terms of composition."
---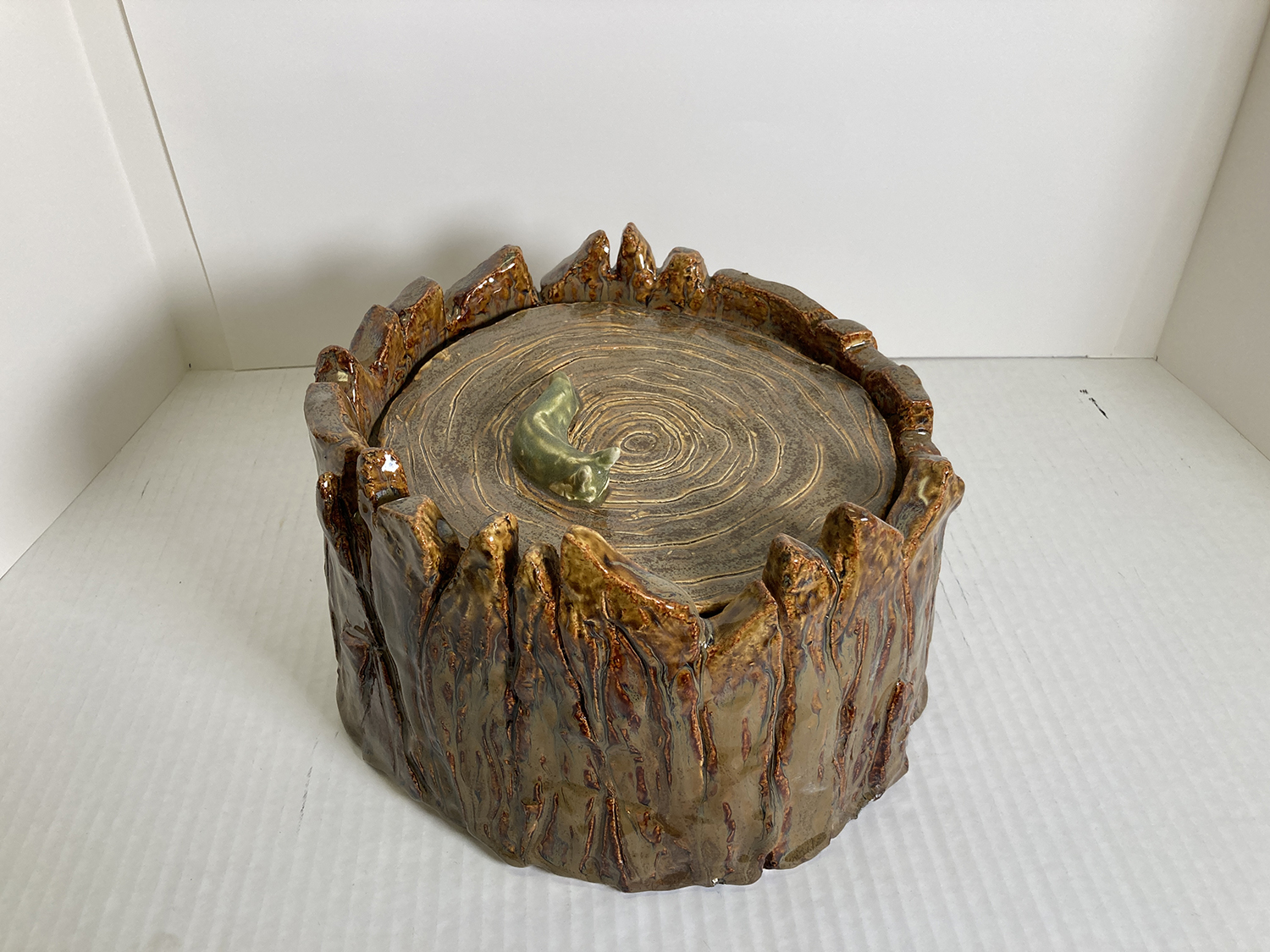 PROMISING ARTIST, THREE-DIMENSIONAL
Student: Void Spurr
Entry: "Freddy with a Surprise Inside," ceramic stoneware
Class: ART 121, Ceramics I
Instructor: Alex Clinthorne
Judge's comment: "In terms of structure, detail, texture and glazing, this work demonstrates strong technique. The piece is well named – as I truly would like to see the surprise inside."
---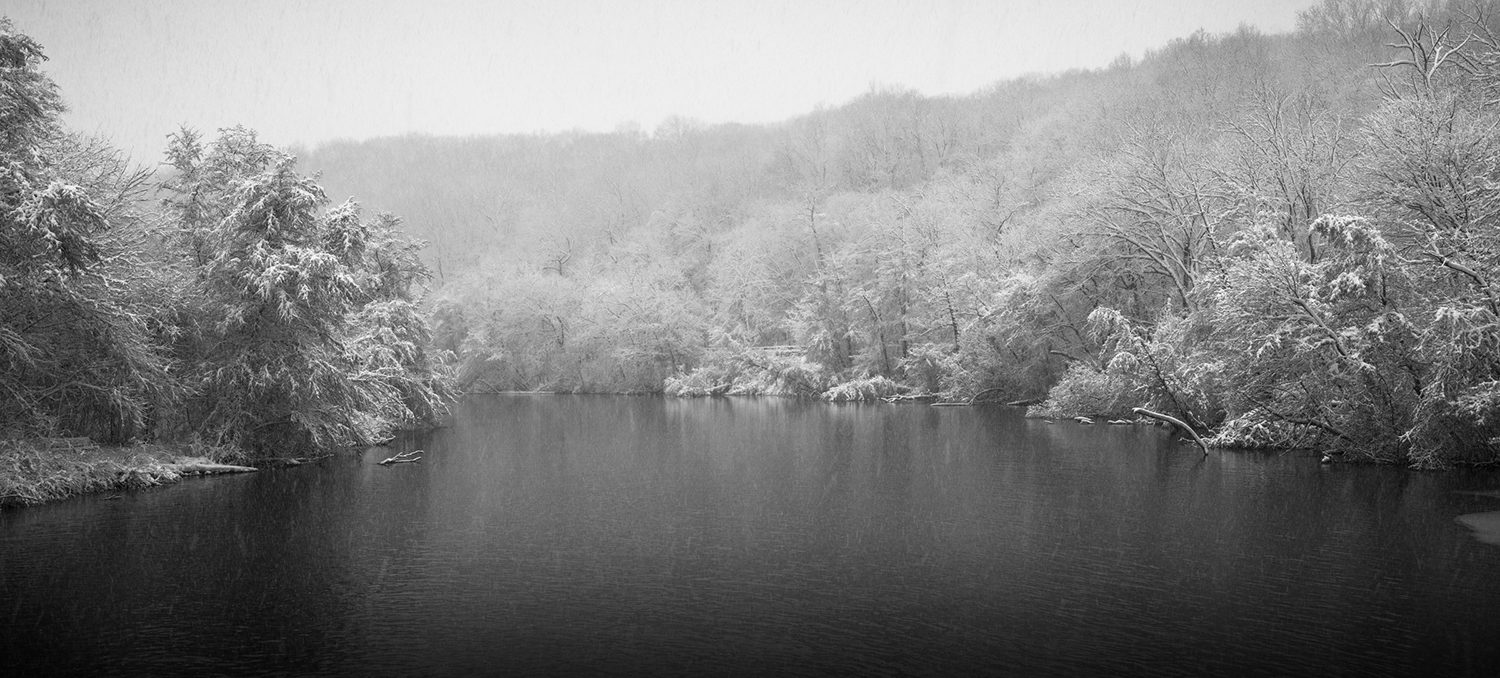 PROMISING ARTIST, GRAPHIC DESIGN/PHOTOGRAPHY
Student: Michaela Houff
Entry: "Snow Over the Huron River," digital photography
Class: PHO 129: Black and White Digital Imaging
Instructor: Terry Abrams
Judge's comment: "This image is quiet and still, so much so that it is warming to view despite representing frigid temperatures. This scene is one Michiganders have seen so many times before, but haven't really seen until seeing it here in this photo."
---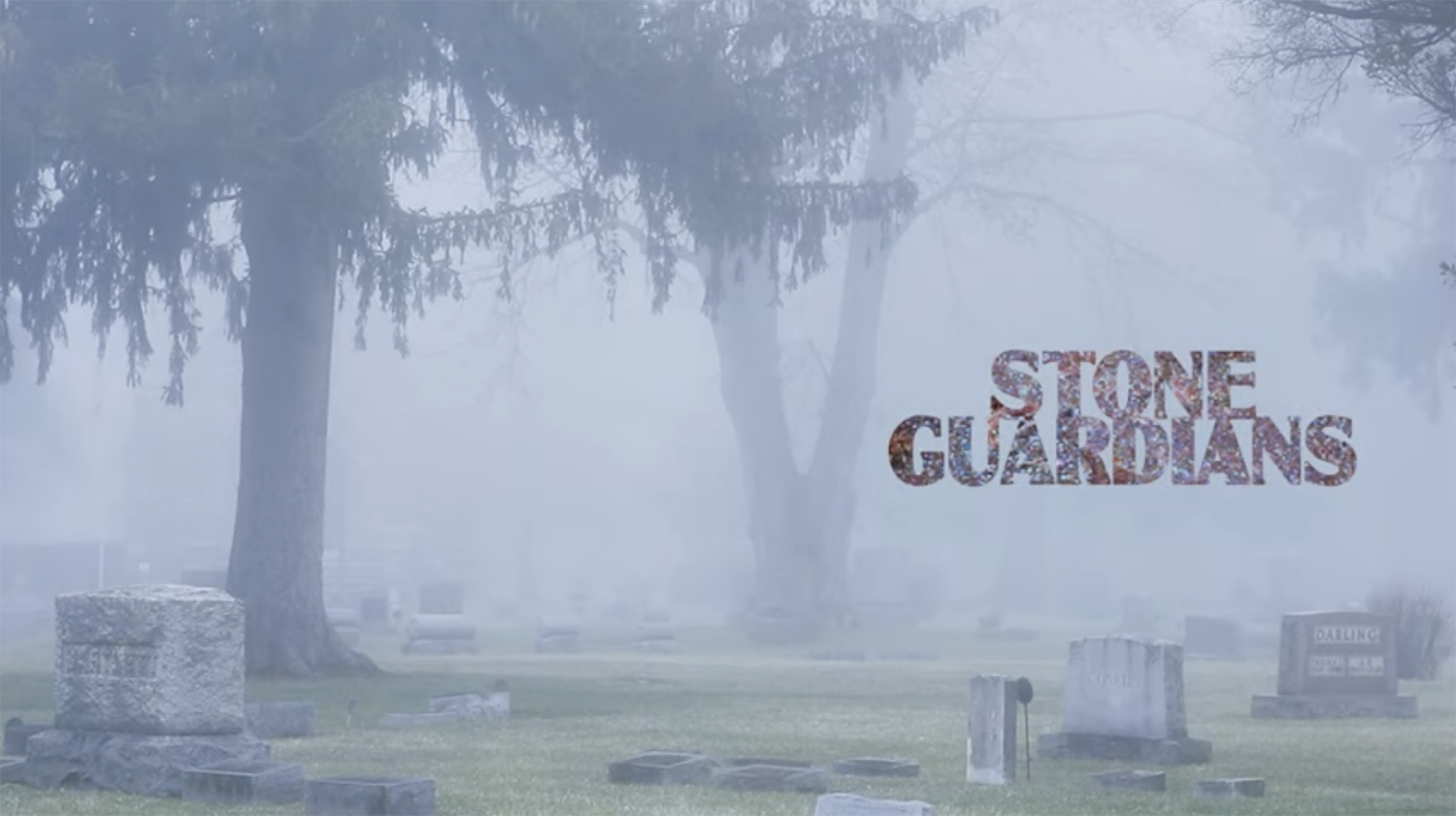 PROMISING ARTIST, VIDEO/ANIMATION
Student: Lawrence Olsen
Entry: "Stone Gardens," digital video
View: Starts at 58:23 mark of digital video entry compilation
Judge's comment: "This video is very moving and very quiet - calming. Every still image and action shot was of high quality. The sequencing and pacing were strong."
---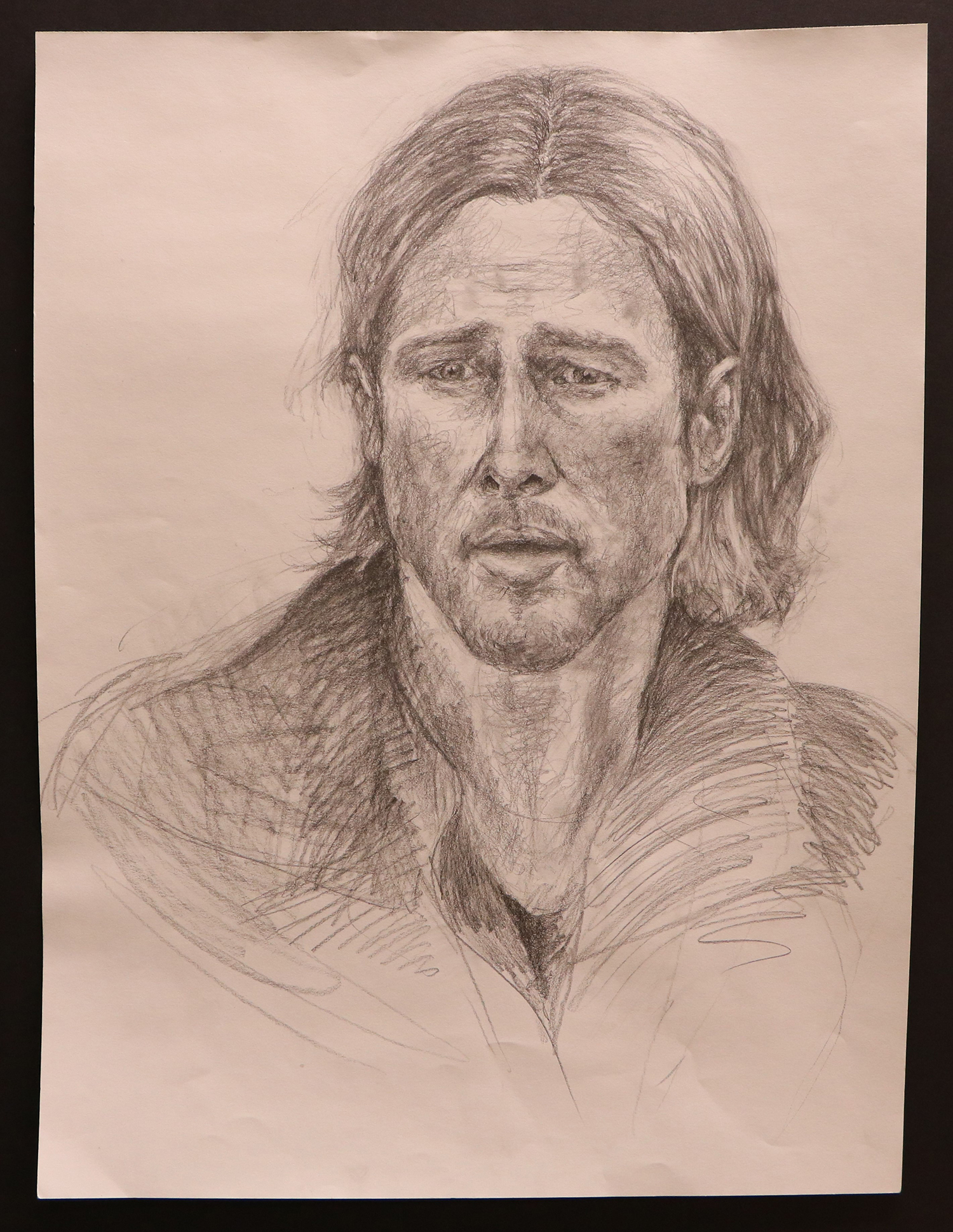 PRESIDENT'S CHOICE AWARD
Student: Bernadette Remski
Entry: "Gerry," graphite drawing
Class: ART 111: Basic Drawing I
Instructor: Heidi Haire
Selected by: WCC President Dr. Rose B. Bellanca
---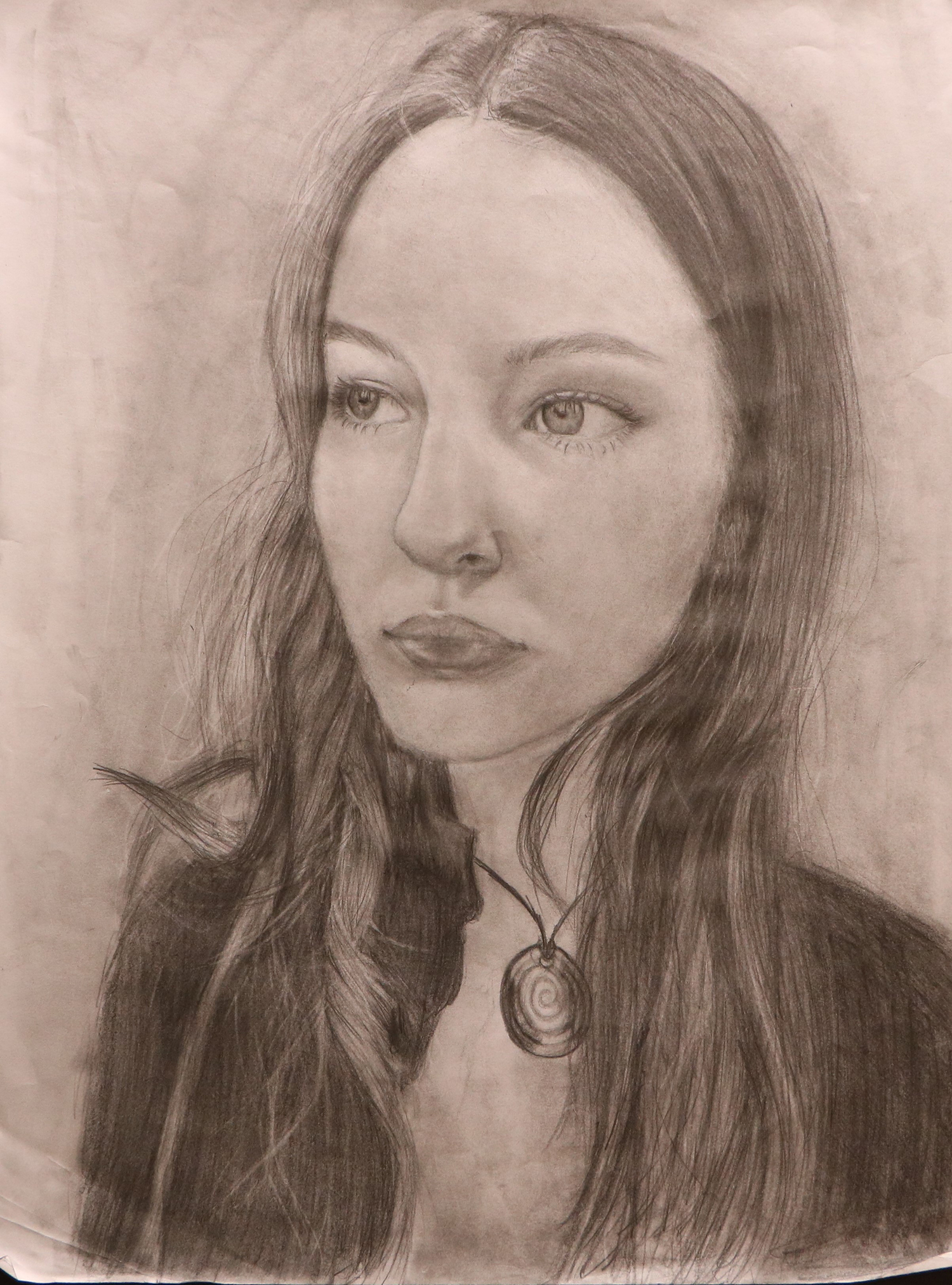 DEAN'S CHOICE AWARD
Student: Ilana S. Londry
Entry: "Self-Portrait," graphite drawing
Class: ART 111: Basic Drawing I
Instructor: Traci Shipley
Selected by: WCC Dean of Humanities, Social & Behavioral Scences Scott Britten
---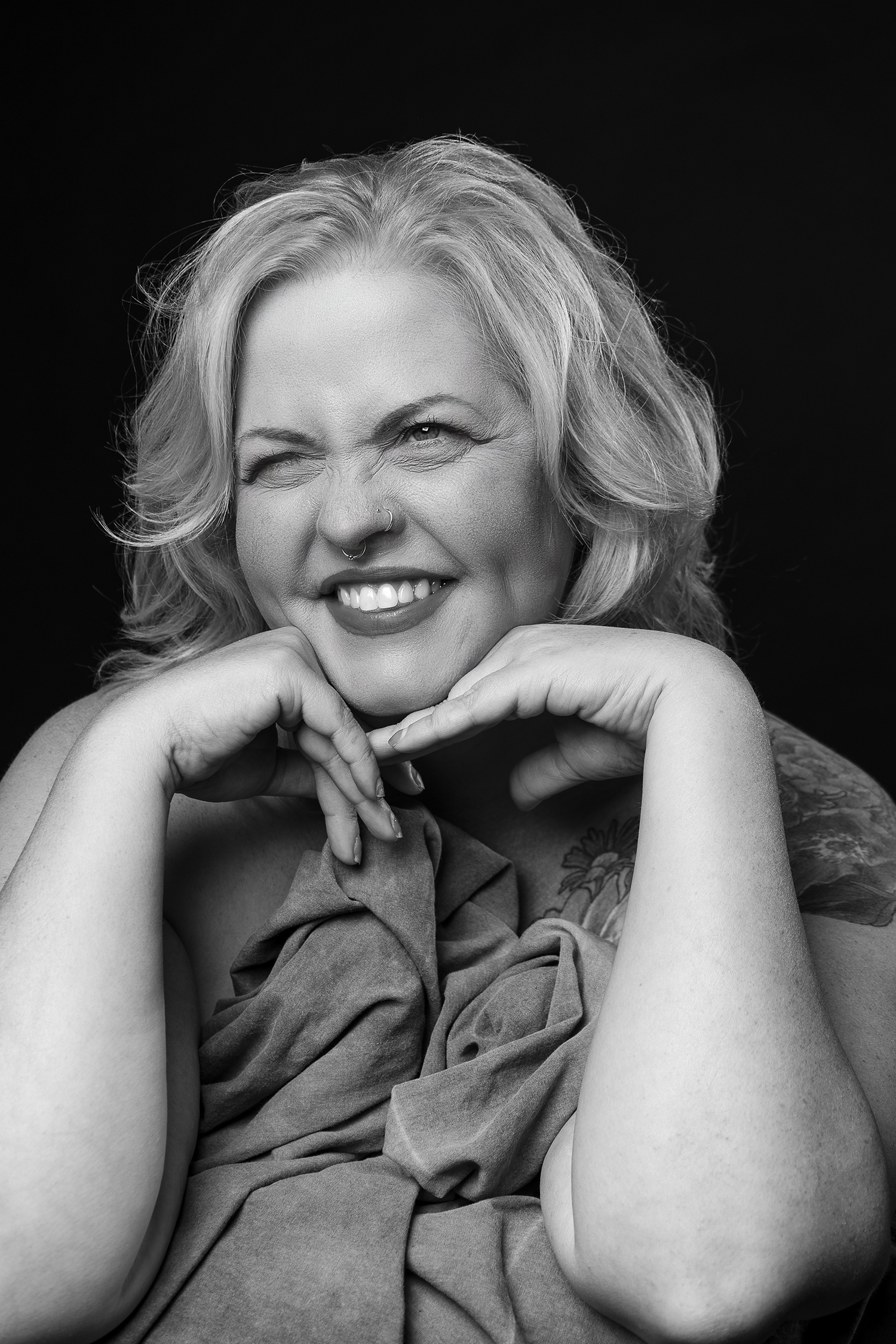 PEOPLE'S CHOICE AWARD
Student: Kari Klavon
Entry: "Melissa," digital photo
Class: PHO 230: Portfolio Projects
Instructor: Don Werthmann
Selected by: Popular vote
Tags: Awards, Digital Media Arts, Fine Arts, Student Art Show, Student Awards, Student Success, WCC Student Art Show