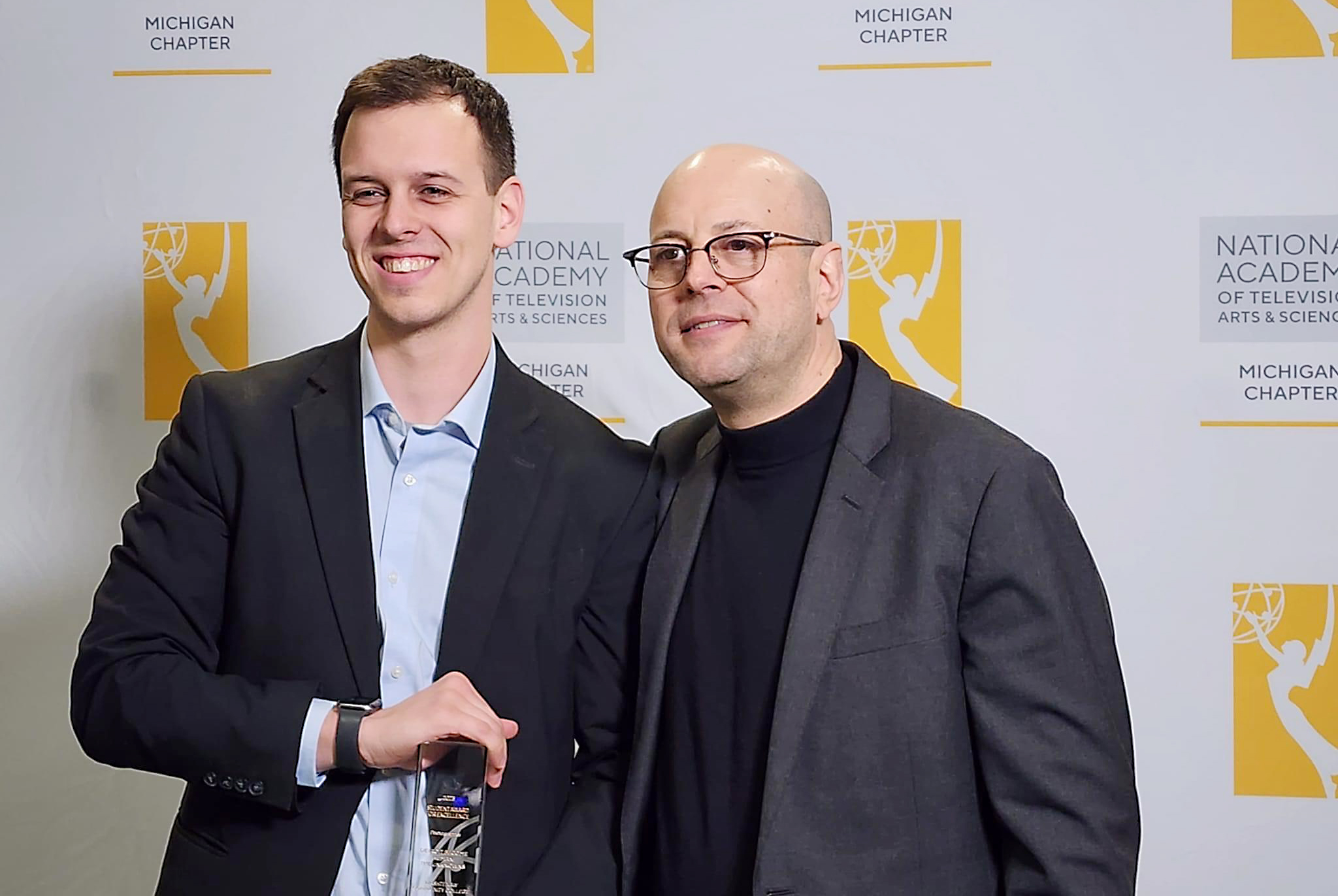 Washtenaw Community College students Nehemiah Harmsen and Corey Konjarevich each took home first-place honors from the 2023 Student Production Awards, sponsored by the Michigan chapter of the National Academy of Television Arts & Sciences.
It's the second award in as many years for Harmsen, who won in the Animation/Graphics/Special Effects category for his work, "I'm Still Here (Trailer)." Konjarevich won in the Photographer category for "Detroit Become Human: The Unknowns."
WCC Digital Video students have now won 41 first-place prizes since first entering the Student Production Awards contest in 2012. Harmsen and Konjarevich's winning projects were among 11 total WCC projects nominated for a 2023 Student Production Award.
Here's a closer look at each of the winning projects and the students who made them:
COREY KONJAREVICH
"Detroit Become Human: The Unknowns"
First Place, Photography
Corey Konjarevich's winning work was inspired by Detroit Become Human, a futuristic adventure video game that features androids that speak, move and behave like humans.
"I was playing the game while I was taking the (Foundations of Digital Video II) class and thought it had a phenomenal story that would make a great movie," Konjarevich said. "It all spun off from there. I think I wrote the entire script the same week I learned about the assignment."
Detroit Become Human: The Unknowns is a 5-minute, 28-second short film that follows an android going about his daily tasks before being attacked by a human. Androids are hard-wired to follow common laws, but the traumatic event leads to a greater depth of understanding when the android realizes it needs to defend itself.
Konjarevich wrote, directed and produced the project, and also stars in it alongside friend Tom Monacelli. But he earned the Student Production Award for his excellent cinematography — which includes drone footage of downtown Detroit and hand-held camera work shot over three days in and around Hart Plaza.
"I was really excited because this is the first real award I've won for a video. I did win a 4-H award when I was a kid, but I think I was the only one to submit a video, so I don't count that one," joked Konjarevich, who accepted his trophy at the awards ceremony on Sunday, April 23 at Michigan State University.
Konjarevich was a self-taught videographer and photographer until attending a six-week training program at The Edit Center in New York City. Inspired to pursue a career in the field, he returned to his home in Livonia and began researching video programs. He turned to WCC at the advice of some friends.
The 25-year-old is currently operating his own freelance photo and video business, but has a five-year plan that includes completing WCC's Digital Video Production associate degree program in 2024 and then continuing to build up his skills — and bank account — before making the move to the epicenters of video production in Los Angeles or New York City by the age of 30.
NEHEMIAH HARMSEN
"I'm Still Here (Trailer)"
First Place, Animation/Graphics/Special Effects
At some point during the creation of a project for his Foundations in Digital Video I class at WCC, Nehemiah Harmsen realized he may have been a bit too ambitious. But even a truncated production — a one-minute teaser trailer for what will become a longer final project — was impressive enough to win a Student Production Award.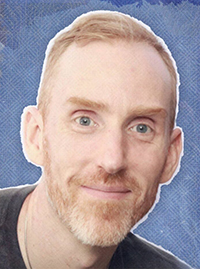 "My idea was to make a short film, but that ballooned into a much bigger project," Harmsen (right) said. "So I made a trailer instead of a full-length short, but do plan to complete it next year (in Foundations in Digital Video II class) and have it ready by the final exam period in December."
Understanding the painstaking process Harmsen is following more than explains the need for additional completion time. He records content normally, but instead of exporting the final product as continuous video, he exports individual frames, replaces particular images with still photographs, and reassembles the video frame-by-frame into something that resembles a stop-motion, moving collage.
Harmsen says the complete video will be a "metaphor for aging as an artist or musician, that quest where you go on a mission to get something and things go wrong."
The project is the culmination of Harmsen's myriad interests and skills. The 43-year-old is a professional graphic and web designer with a penchant for learning. Following a 12-year stay in China as an ESL and Visual Arts instructor, Harmsen enrolled at WCC to build skills that would benefit the small business he launched from scratch upon moving to Ann Arbor.
He took Business and Professional Development classes to help with the day-to-day operations of his enterprise and completing the college's User Experience Designer certificate allowed him to expand his services.
To grow his artistic skillset, Harmsen enrolled in 3D Animation and Digital Video classes at WCC and found great success. He won his first Student Production Award in 2022 in the Music Video category for "I Got It," a project created for a Video Graphics I class.
"I have a bachelor's degree and have attended two other universities, so I can tell you the quality of classes and instructors at WCC is really great," Harmsen said. "And I've been able to incorporate everything I'm learning directly into my work, so it's been a really good experience."
Tags: Digital Media Arts, Digital Video Production, Student Awards, Student Production Awards, Student Success