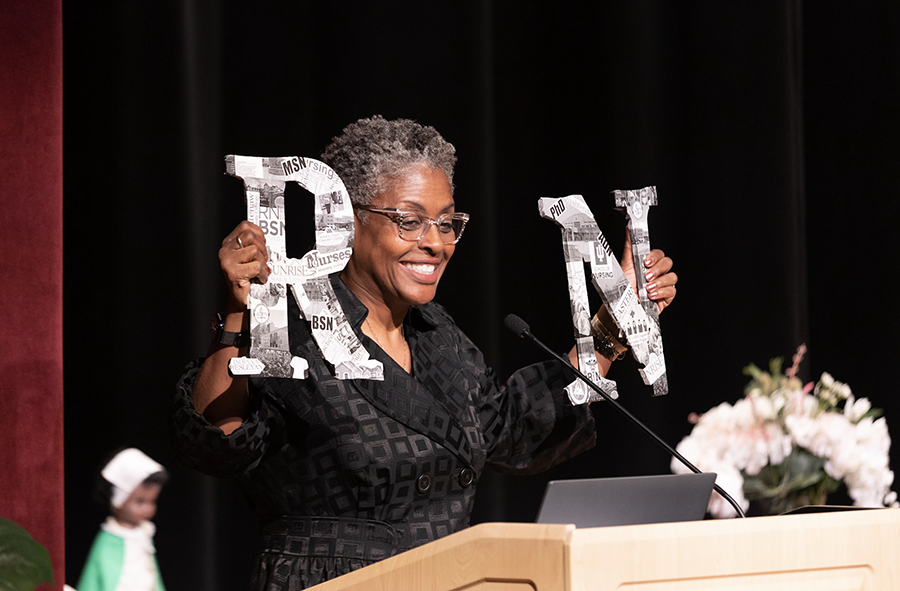 Graduation season at Washtenaw Community College kicked off Thursday when friends and family packed Towsley Auditorium to celebrate the Winter 2023 graduates of the WCC nursing program on Thursday.
The 66-member graduating class took one step closer to joining the profession during a Graduate Pinning Ceremony, a time-honored tradition dating back to the 1880s that represents an initiation into the profess.
RELATED: Photo Gallery
Up next for the group is passing the National Council Licensure Examination (NCLEX) to become a licensed Registered Nurse.
This graduating cohort was celebrated for its diversity, including 10 male students, the most in program history.
The cohort also had 17 members inducted into the Organization of Associate Degree Nursing Honor Society, one of the largest groups in program history. Membership requires a faculty recommendation, maintenance of high GPA and completion of a capstone project.
Faculty also noted that the class exceled philanthropically by donating a program record amount of student scrubs and lab equipment back to future students in the department.
WCC President Dr. Rose B. Bellanca, Dean of Health Sciences Dr. Shari Lambert and faculty member Alisha Noel each addressed the graduating class and faculty member Dr. Marva Brooks served as Mistress of Ceremonies. Nathan Hovater and Lacey Lobdell were selected by their classmates to present graduate addresses.
Members of the Winter 2023 graduating class include (in alphabetic order):
Caitlyn Aceves
Kathleen Alexander**
Zeinab Alsheemary
Lueji Alves Sardinha
Chinonye Bob-Iwe
Nicole Brown
Jessica Buehler**
Eric Burdick**
Lindsey Burton
Samantha Caird
Bryce Colf
Ana Carolina De Carvalho Ferreira Andrade**
Kirsten Dionne**
Kristin Duffany**
Alexandra Filimon**
Jordan Fosdick
Carmela Foster-Witherspoon**
Stephanie Frierson
Nicole Fulton
Robert Garcia*
Kelly Greene
Megan Hanewald**
Aubrey Heffron
Chelsey Hileman
Stephanie Hill
Nathan Hovater
Tyler Howard
Justin Hunt
Rebecca Jaworski
Demetrius Jenkins*
Hui Jiang
Kristin Kerch
Madeeha Khalill**
Cher Kosek**
Amanda Lane
Tami. Latham
Jazmine Lee
Aubrey Leppek
Jianing Li
June Li*
Lacey Lobdell**^
Cassandra Meyer
Madison Meyer
DaPrisha Miller
Adela Myles
Luke Oskvarek
Racquel Parker
Jen Patel
Jacob Pollczynski
Teresa Porter**
Marta Purica-De-Decan
Carole Ramm
Brittany Rose
Catherine Samu
Rebecca Shuh**
Ladious Smith
Nicole Smith
Hannah Straub
Danielle Sykes
Jose Terraza Cruz
Madison Uden**
Melissa Wheeker
Cassandra Williams
Brittne' Wilson* **
Laura Woodside
Zachary Worcheck
* - Members of Advancing Men in Nursing
** - Members of the Organization of Associate Degree Nursing Honor Society, HX Chapter
^ - Member of the National Student Nurses Association
Tags: Class of 2023, Graduation, Men in Nursing, Nursing, Pinning Ceremony, Student Success