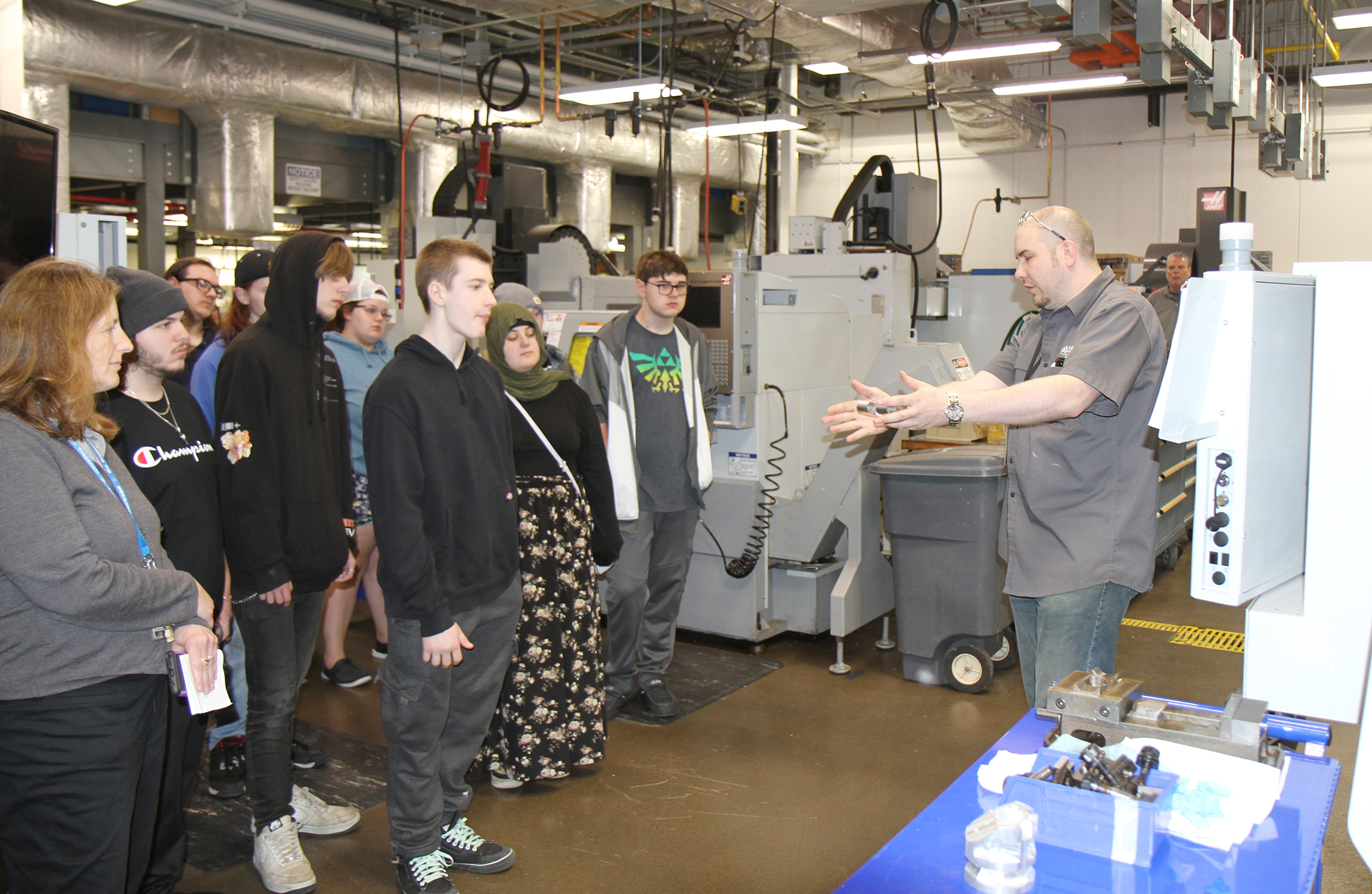 Washtenaw Community College exhibited its new Michigan Federation for Advanced Manufacturing Education (FAME) work-and-learn program when it hosted students from Southeast Michigan high schools on Wednesday, May 10.
Tony Davis, the National Director of FAME USA, addressed about 30 juniors and seniors from SME PRIME schools whose graduates overwhelmingly plan to pursue manufacturing or engineering careers.
WCC is the higher education partner in MI FAME Mitten Chapter, which started in January 2023. The program offers apprenticeships and educational pathways to an associate degree from WCC and on-the-job training and mentoring through industry partners Toyota Motor North America, Orbitform, Lomar Machine & Tool Company, Caster Concepts and Novi Precision.
During the event, students toured the college's Robotics and PLC (Programmable Controllers) Lab as well as the CNC (Computer Numerical Control) Lab.
A panel discussion focused on job opportunities that await FAME participants and other benefits of the program. Rob Luce, Vice President of the SME Education Foundation, also spoke, along with Kyrsten Rue, WCC's Manager of Experiential Learning & Employer Relations. Melissa Sheldon, Director of Research for Ann Arbor SPARK, moderated the discussion.
FAME pairs a student with a sponsoring company to complete a two-year work-and-learn program, equipping students with the skills required for the rapidly evolving manufacturing industry and offers a debt-free path to an associate degree.
"The opportunity this partnership provides to students in Southeast Michigan is really unparalleled. PRIME students are well-prepared for a program like FAME AMT and have already demonstrated a desire to learn more," Davis said. "Moving into the FAME AMT program will empower them to earn money from experience and earn an associate degree at the same time. It's a perfect fit. FAME employers are looking for great talent to grow and invest in for the long haul and I am excited to watch the success stories that will come from this alignment."
Juniors and seniors from Carleton Airport High School, William D. Ford Career and Technical Center and East Jackson Secondary School — all of which have SME PRIME programs — visited the WCC campus.
"SME PRIME students are well prepared and positioned for success in the FAME USA program administered through Washtenaw Community College," Luce said. "This program offers our SME PRIME students continuing educational and apprenticeship opportunities that track well with their expressed post-high-school career aspirations."
Michigan Works! Southeast and the Workforce Intelligence Network for Southeast Michigan (WIN) are also supporting the FAME initiative in the Mitten chapter.
Funding to support the MI FAME Michigan chapter is provided by the Southeast Michigan Community Alliance (SEMCA) Workforce Intelligence Network (WIN) as part of a $5.8 million Apprenticeship Building America (ABA) grant awarded by the U.S. Department of Employment and Training Administration. Ann Arbor SPARK will help administer the program and will also help recruit both employers and students.
Participants in the FAME program can be recent high school graduates, military members transitioning to the workforce, or individuals looking to move into a new career path. The FAME program is designed to give students hands-on experience while also providing formal educational credentials. The program focuses on professional presence skills, lean manufacturing acumen, as well as formal technical capabilities.
Final hiring decisions are being made for the first cohort of students who are expected to start in Fall 2023. Applications to join the Fall 2024 cohort can be submitted on the MI FAME Mitten Chapter website.
Tags: Advanced Manufacturing, Apprenticeships, MI FAME, Workforce Development