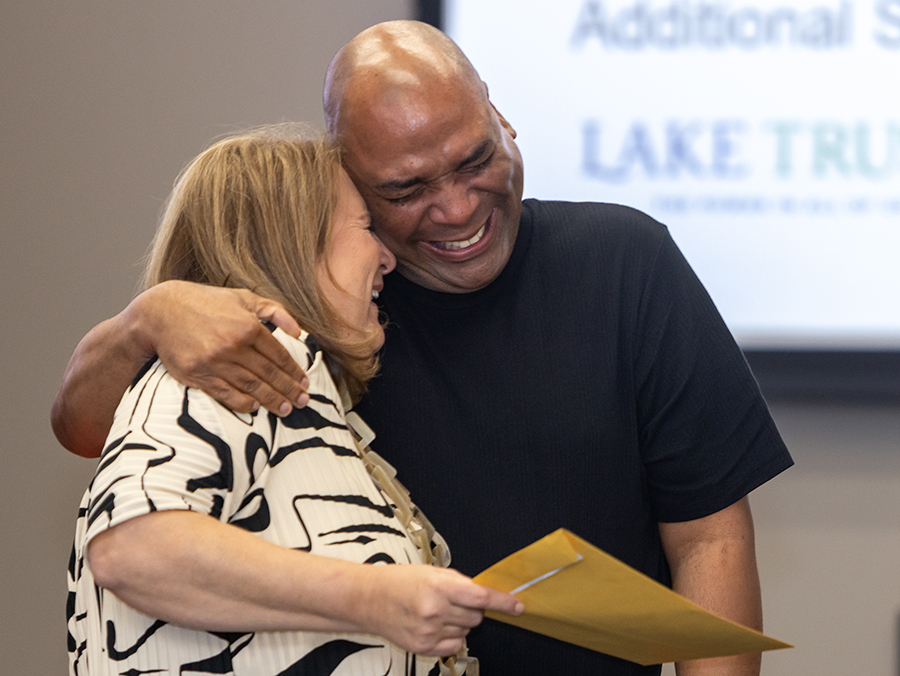 Six local small business owners and aspiring entrepreneurs won their category at [email protected] and took home prize money from the Entrepreneurship Center at Washtenaw Community College's premier annual event.
RELATED: Photo Gallery
Family, friends and supportive past winners of [email protected] prize money filled the competition room in the Morris Lawrence Building on Thursday, May 11 to hear three finalists pitch their business ideas in five different categories. Those in attendance also voted for one winner, the Audience Choice.
"We had an overwhelming response to our Pitch contest this year, making it extremely difficult to narrow the finalist group down to 15 entrepreneurs," said Entrepreneurship Director Michelle Julet. "All competitors' pitches were outstanding and we look forward to continuing to work with them on their entrepreneurial journey."
A first-of-its kind Student Pitch contest kicked off the night, followed by a category specifically for non-profit organizations. For-profit businesses were split into three categories based on its stage of growth: Start (business is an idea with no customers), Build (business has a small customer base), and Grow (business has a solid customer base).
Meet this year's winners:
---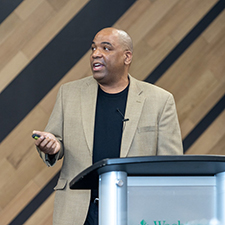 'GROW' CATEGORY
Winner: Brian Scott
Prize: $7,500
Business: Broadcast Boot Camp
Desciption: Scott, a veteran broadcaster, created this social impact project to expose local youth to basic radio show and podcast production through a hands-on, interactive teaching method. The training is taken to where resources are limited by partnering with community organizations.
---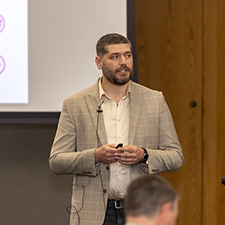 'BUILD' CATEGORY
Winner: Max Morefield
Prize: $5,000
Business: KISS app.
Desciption: Morefield's business is an app that empowers its users to take control of their sexual health. KISS — which stands for Knowledge, Information, Safer Sex — is also designed to help slow the spread of sexually transmitted diseases.
---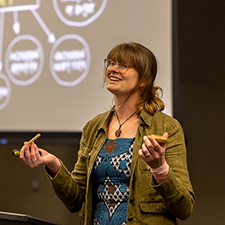 'START' CATEGORY
Winner: Brooke Marshall
Prize: $2,500
Business: Seed Straws
Desciption: Seeds Straws are a natural smoking cessation aid consisting of a bamboo straw with a hackberry seed inside. The same size and weight as a cigarette, Seed Straws can be breathed through to imitate cigarette smoking, and the seed can be planted after the straw is spent.
---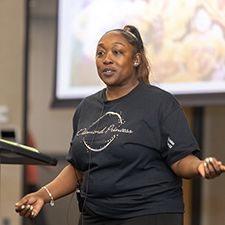 NON-PROFIT CATEGORY
Winner: Teiara Massey
Prize: $2,500
Business: Diamond Princess
Desciption: Diamond Princess teaches kids dance skills with an emphasis on teamwork, self-confidence, determination, persistence, community involvement, and social and emotional learning.
---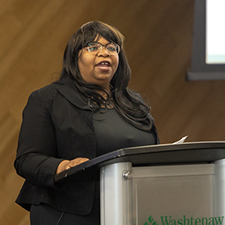 AUDIENCE CHOICE
Winner: Ruth Singleton
Prize: $500
Business: Heal4Life
Desciption: An entry in the non-profit category, Heall4Life educates and motivates residents of low-income communities to make better mentall and physical lifestyle decisions while providing affordable, healthy foods.
---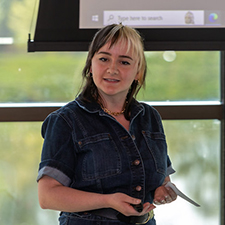 STUDENT PITCH
Winner: Katherine Keeler
Prize: $500
Desciption: Keeler pitched a business that would offer workshops and provide educational materials to women to help build their confidence with vehicles and vehicle maintenance.
---
Special thanks goes out to [email protected] lead donors Bhushan and Swatee Kulkarni and supporting donor Lake Trust Credit Union.
Judges for the competition were Julius Buzzard, Executive Director of Growing Hope; Richard Chang, Partner & CEO at New Foundry; Diane Durance, President of Michigan Capital Network; Bill Mayer, Senior Vice President of Entreprenuerial Services at Ann Arbor SPARK, and Anthony Terry, a WCC instructor that teaches classes in the college's Entrepreneurship and Innovation certificate program.
Julet also offered praise for the Pitch Advisory Panel for "helping in so many ways." They include Jose Figueroa from Ann Arbor SPARK, Hien Lam from Huck Finch, Jennifer Santi from Zingerman's, Tiarra Stallings from Allianz Trade, Phillip Weiss from Dart Bank and Nicholas Woods from Google.
The Entrepreneurship Center has hosted [email protected] since 2016. All finalists receive one year of training, coaching and mentoring from WCC facullty, Entrepreneurship Center staff and experts that serve in its Entrepreneurs-in-Residence program.
Tags: Entrepreneurship, Entrepreneurship Center, [email protected]