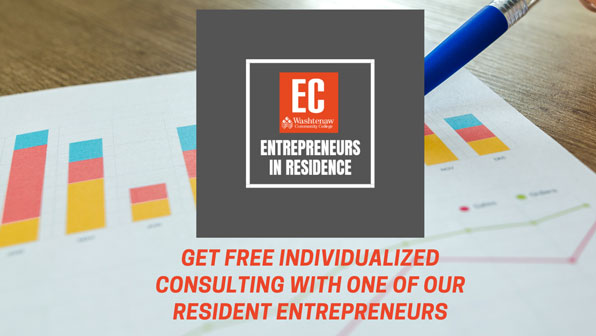 The EIR program, started in 2019, enhances our mentoring services at the EC, and is made possible through private grants. Eight local entrepreneurs are available as business consultants in their area of expertise; see EIR bios below. One-on-one individual 40-minute appointments can be made after an initial intake with the EC - please fill out our Business Assistance Request form to begin the process. See EIR Testimonials and Press Coverage about the program below.
EC Entrepreneurs-In-Residence
---
EIR Testimonials
"Hearing Al's extensive experience and what he has learned through his entrepreneurship journey was invaluable. The tools and advice provided on how to validate a business idea was excellent."
"Cheranissa asked really great questions to help me get my ideas from my head into something concrete for my business plan. She is thoughtful, strategic and a great coach."
"I feel totally heard by Sandra and her encouragement and advice are so helpful!"
"So far this whole experience has been extremely helpful. I didn't even know a program like this existed until a couple weeks ago. The amount of help that I'm getting for free seems unreal. But I am definitely going to take advantage of every single thing offered to me. Thank you all so much!"
"Danielle was so resourceful. She provided me with very useful options and demonstrations on how to navigate social media sites. She informed me on the best practices for marketing on social media platforms. I really appreciated her time and expertise."
Press Coverage
"Expanding entrepreneurship," American Association of Community Colleges 21st Century Center, October 5, 2021, https://www.aacc21stcenturycenter.org/article/expanding-entrepreneurship/
"WCC expands its Entrepreneurs-In-Residence program to mentor new business owners," The Sun Times News - Chelsea, September 24, 2021, https://thesuntimesnews.com/g/chelsea-mi/n/43020/wcc-expands-its-entrepreneurs-residence-program-mentor-new-business-owners
"WCC expands its Entrepreneurs-In-Residence program to mentor new business owners," WCC News, September 23, 2021, https://www.wccnet.edu/news/articles/2021-09-23-eirexpansion.php
"New program supports WCC HVAC/R students and local industry," WCC On The Record, August 19, 2021, https://www.wccnet.edu/news/articles/2021-08-19-hvacprogram.php
"Local entrepreneurs ready to mentor aspiring business owners," WCC News, September 29, 2020, https://www.wccnet.edu/news/articles/2020-02-28-eirprogram.php
"New program pairs seasoned entrepreneurs with rookies," The Washtenaw Voice, September 10, 2019, https://www.washtenawvoice.com/2019/09/10/new-program-pairs-seasoned-entrepeneurs-with-rookies/
"Entrepreneurs-in-Residence offers one-on-one mentoring with four local experts," WCC News & Events, September 3, 2019, https://www.wccnet.edu/news/2019/2019-09-03-entrepreneurs-residence.php
"New WCC entrepreneurship program offers one-on-one guidance with local business experts," Concentrate Ann Arbor, August 28, 2019, https://www.secondwavemedia.com/concentrate/innovationnews/wcceceir0516.aspx
---
Washtenaw Community College does not discriminate on the basis of religion, race, color, national origin, age, sex, height, weight, marital status, disability, veteran status, sexual orientation, gender identity, gender expression, or any other protected status in its programs and activities. The following office has been designated to handle inquiries regarding non-discrimination policies: Executive Vice President of Student & Academic Services, SC 247, 734-973-3536. Facility access inquiries: V.P. for Facilities Development & Operations, PO 112, 734-677-5322. If you have a disability and require accommodation to participate in this event, contact Learning Support Services at 734-973-3342 to request accommodations at least 72 hours in advance.