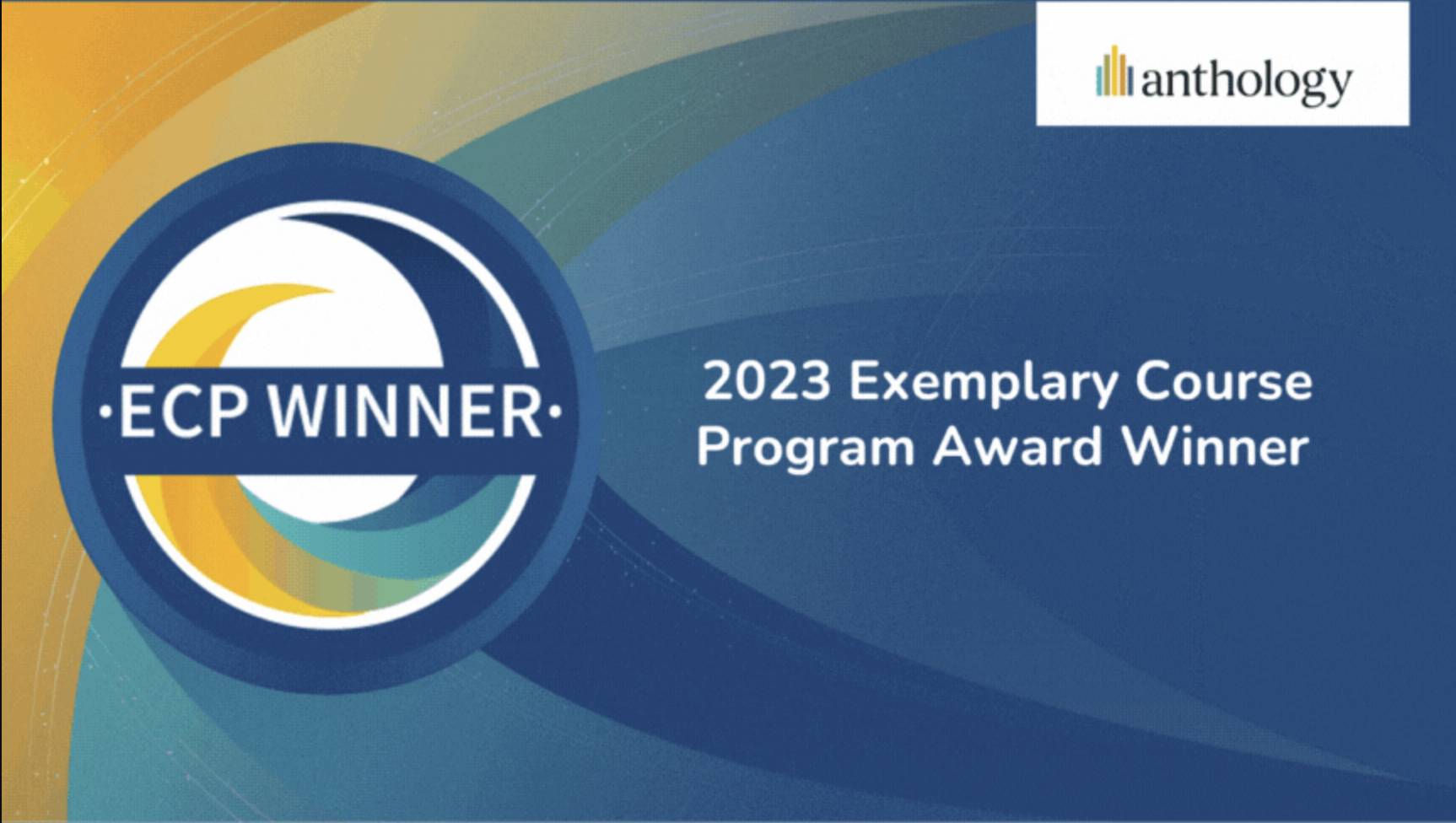 Three Washtenaw Community College courses have been recognized for representing the very best in technology and learning.
Online versions of WCC's Creating the Customer Experience (BMG 205), Introduction to Supply Chain Management (BMG 181) and Intercultural Communication (COM 225) are among the 27 courses at colleges and universities around the world named 2023 Exemplary Course Program Award winners.
Previously referred to as Blackboard Exemplary Course Awards, they are now sponsored by Anthology after the two higher education software companies merged. In the four years the awards have been granted, WCC has received the recognition for 14 different online courses.
The Exemplary Course Program recognizes faculty and course designers who develop engaging and innovative courses. According to ECP, winners demonstrate excellence in course design, interaction and collaboration, assessment and learner support.
WCC Business instructor Cheryl Byrne designed the two winning BMG courses while Communication instructor Claire Sparklin designed the winning COM course. Instructional Designer Michelle Westerdale, Online Learning Cross Functional Developer Jeremy Liesen (video filming) and Instructional Systems Support Manda John Baptiste (interactive activities) also contributed to the award-winning design.
"Online courses are more important than ever as students look for alternative ways of learning, and WCC's commitment to quality online education continues to be at the forefront of our strategic initiatives," said Eva Samulski, WCC Dean of Business & Computer Technology, whose department offers 12 of WCC's 14 award-winning courses.
"Anthology's award is a valued third-party verification of what we already believe to be true after our own internal peer-review process – that all of our online courses are rigorous, well-designed and easy to follow."
WCC's Exemplary Course Program Award Winners
BMG 181: Introduction to Supply Chain Management (2023)
BMG 205: Creating the Customer Experience (2023)
COM 225: Intercultural Communication (2023)
BMG 182: Warehousing and Logistics (2022)
BMG 206: Retail Principle and Practices (2022)
BMG 207: Business Communication (2022)
BMG 226: Transportation and Logistics (2022)
BMG 230: Principles of Management (2022)
BMG 240: Human Resources Management (2022)
BMG 279: Organizational Management (2022)
BMG 295: Supply Chain Field Studies (2022)
Motivating Employees, created for UA instructor training (2022)
BMG 140: Introduction to Business (2021)
BMG 111: Business Law (2020)
Tags: Awards, Blackboard, Business and Computer Technologies, Online Learning