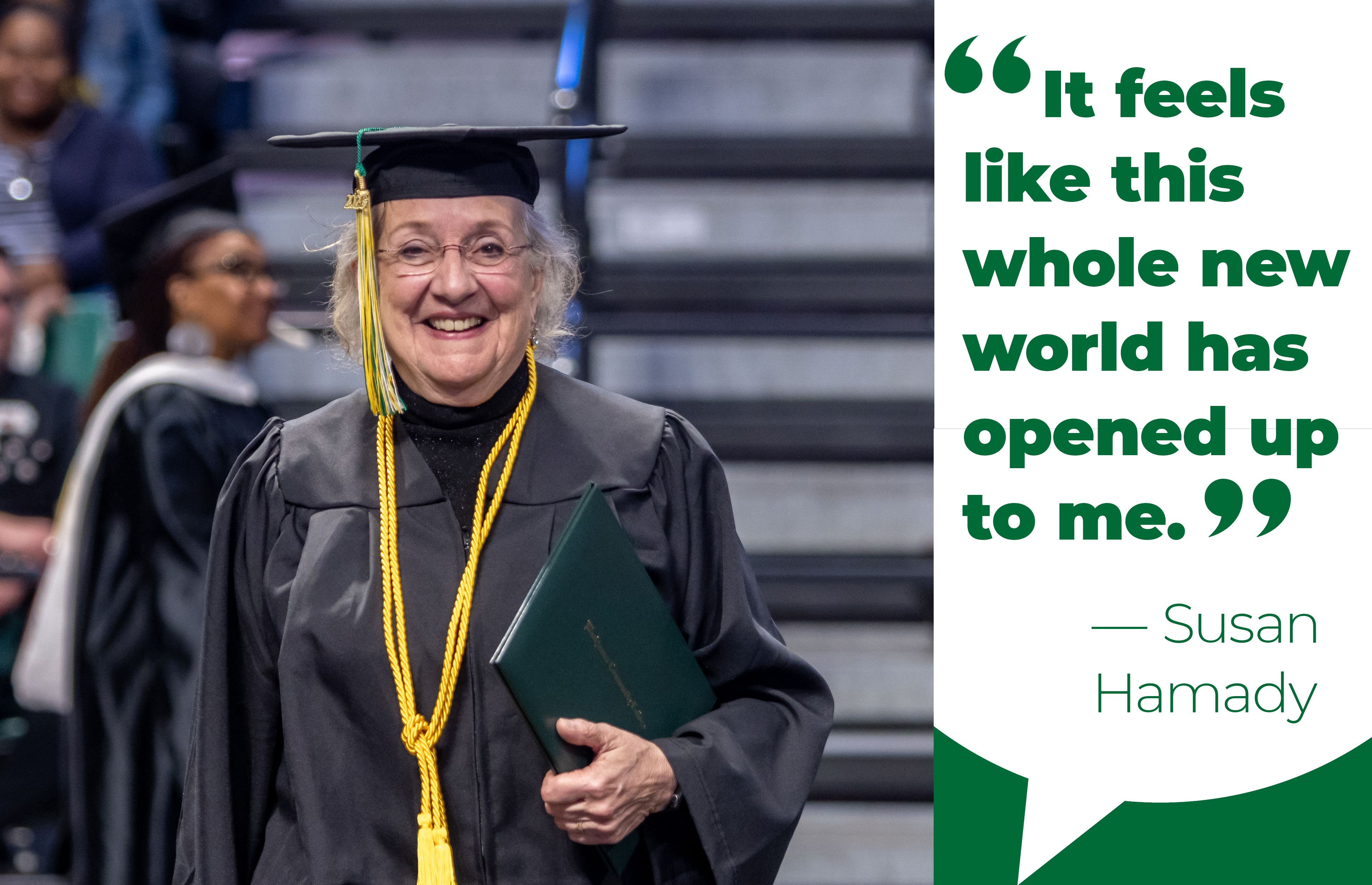 Susan Hamady earned a bachelor's degree in 1968 and a master's degree in 1980. But the 76-year-old Ann Arbor resident had never walked in a graduation ceremony … until now.
"I was a little snotty before, I guess. But this one, I worked so hard and was so grateful, I had to go," Hamady said after attending the WCC Commencement Ceremony on Saturday, May 20, where she was awarded an associate degree in Photographic Technology. "I've never worked so hard for anything else. I was proud as hell, up there waving at the audience."
RELATED: Photo Gallery 1 | Photo Gallery 2 | Live Stream Replay
Hamady is quick to point out that the degree was earned with high honors. She received an A- in one class and finished with a 3.98 GPA.
A professional visual artist and part-time performing arts professor, Hamady started dabbling in WCC classes when she reached the age of 65 and became eligible for the college's Emeritus Scholarship, which covers the cost of tuition for Washtenaw County senior citizens.
Primarily a painter (see her work at susanhamady.com), Hamady enrolled in a photography class at WCC to learn an alternative photo development process that would allow her to transfer prints onto canvas.
She was hooked. Hamady said she loves how photography mixes science and art.
"It feels like this whole new world has opened up to me," Hamady said. "I learned how to work with my ancient slides and bring them back to life in whole new ways."
There are 10 required photography classes in the Photographic Technology degree program, but Hamady took four of those classes multiple times. "Not because I struggled – I aced the classes," she says. "It was because I thought there was just still so much more to learn."
After teaching dance and other performing arts classes in the Wayne County Community College District for 50 years, Hamady wasn't concerned about returning to the classroom as a senior citizen.
"I've been teaching college-aged students my whole life, basically, so I wasn't nervous about that aspect," she said. "There's really a wonderful camaraderie between students in the program. It was a riot."
As an accomplished artist, Hamady's work regularly appears in juried art fairs around the country and has been exhibited in various galleries. Completing the WCC photography program still boosted her confidence.
"The whole way they train you here is really professional," Hamady said. "They help you know what you can charge for your work and how to market it. It just adds some fuel to the fire. It's very exciting."
So exciting, in fact, she decided to don a cap and gown for the first time!
Tags: Class of 2023, Digital Photography, Emeritus Program, Graduation, Photography, Student Profile