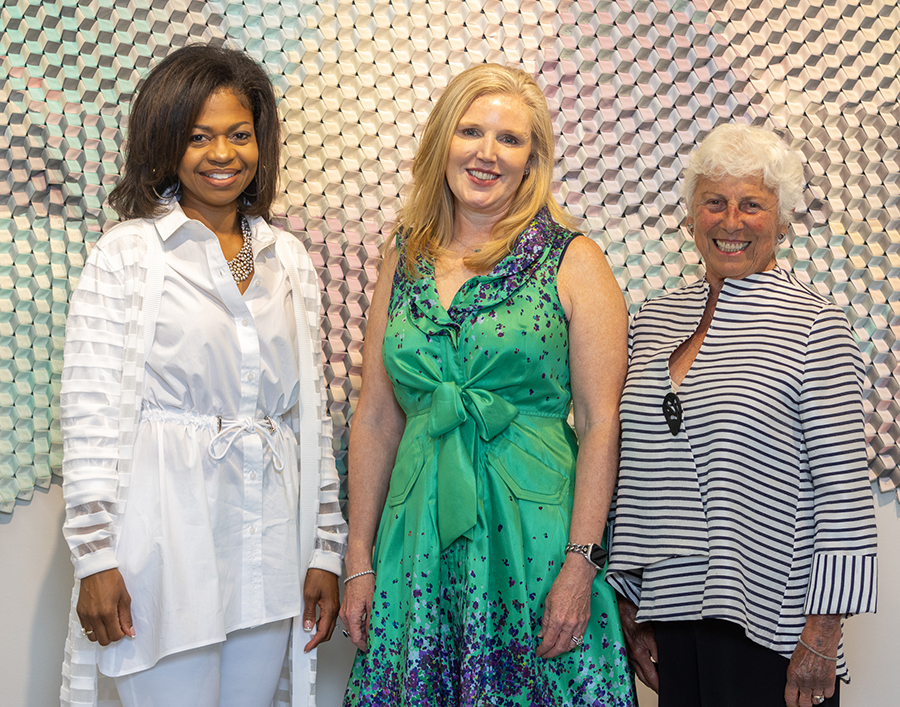 Back to an in-person format for the first time since 2019, more than 350 people attended the 26th annual WCC Foundation Women's Council Celebration Luncheon on Wednesday, May 24.
The event featured a keynote address from WCC alumna Aisha Bowe and the honoring of three local women for their leadership and dedication to the Washtenaw County community — Michelle Crumm, Donna Doleman Dickerson and Nancy Margolis.
WCC President Dr. Rose B. Bellanca and Women's Council member Stefani Carter also addressed the capacity crowd.
Proceeds from the luncheon will support the WCC Foundation Student Emergency Fund, which helps WCC students navigate unexpected financial difficulties, including food shortages, childcare and transportation issues, among others.
Since being established in 2017, the fund has provided more than $140,000 in emergency grants to eligible students. Nearly 85% of students who receive assistance from the fund remain enrolled or graduate from WCC.
Bowe, the keynote speaker, is expected to be the first Black woman to travel on a commercial flight to space with Blue Origin. Following her studies at WCC, Bowe transferred to the University of Michigan, where she earned bachelor's and master's degrees, and worked as an aerospace engineer at NASA before founding and becoming the CEO of STEMBoard.
In addition to her work with STEMBoard, Bowe raised nearly $2 million in 2022 to fund a second company, LINGO. Its hands-on kits have helped more than 5,000 students in 10 countries learn computer coding, hardware and software design.
The afternoon's three dynamic honorees were nominated for recognition after demonstrating professional excellence through their work and service; supporting the lives of women, children and the underserved; and advancing equity, diversity and inclusion.
They include:
Michelle Crumm, MBA, CPA, is known for her energy, entrepreneurship and community involvement. Crumm is the Founder and CEO of Present Value, an executive coaching company, where she inspires others to develop bold leadership. She has a long history of corporate successes, including co-founding and leading Adaptive Materials, Inc., which manufactures propane fuel cells, and was sold in 2011 to an international corporation. A former member of the Board of Regents at Eastern Michigan University, Crumm is dedicated to helping students placed in foster care as teens succeed in college.
Donna Doleman Dickerson, MBA, CDP, is a powerhouse at building brands and repositioning companies. As Vice President of Brand and Marketing at the University of Michigan Credit Union (UMCU), she leads Brand, Marketing, Communications, Community Development, Financial Education and innovative product design. Dickerson serves as the Chair of Trinity Health Michigan Board of Directors and sits on the Make-a-Wish Michigan Board of Directors, among others. She is passionate about the health and well-being of children.
Nancy Margolis, MSW, is the Founder and President of Embracing Our Differences Michigan, a nonprofit educational art program launched in 2021. It uses the transformative power of art and an educational curriculum to celebrate diversity and enhance understanding. She has provided decades of leadership in Washtenaw County's Jewish community, and has focused on meeting the needs of underserved communities.
WCC students were also invited to attend the event as guests, providing them with an opportunity to hear high-achieving women share where they came from, the obstacles they overcame, and how they achieved success.
The Women's Council is dedicated to helping students overcome barriers while pursuing a WCC education. Since being founded in 1997, the Women's Council has raised more than $800,000 in support of the WCC Foundation.
WCC Associate Vice President of College Advancement Tina Kashat Casoli, who oversees the WCC Foundation, says the Women's Council plays a vital role in student success.
"For nearly 30 years, these dedicated women have endowed scholarships to recognize leadership and academic excellence. They support the Student Emergency Fund in a big way to break down barriers to students' education," Casoli said.
Tags: Student Emergency Fund, WCC Foundation, Women's Council, fundraiser