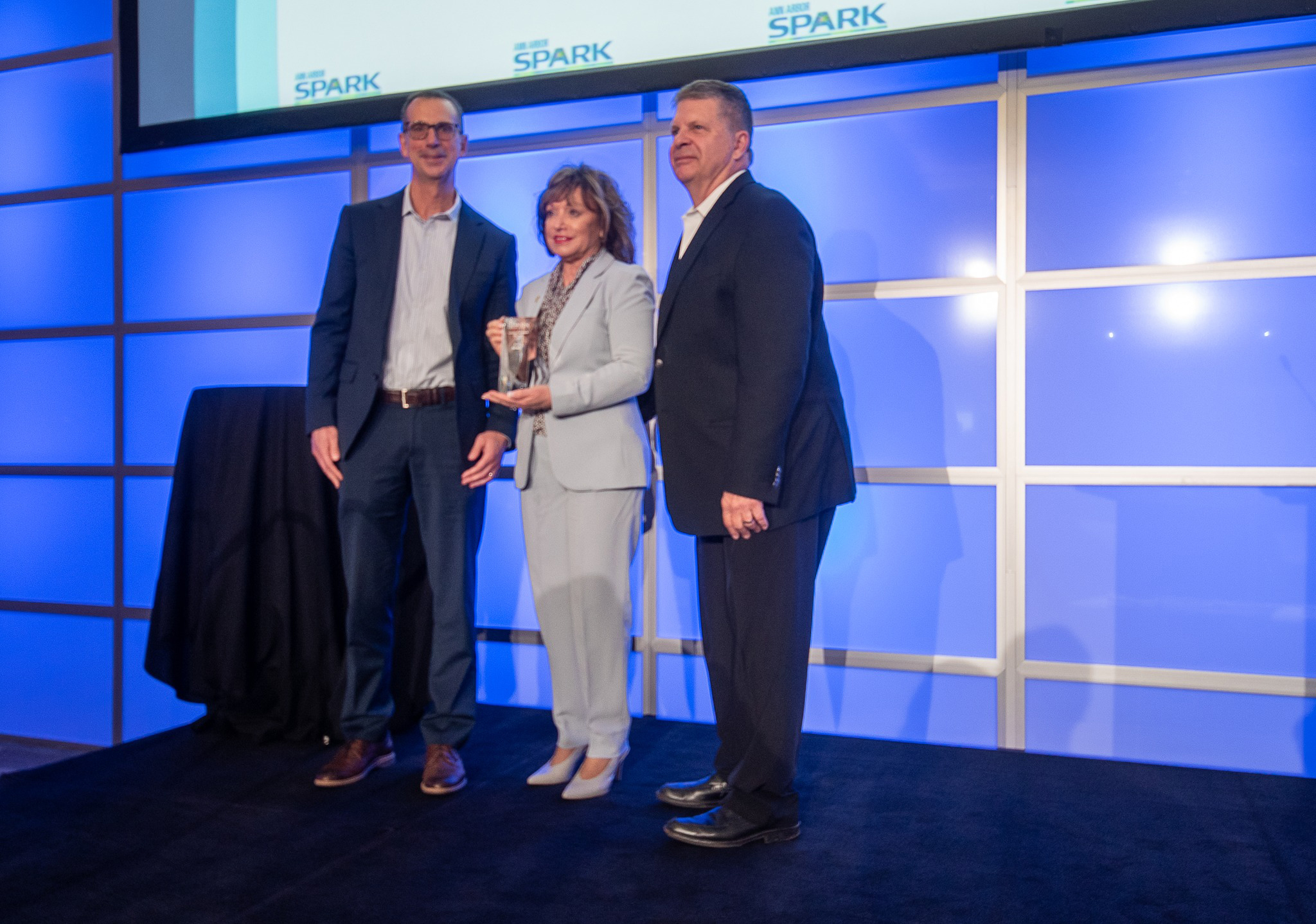 In recognition of her outstanding leadership and contributions to the economic development of the Ann Arbor region, Washtenaw Community College President Dr. Rose B. Bellanca was honored as an "Economic Development Champion" by Ann Arbor SPARK at its 2023 annual meeting on May 25.
Ann Arbor SPARK President & CEO Paul Krutko recognized Bellanca for establishing strong partnerships with local businesses and organizations, creating opportunities for students and promoting workforce development in the area.
Bellanca was celebrated for championing initiatives addressing the skills gap and increasing access to education and training, playing a significant role in building a more diverse and inclusive economy.
A video (shown below) was played preceding the presentation of the award with a number of community leaders expressing their support of Bellanca being presented with the prestigious award for her dedication and commitment to economic growth and the resulting substantial impact on the Ann Arbor community.
Among the comments:
Cynthia Wilbanks, University of Michigan Vice President Emeritus for Government Relations: "As a member of the SPARK board, (Bellanca's) voice is an influential voice and her actions really speak volumes to the way that she directs and leads the community college to support the region's economic development goals."
Bhushan Kulkarni, Co-Chair of Michigan Founders Fund: "Rose has really played a leadership role in this community in understanding how the talent attraction and retention drives economic growth in terms of business attraction and retention. She has been the backbone of that cause."
Tiffany Ford, President & CEO of University of Michigan Credit Union: "Dr. Bellanca is very, very committed. She's tenacious in her leadership. She demonstrates a significant amount of strength and I would describe her, definitely, as a 'go-getter.'"
Richard J. Landau, managing member of RJ Landau Partners PLLC and former WCC Trustee: "Her job description didn't require her to become the community force that she has become. She did that on her own. She simply did it because she thought it was the right thing to do and because it's consistent with her personality."
U.S. Representative Debbie Dingell: "Rose earned this. But she earned this without ever thinking about earning it. She doesn't volunteer, she doesn't engage in community, she doesn't participate in all the things I see her in because she wants an award. She does it because she's part of a community and that when you're part of a community you have a responsibility towards it."
Ann Arbor SPARK's annual meeting, which took place at the Eastern Michigan University Student Center, celebrated the organization's accomplishments over the past year. University of Michigan President Dr. Santa Ono presented the keynote address.
Other awards were presented to AlertWatch for Entrepreneurial Services Company of the Year and Sartorius for Business Development Project of the Year.