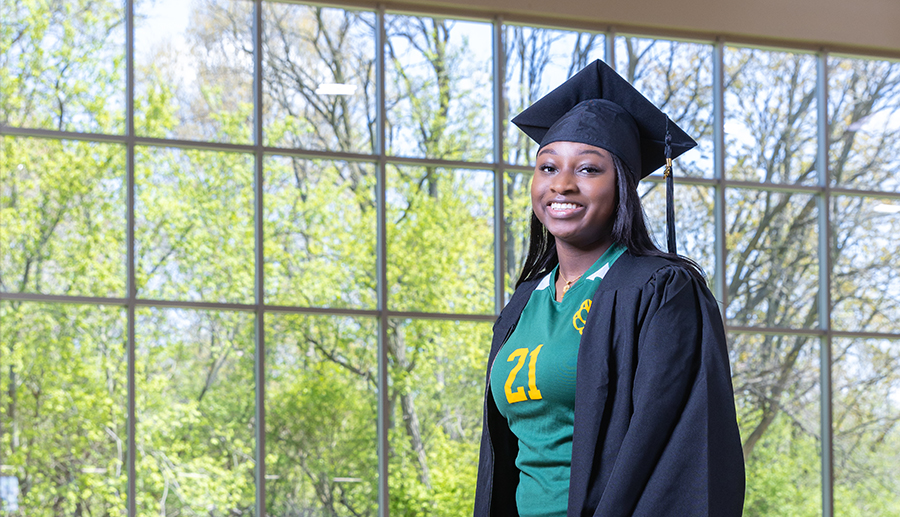 Saydatou Cisse has always loved sports. She dabbled in almost everything offered during her middle school years before focusing on volleyball and track at Ann Arbor Huron High School.
After she enrolled at Washtenaw Community College, Cisse started to realize that sports could provide more than recreation and entertainment. Her interpersonal skills blossomed while working as a student employee in the WCC Sports Office, where she helped with marketing, scheduling and day-to-day operations of the college's club and intramural offerings.
This past year, she was voted captain of the club women's volleyball team, which taught her valuable leadership skills.
"The things I learned as a captain and working in the office were a really valuable part of my education," said the 20-year-old Ann Arbor native. "Becoming that person who can communicate well with others, can be a leader, and can be that positive influence people need, those are all things I've carried into my personal life.
"When I got to WCC, I was a little hesitant to be a leader. Now it comes to me naturally."
Ultimately, students come to WCC to start building their future career. Cisse found that in sports, too. Her dream job is a director of social media, marketing or communications for a professional football or basketball team.
"I was planning to major in business and get into marketing, but working in the Sports office really opened my mind to thinking about sports as a career," Cisse said. "I already knew that when I go to a sporting event, I feel this sense of happiness and excitement. It would be great to experience some of that every day at work."
So Cisse added the Sports and Entertainment Management certificate program to her academic plan, which also included a General Studies Associate Degree. She also started a Sports and Entertainment student club at WCC on her way to graduating with a 3.7 GPA.
"Sometimes people think there's no real 'college experience' at a community college, but in my opinion the main part of the college experience is making friends and having fun … and I did that," said Cisse, who was also an active member of the Phi Theta Kappa Honor Society and the WCC Transfer to Success Club. "I was able to have fun here and the education is affordable and awesome. I think I've gotten everything I needed out of the two years I've been at WCC, for sure."
Before heading to Michigan State University to study advertising management in the fall, Cisse is currently dipping her toe into the professional sports world as a Football Education Intern with the Detroit Lions, assisting with programs such as summer camps, youth football games, 7-on-7 high school passing tournaments and mini-clinics.
There were more than 120 applicants for four intern positions. Over a three-week interview process, Cisse made cuts that shrank the candidate pool down to 18, then nine, then the final four.
Cisse's parents immigrated to the United States from West Africa in the 1990s, a sacrifice that helps fuel her ambition.
"To go through all of that for me to have a better life, I feel like I have to do that part of making them proud, but also making myself happy," Cisse said.
Tags: Class of 2023, General Studies, Graduation, June 2023, On The Record, Sports, Sports and Entertainment Management, Student Profile