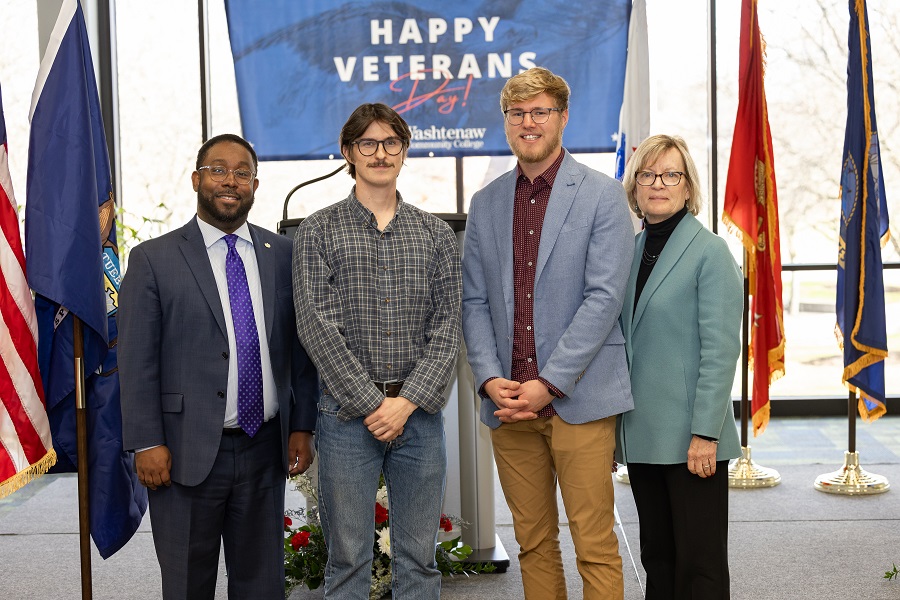 Washtenaw Community College (WCC) has been named a Gold-level Veteran-Friendly School for the sixth consecutive year by the Michigan Veterans Affairs Agency.
The program honors academic institutions committed to supporting veterans and military-connected students. WCC has again earned the highest level of recognition for the 2023-2024 school year.
The Gold-level status is based on criteria such as veteran-specific career services, resources, advising and/or outcome monitoring; maintaining an on-campus veterans coordinator; and a system to evaluate and award academic credit based on military training and experience.
WCC's Wadhams Veterans Center was highlighted by the state for following the principles of excellence guidelines for educational institutions receiving federal funding. The center is located at the heart of campus in the Student Center Building and, along with many veterans services, offers students a place to study and fellowship with one another.
"Our veterans have bravely defended America's freedoms, and we are honored that they've chosen to be part of our WCC family. We are proud to serve them and are thankful for this recognition from the Michigan Veterans Affairs Agency," said college President Dr. Rose B. Bellanca.
WCC offers comprehensive support services to nearly 600 veterans and their families.
The college hosted its 2023 Veterans Day celebration Thursday, honoring veteran students, staff and community members. The series of events kicked off with a sunrise flag-raising, followed by a veterans breakfast and public ceremony. In addition to this annual event and other services, WCC also sponsors an active Student Veterans of America Club on campus and maintains a veterans web page.
STUDENT VETERAN BENJAMIN WHISMAN
Benjamin Whisman is president of the Student Veterans of America Club and participated in Thursday's Veterans Day celebration on campus. Whisman, who grew up in Cincinnati, served in the U.S. Navy for six years and was twice deployed to Okinawa while conducting peacetime operations as a Hospital Corpsman and Field Medical Technician.
He originally attended community college in Hawaii where he last served in the military. After realizing some of his prior credits would not transfer to his dream four-year institution, the University of Michigan, Whisman moved to the Ann Arbor area to enroll at WCC this fall.
"Transferring to WCC is likely the smartest decision I've made in my pursuit of a Bachelor of Science in Nursing. WCC offers these classes at an affordable cost for me to repeat so that I am eligible for consideration to be admitted to the U of M," Whisman said, adding that he has taken advantage of WCC transfer fairs and events hosting U-M representatives. "I was even able to introduce myself to various people affiliated with U of M's nursing department."
"I am happy to hear that Washtenaw Community College has received this recognition. I believe WCC is deserving of such high praise," he added.
STUDENT VETERAN KOLBE WATSON
WCC student and veteran Kolbe Watson is also headed to the University of Michigan. He will enroll in January to pursue a bachelor's degree in computer science.
After graduating from Saline High School in 2018, Watson served in the U.S. Marine Corps for four years. He served as Vehicle Commander for a Light Armored Reconnaissance Battalion and was deployed to Eastern Europe for seven months in 2022.
He credits WCC for helping him identify the classes that transfer to U-M and assistance in certifying his GI Bill benefits. He often finds himself enjoying coffee and camaraderie with fellow veteran students in the Wadhams Veterans Center. "Each of these factors played a critical part in my success at WCC and helped me earn acceptance to the U of M."
WCC is the biggest transfer school to the University of Michigan.
"It's very rewarding to be able to assist veterans as they pursue their educational goals. The transition from military to civilian culture can be difficult to navigate alone. The Wadhams Veterans Center is a great place to start with that transition. Our veterans know they can count on us to help them access the benefits they've earned. We have a lot of fun in the center and build close relationships with each other; but in the end it's all about helping our families reach their academic goals," said Carol Osborne, WCC's military and veteran coordinator.
The MVAA recognized 62 universities, colleges or trade schools as Veteran-Friendly Schools for the 2023-2024 school year. The VFS program awards Gold-, Silver- and Bronze-level status based on veteran-centric services and programs. Any academic institution or training facility in Michigan eligible to receive veteran education benefits can apply for the program.
2023 VETERAN'S DAY CELEBRATION
View photos from WCC's 2023 Veteran's Day flag-raising and ceremony events.
Tags: Michigan Veterans Affairs Agency, Student Veterans, Veteran-Friendly School, Wadhams Veterans Center