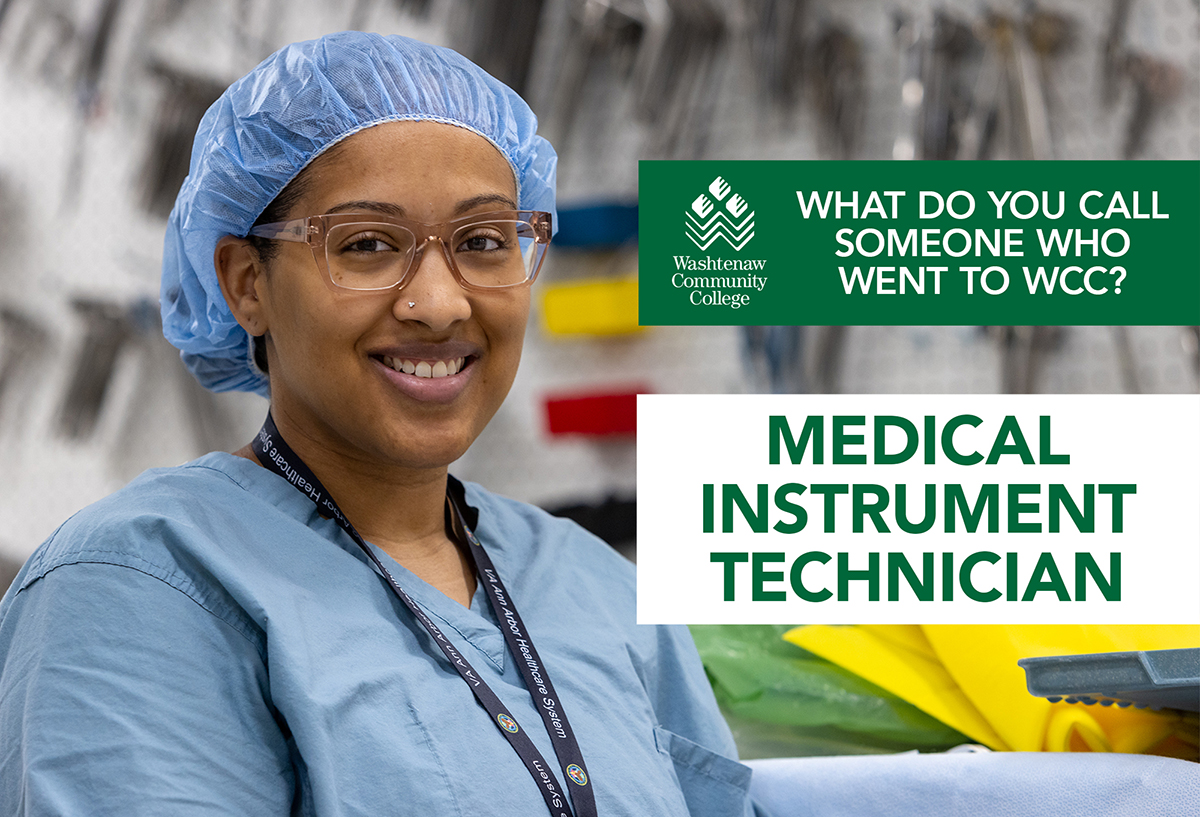 Statia Hamilton always dreamed of a large family and a fulfilling career. Now, she has both.
Hamilton started her family young and took a less traditional educational pathway to her dream job as a medical instrument technician at the Veteran Affairs Hospital in Ann Arbor.
After one college start and various jobs, Hamilton knew she needed to return to college and develop a career she loved. She learned about the then-new Sterile Processing certificate program at WCC and enrolled in the program's first cohort.
"I wanted more for myself and my children," recalls Hamilton, now 31 and a mother of five. "I wanted a career, not a job. I knew I had to get educated."
WCC helped change the trajectory of her life. She earned her certificate and started her career.
"I have an amazing job making great money and am able to take care of my kids and myself," she says. "It has made such a huge impact in my life. I'm grateful."
Hamilton relied on the college's flexible class schedules and found support at WCC with child care assistance and technology to help navigate schooling with a full family life.
As a sterile technician, Hamilton empties test scopes and places them in a machine to be disinfected and sterilized after use on patients. She also assists with patient room set up and care.
"I love being hands-on and being able to help with patients," she says. "The best part is the fact that there is always something new to learn."
Hamilton says her WCC education helped her learn to adapt quickly to day-to-day challenges, as well as new concepts.
"You can tell my instructors love what they do. If we had our struggles, they went the extra mile to make sure we were successful," says Hamilton, who specifically credits instructor Kathryn Hernandez. "If it wasn't for the great leadership I was under, I would not be in this position now. My instructor paved the way for me."
Her advice to others? "Never feel like you can't go back to college," she says. "There are plenty of resources that will help you be successful. You may have to make some sacrifices. But if there is a will, there is a way."
ALLIED HEALTH PROGRAMS AT WCC

Learn more about Sterile Processing and other programs that prepare students for rewarding and in-demand jobs in the health care industry.
Online: wccnet.edu/allied-health
Email: [email protected]
---
This story appears in the Summer 2023 edition of Launch magazine. See complete issue.
Tags: Allied Health, Career, Health Sciences, Launch, Summer 2023, What Do You Call, sterile procesing