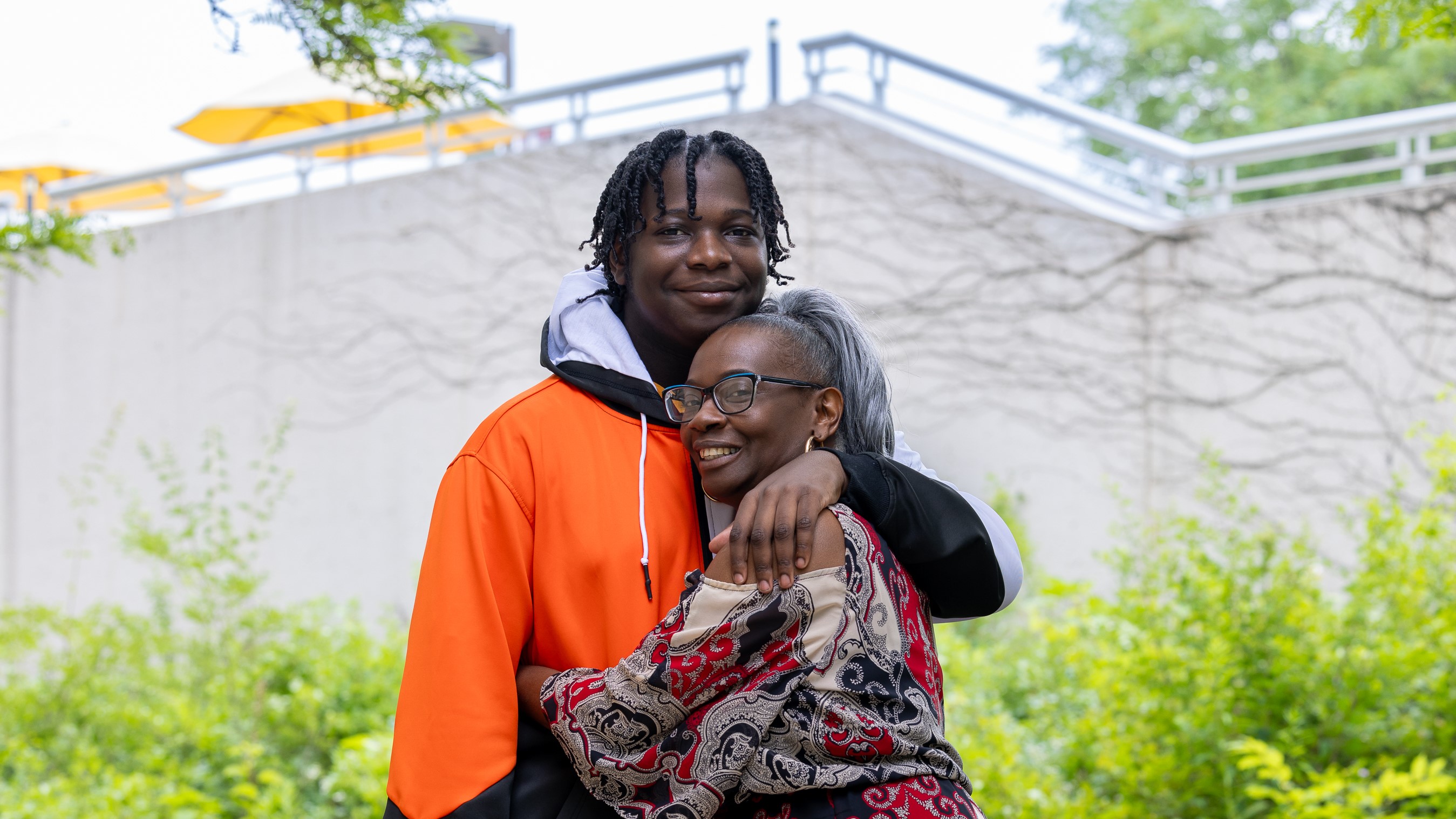 In the three decades since serving in the U.S. Army, Barbara Hughes had bounced between Monroe, Michigan, and Los Angeles, raised three children and worked a variety of careers – including as a legal secretary and a massage therapist.
Last June, she'd just moved to Ypsilanti in search of opportunities that would lead to a more prosperous future for her and her youngest child – now nearly 16-year-old Zhakharius Holloway – when a Facebook ad about the first ever Vet Fest at WCC caught her eye.
You might say the rest is history. Their visit to Vet Fest would prove to be a game changer for both Barbara and her son.
Barbara soon enrolled at WCC and, with assistance from the Wadhams Veterans Center and other support resources, established a clear path to her ultimate goal of opening a center to help young people or veterans manage today's pressures and difficulties.
This fall, Zhakharius will join his mother on campus as a 10th grader enrolled at Washtenaw Technical Middle College.
"I don't live far from the college so my son and I walked over," Barbara recalls about her first visit to WCC. "From that point on I decided 'That's where I'm going to school because they honor vets'."
She inquired about registration and veterans resources– WCC's Wadhams Veterans Center is a gold-level provider – and started classes a month later.
"After 30 years since I'd been in school it was kind of hard – and it still is being a single mom and trying to raise my last of three babies – but I don't think I would have enrolled as quickly as I did if WCC hadn't helped me immediately," Barbara says.
"The Vet Center has been awesome, and my teachers have been wonderful. I run into a lot of good people who are very helpful."
While her "baby" Zhakharius isn't so small anymore, the duo enjoys a close mother-and-son bond and look forward to coming to school together this year.
Zhakharius is eager to explore the many educational and career training opportunities available to him as a dual-enrolled student. Having trained with the Civil Air Patrol for three years in Monroe, he's considered following his mother's military footsteps, perhaps with a focus on cybersecurity.
"I just want to learn a lot more and experience a lot of different classes and subjects so I can find out what I'd be interested in," he says.
Hughes is enrolled in a Human Services program for social work, which will allow her to take three years of credit at WCC and transfer to Eastern Michigan University to complete her last year toward a bachelor's degree.
---
This story appears in the Fall 2023 edition of Launch magazine. See complete issue.
Tags: Fall 2023, Launch, Student Succes, Vet Fest, Veteran, Wadhams Veterans Center