May 1, 2019 Washtenaw Community College
A WCC Education Launches a Successful Aerospace Career for WCC Alumna Aisha Bowe
Aisha Bowe has two aerospace engineering degrees from the University of Michigan, spent nearly seven years working for NASA in northern California and today is a successful tech entrepreneur based in the Washington D.C. area.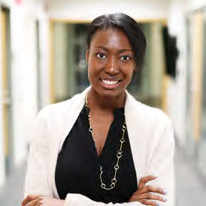 That impressive career progression all started with a single A in an algebra class at Washtenaw Community College. That set off what Bowe calls the key to any large-scale success – a series of small wins.
"The progress you make every day, the incremental wins you think are insignificant, are life-changing," said Bowe. "If I take the time to think about how many opportunities there were for me to get stuck, it's staggering. But then you find that next small win and you keep going."
Her self-doubt was monumentally strong when her father – who earned an engineering degree at the age of 40 – persuaded her to enroll in an Intermediate Algebra class. It's a story she previously shared in a Forbes magazine profile, "From Community College to NASA."
"My dad believed I had this latent genius I wasn't expressing," Bowe said. "I didn't do well in high school math. I didn't do well in the math portions of my first economics class. Why would he think I could tackle algebra at WCC? I wasn't buying it, but he was persuasive."
Turns out, dad was right. Bowe earned an A in that algebra class. Her self-confidence continued to flourish as she progressed through Calculus I, Calculus II, Calculus III and Differential Equations at WCC.
"The instructors at WCC were incredibly supportive. They didn't look at me and say, 'You should have learned this stuff in high school.' They said, 'We're here to help you learn this now,'" Bowe said. "They challenged me to think differently about myself."
From there, the small wins continued to pile up. She met University of Michigan engineering students in her WCC math classes – there to capitalize on WCC's small class sizes and individualized instruction. "I started thinking, 'If you and I are in the same class, we're on the same level … why can't I study engineering at Michigan?'"
Turns out, she could. She was accepted directly into the U-M Aerospace Engineering program in the winter of 2005, saving herself more than $30,000 on her undergraduate education. There were some failures and "freakouts" at U-M, Bowe admits, but each was overcome with more small wins. They led to a bachelor's degree and a master's degree and an internship at the NASA Ames Research Center in Mountain View, California, and eventually to an award-winning career developing algorithms in support of air traffic management. In 2013, she co-founded STEMBoard, which partners with defense industry and private-sector organizations to provide multi-million dollar smart systems and software solutions. She has topped a list of "Brilliant Women Innovators" and been featured in Entrepreneur, Black Enterprise and Ebony magazines.
Tags: Launch, Launch Spring/Summer 2019, NASA, STEM, ousearch_News_Launch Magazine