November 20, 2020 Washtenaw Community College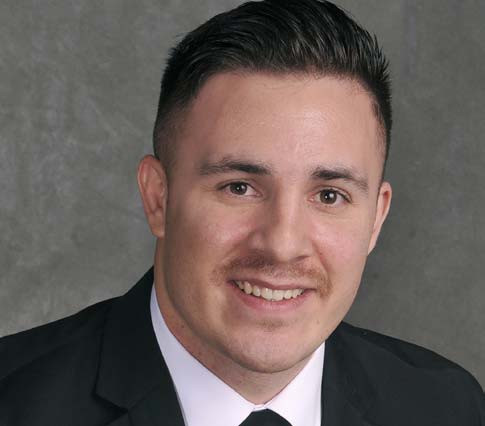 WCC education an asset for this financial advisor
Despite the COVID-19 pandemic and its impact on his business, Edward Jones financial advisor Adam Caballero remains calm and confident.
Some of that confidence mirrors the careful, analytical approach he used when he looked at colleges to attend after graduating from Milan High School. "Washtenaw Community College was the foundation of my education and eventual career as an Edward Jones financial advisor," he said.
"I wasn't a big fan of school," he explained. "I was a jock, active in wrestling and football, and I just wanted to do what I wanted to do back then, and my grades weren't very good. But I'm the kind of person when I know what I want, I go after it, and I think that's why I was so good at sports."
Eventually, Caballero decided it was in his best interest to "go after" college. His parents, though, explained to him that he would be responsible for funding his education.
"I didn't want to get into debt going to college. And, if my parents weren't going to pay for it, what was I going to do?" he said he asked himself. "I always had good money management skills, and I knew if I didn't get scholarships I was going to have to do it myself."
It was quickly apparent that WCC was going to be the college for him: "It was affordable, it was close to home and I didn't see why I wouldn't go to WCC. There was no other choice in my mind."
A two-year scholarship from WCC cinched his plan, with additional scholarships following. He attended classes full-time and worked full-time in landscaping, managing a crew.
"I think it helped me become the person I am. I became very strict with my studies because I didn't want to be in college forever."
Caballero says his grades in college were "amazing," and credits WCC for opening a career path. "Washtenaw allowed me to take classes without the financial burden because I had scholarships. The online classes allowed me flexibility. My instructors were great!"
Caballero earned his Liberal Arts Transfer associate degree in 2007 and later transferred to Eastern Michigan University where he earned a bachelor's degree in healthcare administration, followed by a master's degree in business administration. He was pleased he could affordably take some WCC classes that transferred as credits he needed for his master's degree.
While at Eastern, he received a full-time paid internship at Integrated Healthcare Associates in Ann Arbor while pursuing his master's. He later moved to a full-time position at IHA, overseeing financial and administrative functions. He says the development of his professional skill set and passion for helping others inspired him to move into a financial/investment career. He's been with Edward Jones in Ypsilanti for the last five years.
While in mandatory quarantine with his wife and son, Caballero is conducting online financial seminars and meetings for clients and prospective clients. "There are so many new opportunities in the emerging economy," he said enthusiastically. "To benefit from them, it's important not to overreact. I tell my clients to stay the course."
Tags: Advising, Scholarships, Transfer, launch Fall 2020, liberal arts, ousearch_News_Launch Magazine