January 19, 2020 Rich Rezler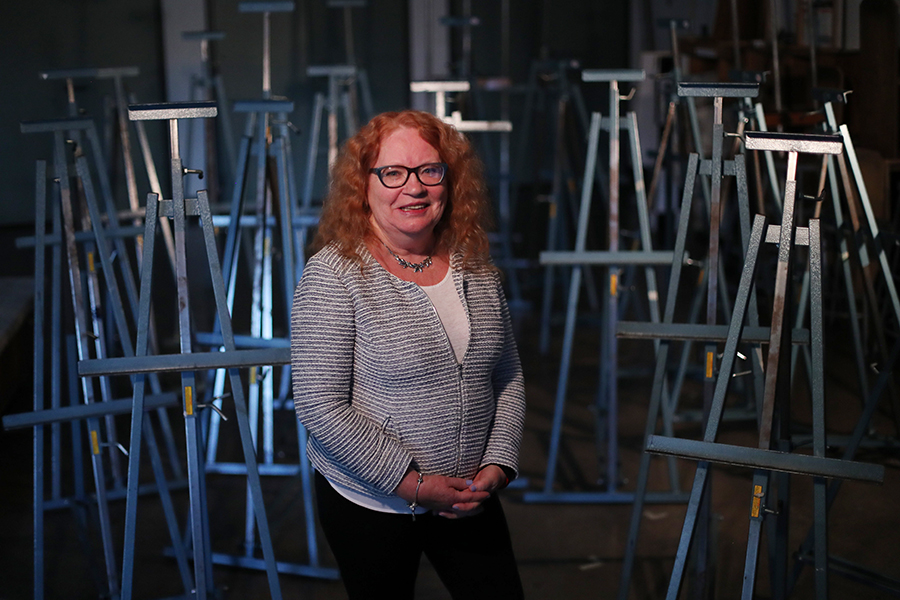 Her father was sick. Her mother went to work. Her siblings needed care. So Claudia Dionne dropped out of the tenth grade and started a nearly 50-year commitment to taking care of family.
Now 70, Dionne raised four children of her own before following her oldest daughter to Ann Arbor and helping to raise two grandchildren.
Finally, in 2014, when the youngest grandchild was away at school, it was time to do something strictly for herself.
"That was my little success window. If I was ever going to accomplish what I wanted to, that was my only chance to do so," Dionne said. "Little did I know, all this time after I dropped out, I'd end up living five minutes from this amazing campus and going back to school wouldn't cost me a penny."
Dionne takes Washtenaw Community College classes for free thanks to the college's emeritus student program that offers tuition-free credit and non-credit classes to Washtenaw County residents age 65 and older.
Like many emeritus students, Dionne started simply by taking a few classes that interested her. She had free time to fill and wanted to keep her mind sharp as she aged.
A fourth generation artist, Dionne grew up painting ocean scenes visible from her childhood home in Nova Scotia, Canada. She doesn't have the natural ability of her father, she says, but she did inherit his paint set. And she does have the drive to learn to become a celebrated artist.
"I started taking every single painting and drawing class in the WCC catalog and met the most phenomenal instructors," she said.
Dionne's journey was about more than taking painting classes, however. She desired a degree. She wanted to prove to herself, her husband and her children that she was capable despite leaving school all those years ago.
Dionne admits to being intimidated by the general education classes required to complete her selected degree program, a Liberal Arts Transfer Associate in Arts.
That apprehension was for naught. She recently completed the program with a 3.9 GPA and has applied for May 2020 graduation.
Similarly, Dionne says she quickly overcame any nervousness she experienced being in a college classroom at her age.
"When you're an old woman, it's really hard to walk into a young person's community. If you try to be like them, they won't accept that," she said. "But what they do accept is truth and honesty and someone who wants something so bad they're willing to do anything to achieve it."
Her journey is far from over. She's pursuing a second degree from WCC, an associate in Fine Arts, and plans to transfer to Eastern Michigan University to pursue a Master of Fine Arts degree.
"If I live long enough, I want a Ph.D.," she said. "But what I really want is to leave a legacy to my family, to my children."
SUPPORTING OUR SENIORS
WCC's emeritus scholarship program allows county residents age 65 and older to take credit and non-credit classes tuition-free. Last year, a total of 3,336 emeritus scholarships were awarded, totalling $384,650.
The college also offers free weekly Senior Focus classes at 14 community and senior centers across Washtenaw County to promote health, fitness and personal enrichment.
Tags: Affordability, Community enrichment, Emeritus Program, Fine Arts, January 2020, On The Record, ousearch_News_On The Record