October 21, 2020 WCC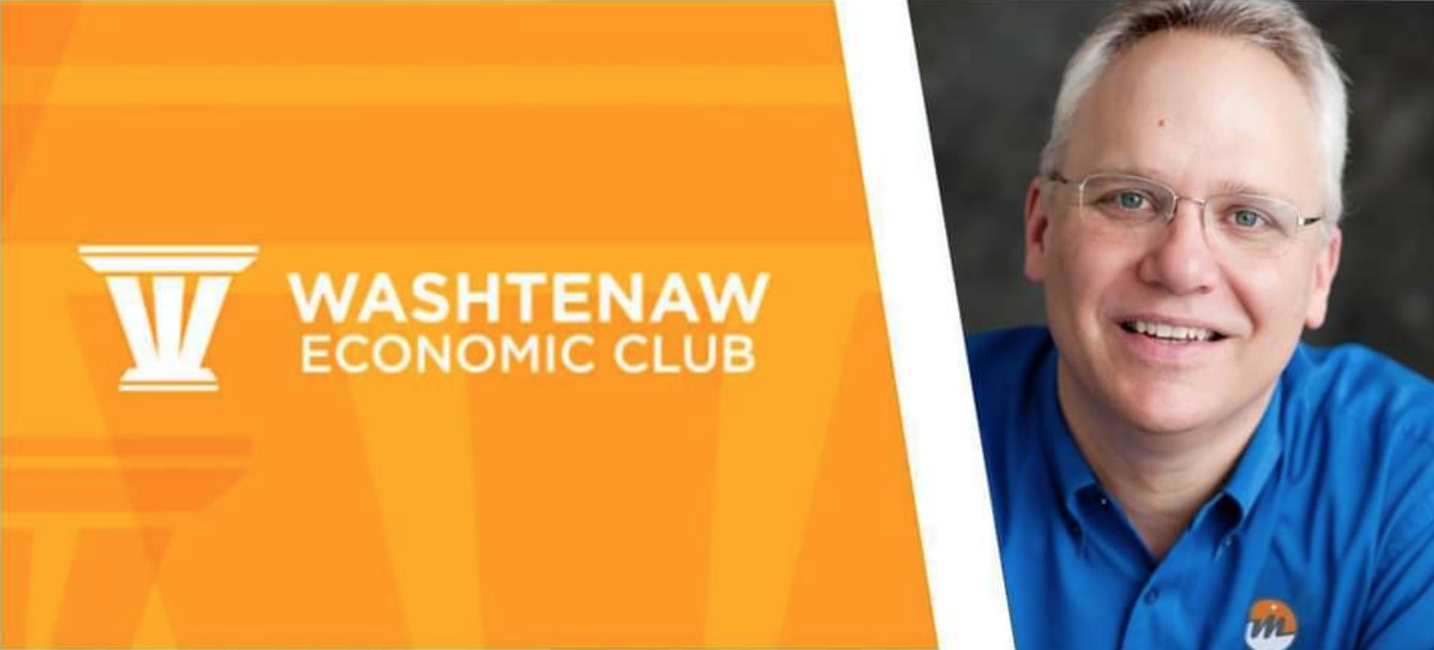 There's a reason 3,000 people a year, many of them CEOs, travel to downtown Ann Arbor to visit the headquarters of a small custom software firm called Menlo Innovations.
They are there to learn how Menlo co-founder and CEO Richard Sheridan can help them energize and engage their employees the way Sheridan and Menlo have since the company opened its doors in 2001.
Sheridan, author of books on corporate leadership and culture, has built a workplace where innovation, ideas, work partnerships and, yes, humor, are the recipe for productivity and customer satisfaction. That culture resulted in a Forbes Magazine lengthy profile of Sheridan, bringing international attention to Menlo.
"Chief optimist is another title given to me at Menlo," he said during a recent Washtenaw Economic Club Zoom virtual luncheon.
That title is reflected in the books he has written: "Joy, Inc.: How We Built A Workplace People Love (2013) and "Chief Joy Officer" (December, 2019).
Throw in another title: Chief Storyteller. Sheridan, a community college grad and holder of two degrees from the University of Michigan, has quite a story to tell.
How about a workplace where working moms and their infants are welcome (24 so far over the years)? Or a client who brings his Great Dane to Menlo for meetings there?
"If ever there was a time in human history when we could use a little joy in our lives, it's probably now," he told the Economic Club audience.
But before "Chief Optimist," there were times when Sheridan said he wanted to scrap a highly successful corporate programming career and move the family to The Boundary Waters of Minnesota and sell canoes.
What he witnessed in the corporate world workplace was "chaos" every day. "Chaos leads to bureaucracy. In I.T., you have to work around bureaucracy…I wanted out."
There were too many meetings, people running from Zoom meeting to Zoom meeting. "Meeting load just holds us back," he said.
In the end, he didn't move to Northern Minnesota, although his staff sometimes teases him about that proposed career change.
"The idea was to bring home into the office," he said of the "infant" experiment. He said he doesn't expect that innovations like infants in the office and dogs being welcomed will work in every setting.
But he emphasized the success Menlo has had with the approach of employees working in pairs, even sharing the same computer and keyboard. "Some would say that's a waste of time," he said. "In fact, we doubled productivity."
The COVID-19 pandemic, of course, has ended shared workplace and equipment, but Sheridan, ever the optimist, sees a silver lining.
Through virtual meetings, he said, we now see our workers in their own homes, including "cats walking across keyboards." In some ways, he said, it has brought the team closer together.
Sheridan was introduced at the Economic Club luncheon by WCC President Dr. Rose B. Bellanca, who noted that the Ann Arbor businessman is no stranger to Washtenaw Community College, serving as a trustee on the College's Foundation Board and being a mentor in forming WCC's Entrepreneurship Center.
He's also a cheerleader for community colleges in general and WCC specifically. In a testimonial video last winter before a vote on the college's millage renewal and restoration, he said: "We need something like WCC in order to achieve the re-tooling that our workforces will continually need going into the future."
Tags: October 2020, On The Record, Washtenaw Economic Club, ousearch_News_On The Record