February is CTE Month
Career and Technical Education Month®, or CTE Month®, is a public awareness campaign that takes place each February highlighting the benefits of career and technical education. The goal is to inform the students and the community about what CTE is and how it directly prepares students for high-wage, high-demand careers. CTE impacts a wide variety of fields including health care, information technology, advanced manufacturing, management and many more.
Stop by these upcoming information tables to learn more about WCC's exciting CTE programs, salary data and occupations with the most CTE openings in southeast Michigan. Whether you are exploring potential careers, looking at a second career or passing information along to a friend, stop by for a visit. And, there will be food, giveaways and prize drawings!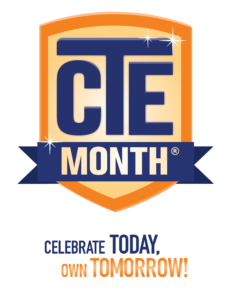 Events for Career and Technical Education (CTE) Month, February 2023
Compete for prizes with CTE BINGO throughout the month of February
Have some fun and play CTE BINGO! You can create your Bingo by completing five activities in a row (across, down, or diagonal).
The game can be completed in-person or totally virtual
Each BINGO = ONE entry into the prize drawing
Complete the entire card = TEN entries into the prize drawing
Grand prize is $300 credit at the campus bookstore
There are several runners up prizes as well
Winners will be announced in early March 2023 - best of luck to you!
Download a digital version of the BINGO card.
Upon completing your activities, submit your BINGO card by February 28 either:
In person, drop off a hard copy of your BINGO card in Room 312, 3rd floor, Student Center
Tabling Events
Stop by the Tabling events in OE, LA, and TI to grab some snacks and kick off CTE month. Learn more about CTE careers and resources at WCC. Hard copies of the BINGO card will be available.
TI Lobby on Feb. 1, 11:30 – 1:30 p.m.
OE Atrium on Feb. 1, 4-6 p.m.
LA Atrium on Feb. 2 from 11:30 – 1:30 p.m.
BE Atrium on Feb. 6 from 11:30 – 1:30 p.m
Auto Service Competition/Skills USA
February 3, in OE Building. WCC is hosting a regional Skills USA competition that is by invitation only for high schools. Students will learn more about auto programs and resources at WCC. This event is by invitation only.
Non-traditional Careers for Women – Online Event
Women aren't just breaking the glass ceiling, they are becoming role models in all types of industries. Hear about the journey of 4 women and their advice to others in navigating male dominated fields. No need to register in advance. One attendee will win free college tuition for one class—that could be YOU!
February 8, from 3:30 to 4:30 p.m.
Join Zoom Meeting
Internship Fair Prep Workshop
Feb. 13, 3:00 – 4:30 p.m. virtual event
Get insider tips on researching and connecting with employers to locate an internship. Held just in time for the Internship Fair on campus February 16.
Meeting ID: 876 5270 8690
Passcode: 828591
Learn about Wayne State University's BS in Welding & Metallurgical Engineering Technology program
Two timeslots available:
Feb. 21, 12 noon – 1:00 p.m.in OE 127
Feb. 21, 5:00 pm – 6:00 p.m.in OE 127
Thinking of transferring to Wayne State under ourArticulation Agreementfor this BS program?Hear WSU faculty Mark Jager, WSU advisor Andy McKinney,as well as current BS degree students (former WCC students) share about their experience.
Going to the Movie
Grab your bag of popcorn (provided) and watch some great flicks about Career and Technical Education (CTE).
Feb 15, 3:00 – 5:00 pm, Garretts Film Screening of The Immortal Life of Henrietta Lacks
Rated M for Mature Audiences. A true story of family, bioethics, and more.
Feb 21, 4:00 – 6:00 pm, Garretts Film Screening of The Founder, PG-13
The wild story about the founding of McDonalds with twists you never saw coming.

Internship Fair
Connect with employers looking to hire YOU, and gain experience in your field through an internship. Open to the public. Hosted by the WCC's Center for Career Success.
February 16, 2023, from 4:00 – 6:00 p.m., in-person in ML
---
Don't forget to look at your WCC email in early March to see if you were a CTE BINGO winner!
Questions about any of these activities? Contact Joyce Hovermale at [email protected].
Looking for more events touching on Career and Technical Education? Join us for STEAM Week, held February 28 – March 2, 2023. Find a list of events and further details here.
https://www.wccnet.edu/learn/our-offerings/steam-week-campaign.php