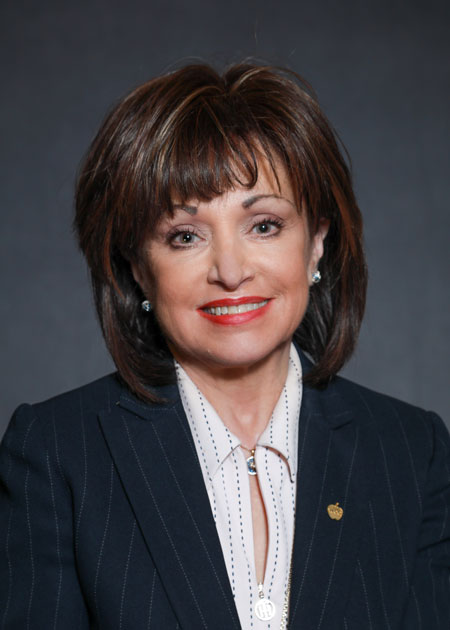 Now in her second decade as president, Dr. Rose B. Bellanca, Ed.D., continues to embrace the opportunities of leading Washtenaw Community College, an institution that is nationally-recognized for delivering excellent programs and student success.
During a recent international symposium on transportation mobility, President Bellanca shared that in this warped-speed changing world, standing still is not an option: "If we stand still, we fail," she told industry, business and academic leaders in attendance.
Dr. Bellanca's remarks opened day two of the University of Michigan Transportation Research Institute (UMTRI) Annual CCAT (Center for Connected and Automated Transportation) Global Symposium. WCC is the only community college on the CCAT team, joining the University of Michigan, Purdue University, the University of Illinois, the University of Akron and Central State University in Ohio.
At a time of declining college enrollment across the country, under Dr. Bellanca's leadership, WCC has implemented numerous innovations in teaching and student services to steadily retain and attract students during an international pandemic.
Washtenaw Community College, located in Ann Arbor, Mi. and geographically only a few short miles from the University of Michigan and Eastern Michigan University, serves more than 20,000 students annually.
Dr. Bellanca oversees a campus with nearly 1,500 full and part-time employees and whose facilities host more than 100,000 visitors a year. WCC truly is a "community" college.
In March 2020, nearly 78 percent of Washtenaw County voters approved a 10-year, $175 million millage renewal, illustrating the community's support for WCC. This is believed to be the largest percentage of yes votes in the college's 55 years. In 2016, in the fifth year of Dr. Bellanca's tenure, county voters approved another large operating millage with a 70 percent approval rating.
Under Dr. Bellanca's leadership, WCC has been awarded more than $30 million in grants through the State of Michigan, the National Science Foundation, U.S. Department of Labor, U.S. Department of Education, and the U.S. Department of Transportation.
Dr. Bellanca has always responded proactively to challenges in higher education. This includes leading the college's response to the Covid-19 pandemic --quickly adapting college programs and services for delivery in an online environment -- to protect the health and safety of WCC's faculty, students and staff.
In the space of one long weekend in March 2020, only days after the successful millage vote, WCC closed campus and moved to mostly online classes to "keep learning alive." Through her leadership, WCC was more prepared for the transition because it had been offering and growing student enrollment through virtual formats for nearly 10 years.
In 2020, WCC was named the top community college in Michigan for distance learning by Affordable Colleges Online. In addition, WCC received the number one ranking as the best community college in Michigan by Schools.com. Most recently, MSN.com reported that Washtenaw Community College was rated the best community college in Michigan.
A pillar of WCC's success under Dr. Bellanca is its affordability. In April 2021, the college's Board of Trustees unanimously approved a tuition freeze for in-county students for the fourth consecutive year. In the 2021-22 academic year, tuition will remain at $95 per credit hour for in-district on- campus students and $108 per credit hour for online students.
In addition to keeping the college affordable, another pillar in the college's mission is providing excellent educational opportunities.
In just the last year, WCC was designated a National Center of Academic Excellence in Cyber Defense Education by the U.S. National Security Agency (NSA) and the Department of Homeland Security (DHS). The college currently offers six cyber security courses in what has become one of the most important educational programs offered today. Cybersecurity training at WCC prepares students for careers in cybersecurity with both degrees and non-credit options.
Another measure of WCC success under Dr. Bellanca's leadership is its transfer record. Nearly 70 percent of WCC students transfer to four-year colleges and universities to complete a bachelor's degree. And, no other college in Michigan comes close to WCC in sending students on to the University of Michigan.
A forward thinker, Dr. Bellanca has positioned the college to meet the needs of a global workforce, developing new curricula and programs related to jobs in mobility, intelligent transportation systems and the skilled trades sectors.
Students who have taken courses through the college's Advanced Transportation Center have landed important and fulfilling jobs at research centers operated by GM, Ford, Toyota and others.
Dr. Bellanca frequently participates in panels and at conferences on behalf of the college. She is passionate about student success, access and affordability and serves on multiple national commissions through the American Association of Community Colleges to further those goals.
Additionally, she chairs the Region 9 Talent Council, which is part of the State of Michigan's Prosperity Initiative; member of the Executive Committee of Ann Arbor SPARK; board member of the National Commission on Economic and Workforce Development, and member of the Licensure Committee for the American Association of Community Colleges.
She has engaged in numerous media interviews and was named a "Women Who Lead" honoree by News/Talk 760 WJR Radio. The acknowledgment recognizes women who are leaders in their industries and their communities and for their professional and personal accomplishments.
She is particularly proud of the of the college's Foundation. Since its establishment nearly 40 years ago, the WCC Foundation has awarded more than 10,000 scholarships worth more than $6.2 million. In addition, the Foundation has provided more than $1.5 million in other educational emergency support, including child care assistance, food pantry access, transportation funds and text book vouchers.
Community colleges, you might say, are in Dr. Bellanca's DNA. A graduate of Macomb Community College, she went on to earn bachelors, master's and Doctor of Education degrees from Wayne State University. Later, she was provost at Macomb, president of Northwood University's West Palm Beach Campus and president of St. Clair County Community College.
She is the fourth president to lead Washtenaw Community College.