The support Washtenaw Community College receives from area partners is what makes it, in part, successful. Those partners include leaders in the community, government, business and industry, and education.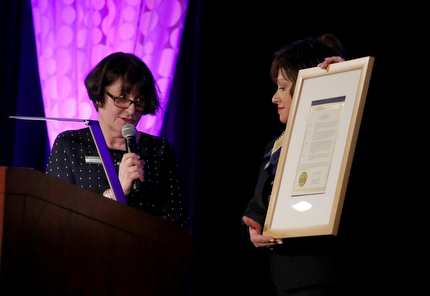 "The best way we can thank you is to thank you and to let you know what we're doing with your support," WCC President Dr. Rose B. Bellanca told the crowd during the annual President's Leadership Recognition Luncheon on Wednesday, April 3.
She presented updates on Nursing Education and recalled how the college created a prosthetic hand for a child with its 3D printing technology. The event included a video of what are projected to be the jobs of the future, which includes robot manufacturers, artificial intelligence scientists, esports and psychologists/therapists.
Ann Arbor councilwoman Jane Lumm presented Bellanca, on behalf of Ann Arbor mayor Christopher Taylor, a proclamation urging citizens "to recognize and appreciate the outstanding contributions" that Washtenaw Community College makes to the community during the month of April, which is National Community College Month.
Tags: President's Leadership Recognition Luncheon, ousearch_News_2019