December 4, 2020 Rich Rezler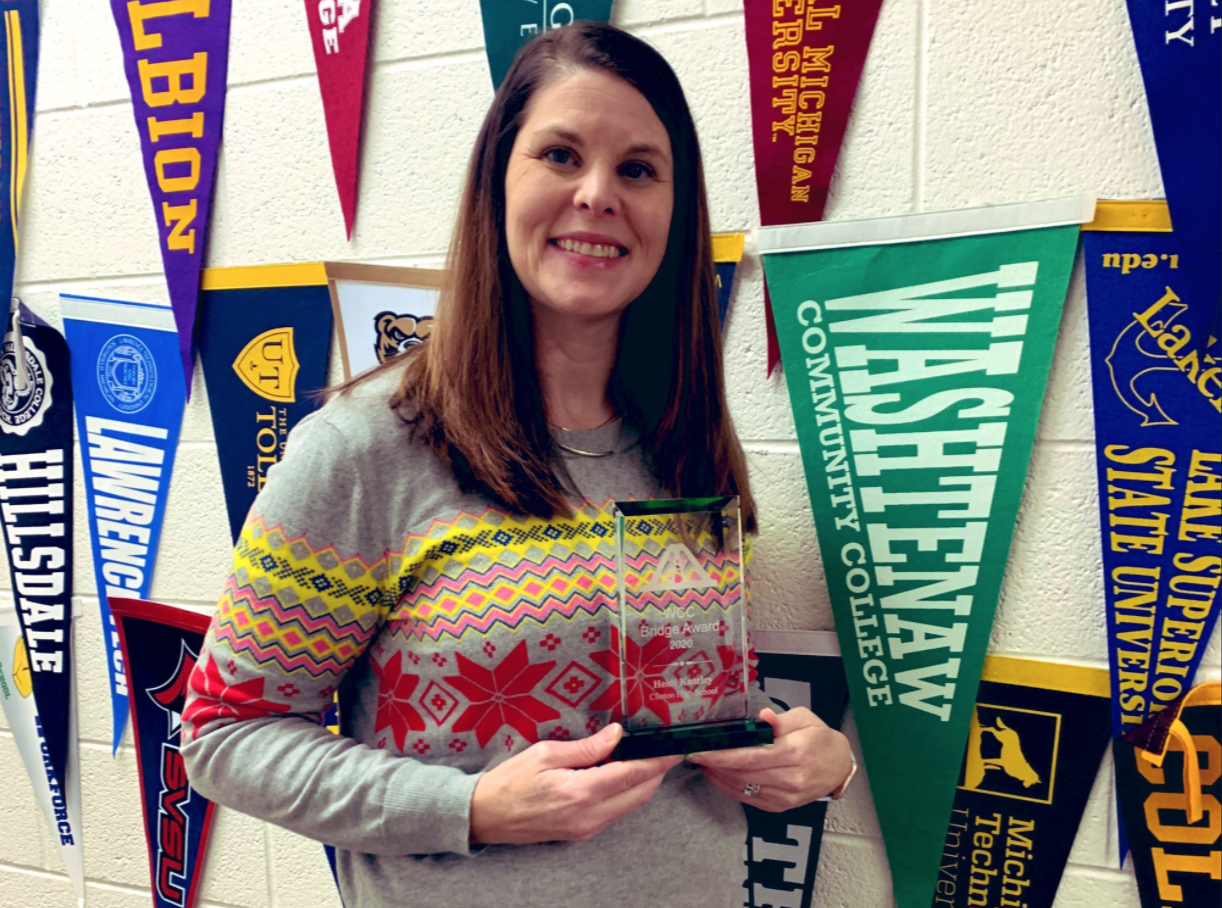 A strong dedication to students and a willingness to go the extra mile to help them succeed earned Clinton High School counselor Heidi Kutzley the second annual WCC Bridge Award.
The award is intended to reward a local high school counselor that made a difference in students' lives while bridging the path from secondary to post-secondary education. It was presented at last week's 2020 WCC High School Partners Virtual Forum, a presentation of important college updates to local high school administrators, counselors and teachers.
WCC Student Recruitment and Outreach Specialist Andeleeb "Annie" Rehman works extensively with Kutzley and shared a story that epitomized her dedication while introducing her as the award winner.
Just before the COVID-19 pandemic struck in early 2020, Kutzley was working with the WCC Recruitment and Outreach Team to set up a group admission process for all of the Clinton High School students planning to attend WCC. One week before those seniors' final visit to campus to finalize their enrollment, the state's initial stay-at-home order was released.
Kutzley and the WCC team came up with a solution and scheduled a date for a virtual group visit. Shortly after all the details for that meeting were finalized, the high school scheduled its cap-and-gown pickup for seniors at the exact same day and time.
"You'd think this would have stopped (Kutzley), but it didn't," Rehman explained. "She went back and contacted each student, asked them to attend the event as planned, and she went on her own time to pick up each student's cap and gown and deliver them personally.
"Every single student left the event that day registered for college classes, this could not have been possible without her hard work and continued dedication to her students."
While accepting the award, Kutzley said she was thankful the group of students she was working with were able to get "that little bit of investment they needed to get to the next level."
"It couldn't have been done without the (Recruitment and Outreach Team), which is a testament to Washtenaw and its willingness to connect with schools and counselors to get students into the next step of their education," Kutzley said.
Kutzley follows Huron High School counselor Caitlin Van Cleve, who won the inaugural award in 2019.
Tags: Awards, WCC Bridge Award, high school counselors, ousearch_News_2020