March 9, 2021 Rich Rezler
Three Washtenaw Community College students are among 406 semifinalists nationwide for a prestigious Jack Kent Cooke Foundation Undergraduate Transfer Scholarship worth up to $120,000.
Umang Bhojani, Jesse Bishop and Abdul Kizito are on the 2021 semifinalist list, selected from a pool of more than 1,500 applicants attending 398 community colleges. The scholarship supports exceptional community college students seeking to complete a bachelor's degree.
A WCC student has earned an Undergraduate Transfer Scholarship for three consecutive years, with Ali Kurmasha winning in 2020, Ahmed Ghalib in 2019 and Paula Salazar in 2018. The college had two winners – Fatouma Abdoulaye Idrissa and Susannah Spence – in 2013.
Award winners for 2021 will be announced in April. An average of 53 students have been awarded the scholarship over the past three years.
In addition to financial support of up to $40,000 per year for three years to attend a four-year accredited undergraduate school, scholarship recipients also receive educational advising, opportunities for internships and study abroad experiences, graduate school funding, and connection to a network of more than 2,800 Cooke Scholars and Alumni.
Scholarship winners are selected based on their exceptional academic ability and achievement, financial need, persistence, services and leadership.
Meet WCC's three semifinalists:
UMANG BHOJANI
As president of WCC's Transfer to Success student club, Umang Bhojani had considerable exposure to the impact the Cooke Undergraduate Transfer Scholarship can have on a WCC student. He spent one year working alongside 2020 winner Ali Kurmasha and communicated with 2018 winner Paula Salazar.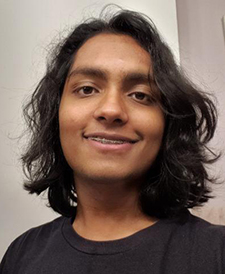 Now, he's one step closer to joining the prestigious club himself.
"The monetary value of the scholarship is obviously its biggest factor, but the support they provide is also a big part of it," Bhojani said. "You have an opportunity to join an amazing community of fellow scholars, which is something Ali Kurmasha has raved to me about … how helpful that community is."
That kind of support is something Bhojani, a 2019 Ann Arbor Huron High School graduate, said he found at WCC.
"My high school experience wasn't up to par to what I thought I could have achieved academically and socially. WCC was a place for me to get a fresh start, a chance to use its resources to build myself up. That's exactly what I've done," he said. "I've met so many awesome people and resources that have built me up academically and socially. I feel like if I would have started at a four-year university, my foundation wouldn't have been as strong."
Bhojani, who carried a 3.9 GPA into his final semester, initially enrolled at WCC as part of its STEM Scholars Program. He will graduate in May with an associate degree in General Studies, following that program's transfer pathway. He's also a member of the college's chapter of the Phi Theta Kappa honor society, works as a peer tutor and was selected to serve as a student speaker at the 2021 Winter Honors Convocation.
Bhojani has applied to the University of Michigan, Michigan State University, Columbia University, New York University and Boston University and plans to study information science.
JESSE BISHOP
A recent acceptance letter from the University of Michigan was a critical next step in Jesse Bishop's educational journey. It's not that he couldn't have thrived at other institutions, but the 20-year-old is on the heart transplant list at the university's hospital system and must stay in Ann Arbor at all times.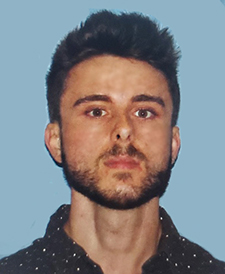 Shortly after his graduation from Ann Arbor Skyline High School, Bishop — who was born with Becker Muscular Dystrophy – collapsed at work and was diagnosed with heart failure. He is currently kept alive by a left ventricular assist device installed on Christmas Day in 2018.
The irony, Bishop says, is that the life-threatening condition is what convinced him to live again.
A childhood filled with family problems and other trauma left Bishop battling depression and alcoholism while attending three high schools over four years. He lived alone for a portion of his senior year and spent time in a psychiatric hospital after a suicide attempt.
"Without my heart problems, I would have never stopped drinking or have gone to college," Bishop says. "I got out of a bad situation by having my life completely interrupted."
Bishop says it was one of his doctors who first encouraged him to consider a return to school while he was on the heart transplant list. He enrolled at Washtenaw Community College, has a 3.9 GPA and will graduate in May with an associate degree in Environmental Science.
"Usually people are on the list for a long time," Bishop said. "You have to have something to do."
Bishop, who was working full-time at a fast food restaurant when his heart failed, definitely has more to do now. He was accepted at U-M days before learning he was a semifinalist for the Cooke Undergraduate Transfer Scholarship. Always a good student despite his troubled youth, Bishop plans to continue pursuing a career in climate science.
ABDUL KIZITO
The importance of higher education was instilled in Abdul Kizito early in his life and underscored when his mother, Sauda Nabukenya, moved her children from Uganda to Ann Arbor so she could pursue a Ph.D. at the University of Michigan.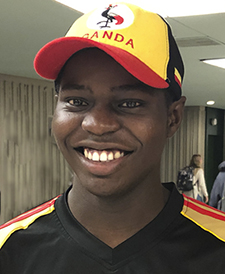 Nabukenya was the first woman in her family to go to college, earning bachelor's and master's degrees in Uganda before moving her two children across the globe to further her studies.
"My mom grew up in a village where it was very untraditional for a girl to be educated, but she knew that if she wanted to be successful, education is the way to get it done," Kizito said. "She tells me stories of how she was taken to a school that was not known for sending students to college, so she ran away and went to a school that did prepare more students for college.
"Probably because of her beliefs, I've always loved being in an environment of learning. I love the conversation, debate, exchanging of ideas and expanding of world views that happens in a classroom."
Like his mother, Kizito had his own dreams of attending a world-renowned research institution upon graduating from Ann Arbor Huron High School in 2019, but there was one major obstacle: The price tag.
Because Kizito is in the United States on a dependent visa (his mother has a state-sponsored visa), he would be required to pay international student tuition rates at most American universities.
"A lot of colleges I wanted to go to, their tuition for one year would bankrupt my whole village in Uganda," said Kizito, who wants to find a major that combines his interests in human rights, political science, economics and sociology.
To achieve his goals, Kizito enrolled at WCC while working a full-time job. He has accumulated a 3.95 GPA and will graduate with a Liberal Arts Transfer degree in May. "I wasn't as able to get as involved at WCC as I was in high school," he said. "But if I wanted to go to university in the States, I needed to work and save money."
Turns out, a Cooke Undergraduate Transfer Scholarship could wipe out those financial concerns for Kizito.
"For me, this scholarship would make the impossible possible," he said.
Note: A fourth WCC semifinalist for the Jack Kent Cooke Foundation Undergraduate Transfer Scholarship has requested not to be identified.
Tags: April 2021, Cooke Undergraduate Transfer Scholarship, On The Record, STEM Scholars Program, Scholarships, Student Success, Transfer, ousearch_News_2021