May 4, 2021 Rich Rezler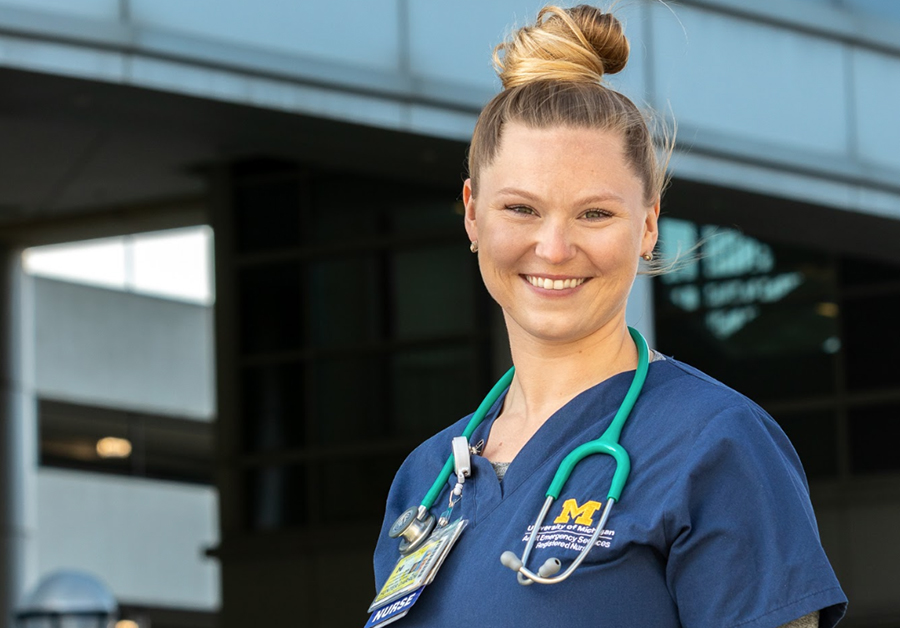 While life has been moving at a slower pace for many over the past year, Hunter Darrow has been racking up monumental achievements at a rapid pace.
Not only did Darrow graduate from the Washtenaw Community College nursing program and land a job as a registered nurse in the emergency room at Michigan Medicine's University Hospital, she also married her husband, Kevin.
"It was a very different wedding than we originally planned," she said. "We were supposed to have a wedding with 250 people in May 2020, but ended up with 20 people on a rainy day in August."
Darrow jokes that if a newly married couple can make it through being locked down together during a pandemic, they can make it through anything.
The same, of course, could be said about starting a new career as a nurse during the same time.
"I knew what I was getting into," Darrow said of joining the nursing profession in the midst of COVID-19. "I knew it wasn't going to be easy."
Darrow graduated in December from the Collaborative Nursing Program between WCC and Eastern Michigan University, which was launched in 2016 to address the growing demand for bachelor's degree-prepared nurses.
Up to 94 credits toward the 120-credit degree can be completed at WCC before transferring to EMU and completing a Bachelor of Science in Nursing.
But the nursing program wasn't Darrow's first time at WCC. The 2012 Ann Arbor Skyline High School graduate had previously completed pre-requisites at WCC before enrolling at the University of Michigan, where she earned a Movement Science degree in 2017.
"I love Washtenaw," Darrow says. "The campus atmosphere is great and all of the instructors actually care about how students do in their classes."
Darrow also had previous experience with the emergency room at the U-M hospital, working as a lab assistant there while she was completing her studies.
When she started as a registered nurse in January, the emergency room would sometimes go entire shifts without seeing a COVID patient. That changed with the latest surge in cases that started in late March.
According to a Michigan Medicine release, nine patients tested positive one day and six required extended stays.
"It marked a sudden departure from where we had been," Dr. Brad Uren, a physician at Michigan Medicine's Department of Emergency Medicine, said in the release. "We are used to operating in challenging times. But we are working close to the edge of the envelope of what many of us would consider anything normal right now."
Darrow says the daily challenge is to keep everyone safe while providing the individualized care each patient requires.
Adapting to challenging situations is nothing new for Darrow, who faced plenty while completing her nursing program.
With clinical options limited, she said WCC's nursing simulation lab became an even more critical component of her education.
The lab features technologically advanced robots as patients that allow students to evaluate vital signs and heart/breath sounds, experience cardiopulmonary monitoring and assess the effects of medications through interaction with a high fidelity simulator.
"The simulated patients is one of the things I'm most thankful for," Darrow said. "It makes you think on the fly and it absolutely helps me when I'm in a patient's room now."
In fact, that simulation lab entices Darrow to return to WCC for the third time – this time as an instructor.
"A lot of our instructors had jobs in the industry, and that's something I could absolutely see myself doing," she said. "I need to put a couple years in before I start thinking about that, but I love the thought of that teaching aspect later in my career."
Tags: Alumni Profile, April 2021, Nursing, On The Record, ousearch_News_2021