Music was thumping and horns blaring on the Washtenaw Community College campus Saturday as the college celebrated its first Commencement Parade & Celebration. Many of the vehicles that traversed the parade route were decorated with signs and balloons while others featured cap-and-gown clad graduates popping out of sunroofs.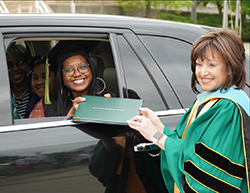 Nearly 500 Class of 2020 and 2021 graduates registered for an assigned spot in the parade, which began at 10 a.m. and lasted more than three hours.
Every graduate had a diploma handed to them by WCC President Dr. Rose B. Bellanca (right) and college faculty and staff cheered them on along the route.
RELATED: COMMENCEMENT PARADE PHOTO GALLERY
The parade started at a balloon tunnel on the western edge of campus, near where DJ G-Nice filled the air with tunes and staff handed out WCC swag bags to every vehicle. From there, graduates entered the college's main circular entrance and had their name and degree announced over a loudspeaker before accepting their diploma from Bellanca.
Graduates were then able to take pictures with family and friends in front of several graduation-themed backdrops.
The parade was the culmination of several graduation events, which included a virtual presentation of the college's Spring Honors Convocation and its Graduation Salute.
Meet Our Graduates
Spend any amount of time around Washtenaw Community College students and you're destined to meet interesting people and hear compelling stories. Here are just a few we gathered during the college's Commencement Parade & Celebration on Saturday, May 22: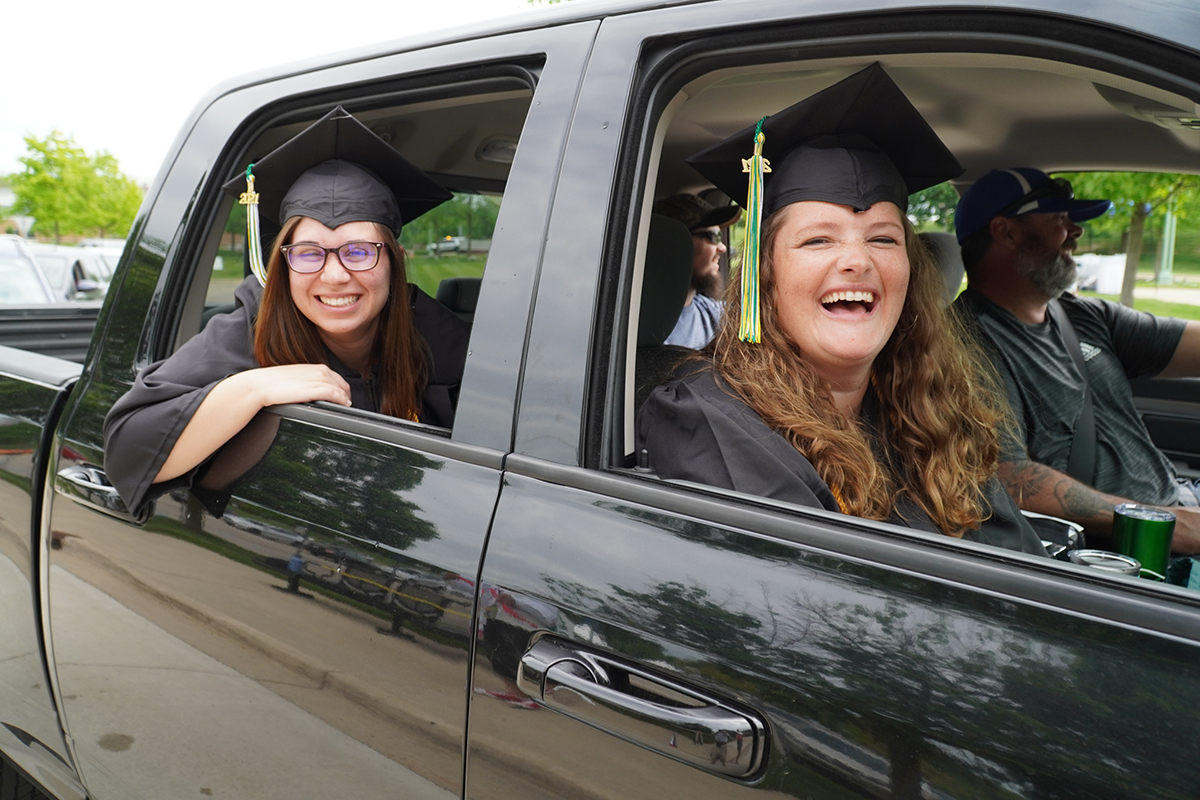 Allison and Kassondra Higelmire
Ever since Allison Higelmire earned a Dental Assisting certificate 15 years ago, she's intended to return to school to complete an associate degree. When the dental clinic where she is employed shut down temporarily due to the COVID-19 pandemic, the time was right to accomplish that goal. She enrolled at WCC and completed the three math classes she needed to meet the requirements for an Occupational Studies degree.
The timing ended up being perfect. It allowed her to share another experience with her daughter, Kassondra Higelmire, who earned her Dental Assisting certificate.
"I'm thankful that I waited because now I get to graduate with my daughter," Allison said. "I'm excited to not only share this day with her, but to share the passion for such a great career. I am forever grateful."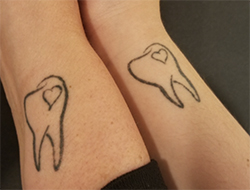 And the Higelmires do, indeed, share a love of dental assisting. They share it openly with matching tattoos of a tooth and heart that they received together a couple Mothers Day ago (pictured at right).
Both mother and daughter started their dental assisting career path by taking classes at the Jackson Area Career Center during high school and now work together at Kellogg & Latz Dentistry in Jackson.
Kassondra, who was recently married and has a son due in October, plans to continue her education by earning an online bachelor's degree in Allied Health from Ferris State. Her ultimate goal is to return to the career center where both she and her mother got their start and teach the next generation of dental assistants.
"I think it's really cool that we're graduating at the same time," Kassondra Higelmire said. "I'm really proud of her and she's really proud of me, too."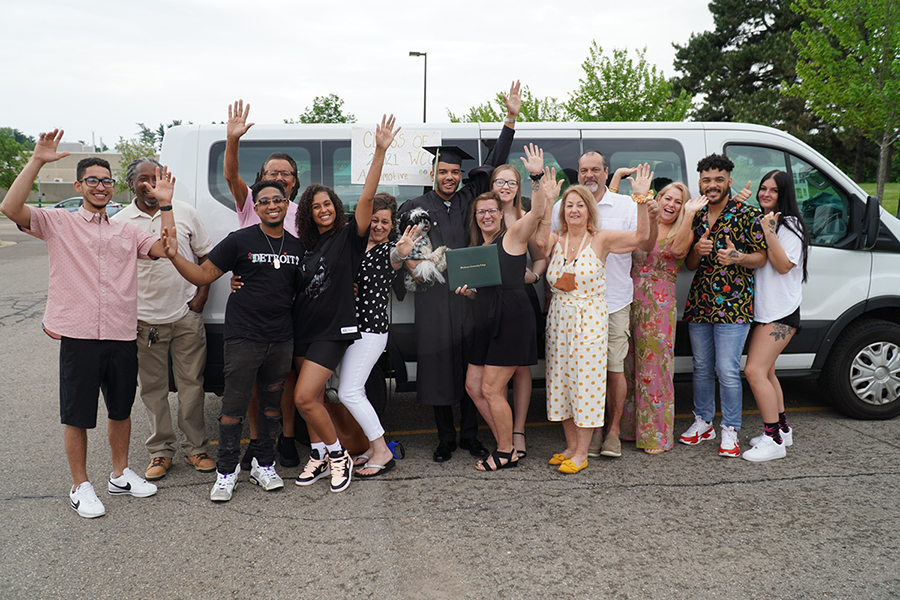 Jordan Randall
Jordan Randall had a problem. The rules stipulate that each graduate could have one vehicle in the WCC Commencement Parade, but the Automotive Service Technology graduate had a throng of family and friends who wanted to celebrate with him.
The solution: Jordan's mother, Nicole Bullock, who traveled from Florida for the event, got on the phone with Enterprise and rented a 15-seat Ford Transit van. Every inch of the van was filled by the 14-person entourage and Randall's dog, Logic.
"Honestly, this kind of support means the world to me," said Randall.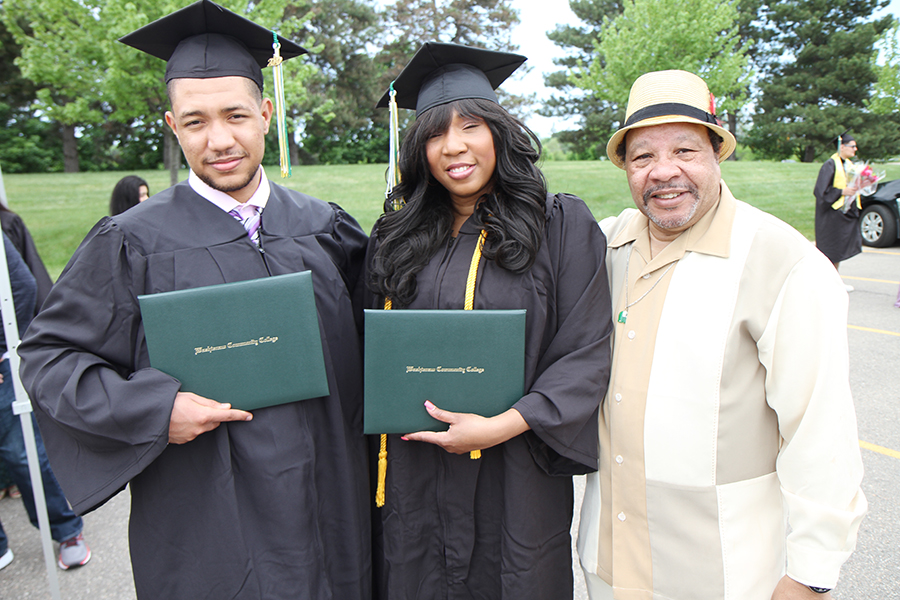 Kimari and Corban McCoy
Robert McCoy worked in the financial aid office and was a faculty member in the Business department at Washtenaw Community College from 1971 through 1981. Now, the Ann Arbor-based attorney has a daughter and grandson who are graduates of the college.
Corban McCoy, a 2016 Ann Arbor Pioneer graduate, completed a Liberal Arts Transfer degree from WCC and is currently enrolled at Wayne State University, where he's majoring in History with a minor in African American Studies. He's planning to enlist in the United States Air Force after earning a bachelor's degree.
Corban shared his graduation celebration with his mother, Kimari McCoy, who earned a Math & Science degree with a concentration in Pre-Pharmacy. Kimari came to WCC in 2016 to pivot her education toward becoming an anesthesiologist. With plans to pursue a Masters in Public Health from New York University before attending medical school, she picked up the necessary science prerequisites at WCC that didn't accrue while she completed a bachelor's degree in Comparative Literature from the University of Michigan in 2005.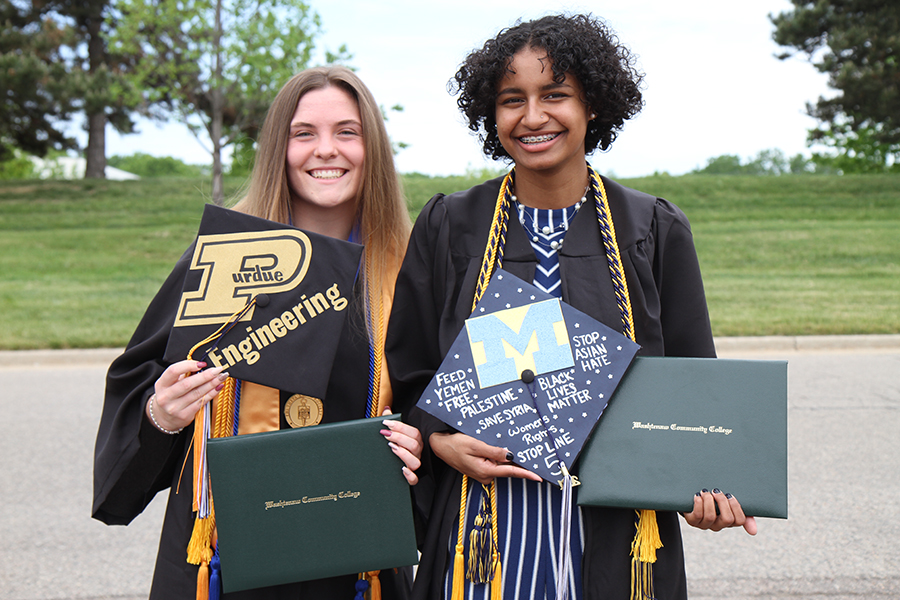 Susan Lintott and Asma Gundy
Not many high school students have an associate degree or college certificate in their hands before their high school diploma. For graduates of Washtenaw Technical Middle College, that's not unusual at all.
Every graduate the Michigan Public School Academy, chartered by and located on the WCC campus, earns a technical certificate or associate degree simultaneously while completing their high school education.
And when WCC's Commencement Parade occurs a matter of hours before WTMC's event, those seniors get to celebrate college graduation before high school graduation.
Some students — such as Susan Lintott and Asma Gundy, whose mortarboards disclosed their future plans while they gathered with family on Saturday — achieve multiple degrees or certificates.
Lintott earned two associate degrees (General Studies in Math & Natural Science and Health Program Preparation) and a Liberal Arts-Michigan Transfer Agreement certificate. She is headed to study Biological Engineering at Purdue University, the top-ranked program in the country.
Gundy, headed to the University of Michigan to study Psychology, graduated with a General Studies in Math & Natural Science associate degree and a Liberal Arts-Michigan Transfer Agreement certificate.
Tags: Class of 2021, Commencement Parade, Graduation, Student Profile, ousearch_News_2021